OneVision Resources, an exclusive business services platform for the custom installation channel, announces the launch of its rep program. This program is designed to identify and recruit successful integrators and their business leaders who share OneVision's philosophy of making service a growth center and recurring monthly revenue (RMR) mechanism for the business.
Mark Cichowski of Clarity AV International, who serves as OneVision's Director of Strategic Partnerships, designed and will lead the program. In the past five years OneVision Resources has developed a profile of the type of integrator who would be successful on the platform. Through an immersive onboarding process, sales reps are empowered to spark conversations about service and identify the teams that not only share the service vision but also have a demonstrated ability to execute.
A unique compensation structure centers around an uncapped recurring revenue stream rewarding reps for identifying new partners. Having recently raised $5 million in funding and unveiled new business services enhancements to complement its award-winning service offering, the company deems the time is now to invest in broadening the company's geographic footprint to bring new integrators onboard.
"We've spent years developing the perfect combination of people, process and technology to enable Integrators to accelerate their growth by embracing a profitable service model," says Joseph Kolchinsky, CEO and founder, OneVision Resources.
"The business impact of our platform across our partner base has been astounding, market reception to the OneVision Platform has been affirmed thanks to our Platinum recognition from CE Pro's Quest for Quality Awards, and we've added new business services to assist integrators with recruiting and financial planning in order to prepare them for the next decade of growth. Next up is to broaden our reach and, by partnering with leading reps, we can leverage their local market knowledge and expertise to identify integrators who would be most successful in implementing a service model powered by OneVision."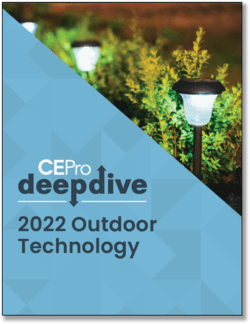 The 2023 CE Pro Outdoor Technology Deep Dive reveals unique set of impediments, including explaining pricing and interacting with outdoor-centric trades.
Get your copy now to take a "deep dive" into the trends and challenges of outdoor technology.
Download the report now!
OneVision is proud to announce Atlantic Integrated from the New York / New Jersey Metro region, and Elite 3 Pro, covering the Texas, Oklahoma, Louisiana, and Arkansas markets, are the first sales groups to sign up to promote the OneVision Platform. The two renowned rep firms recognize that through this partnership they can add business services to their solutions offering, a valuable complement for the integrators they serve.
Michael Pawlowski, vice president of Atlantic Integrated, explains, "We are very excited to provide OneVision's unique approach to service and support because it addresses the unique needs of the CI channel. The OneVision solution will enable integrators to enhance their service and support capabilities and drive meaningful revenue and profitability for these departments. Now more than ever, integrators need to think about how best to thrive and be market leaders."