2021 was a good year for D&H Distributing. The Harrisburg, Pa.-based distributor reports it experienced double-digit overall growth in the past calendar year, with total revenues exceeding $5 billion. Heading into 2022, D&H is predicting 10% growth.
The company credits the growth to its expanded investments plus strategic allocation of products that it coordinated with its manufacturers to enable sales increases in D&H's retail categories, which outpaced general market growth in multiple categories, according to the company. Among the across-the-board investments by D&H are new personnel for its sales organization, resulting in an expansion of D&H's partner base at a rapid monthly pace.
Growth in top categories like commercial displays, televisions and accessories, virtual reality solutions, home/portable audio, and RAM memory products reached levels of more than 50% year-over-year. D&H also saw growth of more than 25% in categories including video and sound cards, surveillance/IP security, networking, power products, 3D printing solutions, USB hubs, mounts/brackets, laser printers, and calculators. The company expects to see 10% overall increases in 2022 based on its current contracts, with a goal to grow its core categories and retail partnerships, further expand its offerings, and increase operational efficiencies.
With its revenues exceeding $5 billion in calendar year 2021, D&H was recognized in the top 100 on Forbes' List of America's Largest Private Companies, surpassing household name corporations like Hallmark Cards, E&J Gallo Winery, Bose, and Neiman Marcus Group to land at #84. D&H is the fourth-highest ranked company on the list in its home state of Pennsylvania.
Recently, D&H announced its Built for Growth/Generations/Giving programs to enhance its relationship with Nationwide Marketing Group among others.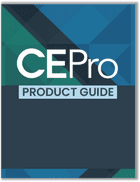 CE Pro's 2022 Product Guide showcases some of the latest and innovative solutions from manufacturers serving the custom electronics industry in a cross-section of categories.
Download the guide now!
"The consumer and retail markets have been through tremendous changes in the last two years, from the rise of BOPIS, to the major shift to ecommerce, to inventory challenges. But it's shown to be an agile marketplace that emerged with a successful holiday season. D&H has been there for its retailers and integrators, fortifying our team to help partners take advantage of new opportunities," says Trevor May, vice president, purchasing and vendor business management at D&H. "We'll continue to direct our resources to deliver greater support in the year ahead and expand our relationships with retail organizations across-the-board."