With prospects of an uncertain economy ahead, more than 1,000 attendees gathered in Las Vegas for the annual ProSource Summit 2023 under the theme "Plug In" for four days of networking, education and new products meant to breed success.  The event brought together members from several affiliated buying groups – MEGA/BrandSource Canada,  New England Appliance Group, Intercounty Appliance Group, BrandSource and ProSource – all of which use the AVB Marketing group as the engine to support their niche market efforts.
"Since 2020, for many of you it has been the best 3 years of your business ever," remarked Jim Ristow, CEO of BrandSource. "For the past 3 years t has ben a case of whoever has inventory 'wins.' If you took care of your clients and embraced technology, you 'won.' Today, we need a new playbook to face the new challenges ahead. Inventory went from being an asset to a liability. You need to get your inventory at the right level because the pipeline is not as robust."
He continues, "Business is at a critical crossroads. If we 'plug in' and adapt, we will grow. If you don't, you will shrink. It is time to get back to basics and fight for every client. You need to invest in marketing and you need to have value options in place."
Among the recommendations from Ristow include sprucing up your website and raising your labor rates ("You deserve it and the market can bear it in most cases.")
Jim Pearse, CEO and President of ProSource, echoed many of the same themes speaking just to the 300+ ProSource attendees.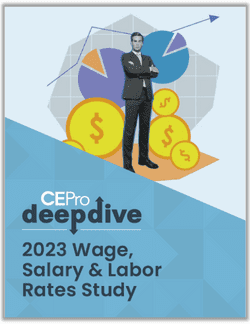 Discover the drastic difference a year can make when it comes to wage, salary, and labor rates in the custom integration industry.
"Housing is going to tighten, but there is still a huge remodeling trend. I think this year the market will continue to grow as the overall macroeconomic trends will not affect the custom installation channel," he predicts. "The market is going to be more competitive, so now is the time to position yourself as the strongest dealer in your local market."
He recommends dealers look to find products that can boost their margins, offer value propositions to attract new clients, invest in new categories of equipment, invest in their installation team to boost productivity, take time to review internal operations, and have financial discipline.
"This entire event is set up to allow you to connect with vendors and each other. Collaboration is the foundation of success," he said. Pearse noted that ProSource members did $50 million in business last year with its authorized vendors and he has a goal for it to be $80 million. The tremendous growth goal is based on the fact that some members only make half of their purchases through authorized ProSource suppliers.
Speaking of suppliers, Pearse welcomed several new vendors, including Ethereal, Victrola, Speaker Snap, Josh.ai and Furrion. The buying group also switched from Ingram Micro to D&H as its distributor for its Expert Warehouse program.
Some of the other numbers reflecting on the past year among ProSource members include:
Over 5,000 individual users took ProSource University training, which consists of 882 courses.
98 members completed the buying group's Lighting Technology Certification
220 integrators are currently using the ProSource Marketing services
Members used the McQuaig HR assessment tool for screen 537 job candidates last year. McQuaig is a member benefit offered by ProSource
151 integration companies are currently using the ProSource Career Plug-in, which scans multiple national job boards.
Education Focuses on Business Operations, Sales
The educational sessions over the four days of the event covered a wide range of topics. Keynote speaker Galen Emanuele encouraged integrators to have a "yes… and" culture in which they are open to ideas from their staff. He emphasized that point in a fun interactive presentation that involved the entire audience performing improv. He said the five keys to guide culture are the same guidelines to doing good improv:
Say "yes"
Listen and be present
Make others look good
Embrace change and failure
Be positive
Consultant and former integrator Jim Bras outline the Entrepreneurial Operating System (EOS) for attendees built around having a vision for your company. He challenged dealers to write down their 10-year goals, and he gave them a matrix on how to effectively evaluate employees.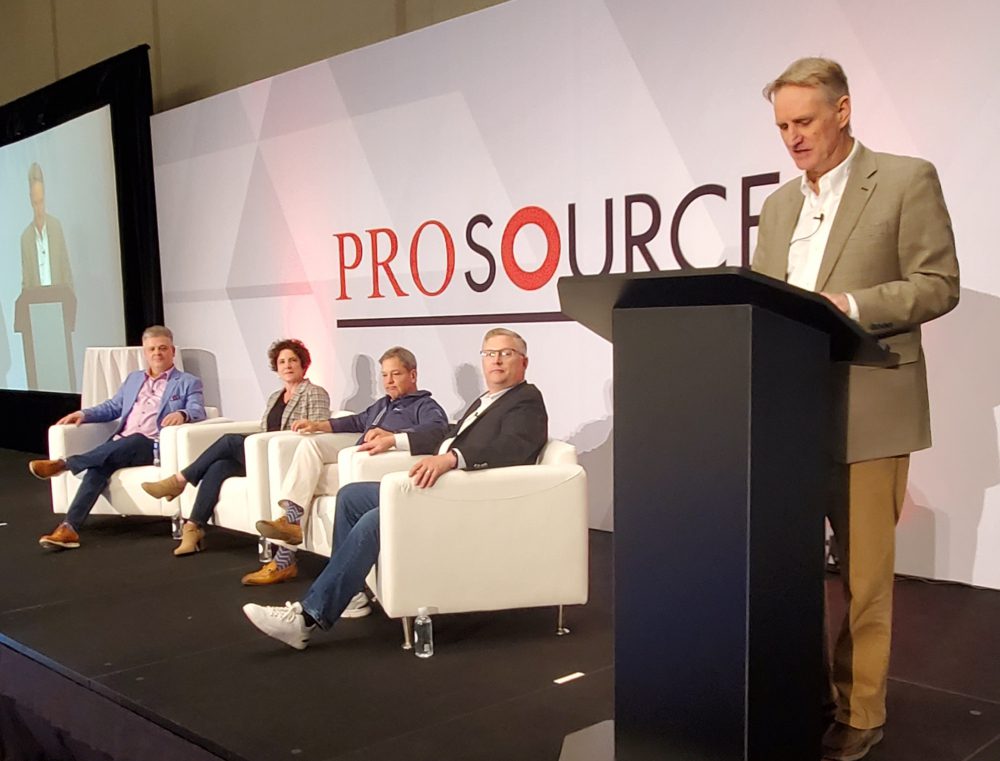 Dave Chace, president of Cogent360, and Jesse Coyer, national account manager for Harman Luxury Audio, co-presented a session entitled "How to Sell Luxury." Among the takeaway advice from the duo was to not ignore Millennials and Gen Z clients when it comes to luxury sales. That generation makes up 50% of luxury spending in the U.S. and is expected to account for 70% by 2025. Millennials crave "authenticity and innovation in the brands they buy," says Chace. Overall, the luxury audio market specifically was up 13% last year, and luxury goods overall account for $263 billion in spending.
A panel discussion aimed to tackle the broad subject of "The Future of the CI Channel." During the panel, Snap One CEO John Heyman challenged integrators to improve their customer service. He cited Net Promoter Scores for the custom electronics industry as among the worst of trade. Heyman, along with fellow panelists Angie Larson, senior vice president at Savant; Paul Williams, chief product officer at Nice North America; and Shawn Hansson, founder and CEO of Logic Integration, differed on whether or not integrators should diversify their product offerings or "stay in their lane."
Heyman believes dealers should remain focused on what they do best, while Larson cited emerging categories like EV charging stations and intelligent electrical panels as new opportunities. Hansson has already diversified his custom installation company to be 70% commercial. The group had consensus on the importance of developing recurring monthly revenue strategies and service.
If you enjoyed this article and want to receive more valuable industry content like this, click here to sign up for our digital newsletters!