Jim Lind just might be the most humble and down-to-earth person in consumer electronics. And that modesty is still on display, even though Lind has been named the recipient of the Consumer Technology Association (CTA) Smart Home Division 2022 Leadership Award.
"I never think I deserve anything," says Lind. "It's always humbling to be recognized by your peers. I feel honored to be chosen."
Each year, CTA presents the Smart Home Leadership Award to an individual who has made significant contributions to the growth and success of the smart home industry and shows continued dedication and service to the consumer tech industry. The CTA Smart Home Division 2022 Leadership Award will be presented during the CTA Smart Home Division's Mark of Excellence Awards reception at CES 2022, taking place on Thursday, Jan. 6 at 6:30 p.m. in Room W208-209 (West Hall) of the Las Vegas Convention Center.
Lind, the custom integration buyer at Nebraska Furniture Mart (NFM), has been in consumer electronics for 40 years and his career at NFM spans 26 years, starting as an audio manager in 1996 and elevating to the custom installation division buyer in 2014. It's no small feat to handle such an auspicious program within such a large organization as NFM, but Lind says staying focused on the customers' needs and exploring new technologies at events like CES are vital for those looking to succeed in the industry.  
"Give your customers the best level of service you can," he advises. "Always make them feel they are your most important customer. If you can exceed their expectations, they can become your best friend when it comes to referrals. Mistreat them and they can become your greatest foe. This can take some time, so you need to be patient."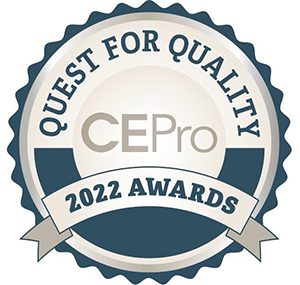 CE Pro urges integrators to recognize their suppliers that go above and beyond to deliver premium support and service. Cast your vote today to recognize the services (not the products) from your favorite manufacturers and distributors.
Cast your vote today!
Lind has been involved in the Smart Home Services division at NFM since 2000, and he has expanded the CE Pro 100 company to all three of companies locations in Omaha, Kansas City, and most recently to The Colony near Dallas. Needless to say, staying on top of new technologies is important. That's where CES and CTA come in.
"Give your customers the best level of service you can. If you can exceed their expectations, they can become your best friend when it comes to referrals. Mistreat them and they can become your greatest foe."

— Jim Lind, Nebraska Furniture Mart
"CTA has been a great resource. From the various publications and surveys to the insights gained from participating in working groups or sitting in on some of the board calls, the depth and diversity of knowledge from the participants has been very valuable. I have been very fortunate to have been on a couple of different boards over the years and have met many colleagues in the industry that I can call my friends," says Lind.
At CES, Lind and his team will usually have two agendas: meeting with current vendors to solidify relationships and looking for new technology. Due to the pandemic, most of the vendor meetings have already taken place, so at CES 2022 the NFM team will be primarily seeking out new technologies.
"We are always looking for leading-edge stuff. A few years ago, it was big, thin TVs and smart fitness equipment. We want to find things that will make a big impact on our showroom floor," he says.
For CES 2022, Lind will be looking at wellness technology, voice control and lighting in particular. He cautions all integration companies to not ignore the DIY portion of the smart home industry, which he cites as the biggest change in the market he has witnessed throughout his career.
"More people are becoming aware of how these products can improve their lifestyles. I look at this as a good thing. Increased awareness in the home automation market boosts the opportunity not only for sales but for integrated service offerings as well," he explains.
Lind believes one of keys to the success of NFM's Smart Home Services is fostering a team concept.
"From our sales teams to our install and support teams, we all share a commitment to service our customers. Our core values and the support of our senior management team make it all happen," he notes.
That team approach is also how Lind addresses new technologies. When a potential new category or product is being considered, Lind believes the best way to get full buy-in from your organization is to establish a small team to investigate the technology and then report back to the larger group.
"That approach gives everyone a vested interest in the technology and gets their full support," he adds.
Heading into 2022, the supply chain situation is still the biggest looming concern for the industry, according to Lind.
"The supply chain issues that have resulted due to the ongoing pandemic remain one of the biggest challenges for this industry. Whether its factory backorders or bottlenecks at the ports there always seem to be a new challenge related the supply chain. Project planning will be the key to minimizing these issues," he adds.
Past CTA Leadership Award Winners
Here is a quick list of past CTA Leadership Award winners:
Jason Knott, CE Pro (2021)
Shawn Hansson, Logic Integration (2020)
David Kaplan, Bluesalve Partners (2019)
Helen Heneveld, Bedrock Learning (2018)
Dan Fulmer, Fultech Solutions (2017)
Avi Rosenthal, Nortek Security and Control (2016)
Eric Bodley, Bodley & Associates (2015)
Julie Jacobson, CE Pro/EH Publishing (2014)
Michael Pope, Audio Video Interiors (2013)
Walt Zerbe, Legrand (2012)
Roland Graham, HDHomes.TV (2011)
Ric Johnson, Elite Systems Solutions (2010)
Ian Hendler, Leviton Manufacturing Co. (2009)
David Rodarte, NuVo Technologies LLC (2008)
Bill Maronet, ETC Inc. (2007)
Tom Callahan, Sawyers Control Systems (2006)
David Hanchette, OnQ/Legrand (2005)
Peter Hoagland, BG Corp. (2004)
Duane Paulson, Sequel Technologies LLC (2003)
Richard Scholl, Worthington Distribution (2002)
John Galante, EH Publishing Inc. (2001)
Ken Kerr, Home Controls Inc. (2000)
Jay McLellan, Home Automation Inc. (1999)
Ken Moyes, EH Publishing Inc. (1998)
Joe Freeman, J. P. Laboratories LLC (1997)
Doug Fikse, On-Q Home (1996)
Mark Hollcraft, Leviton Manufacturing Co. (1995)
Pete Lesser, X10 (USA) Inc. (1994)
Bill Scheffler, Zensys Inc. (1994)
Dave Rye, X10 (USA) Inc. (1994)