"It's about time," was the crescendo from the audience at the CES 2018 as Helen Heneveld, president of Bedrock Learning, deservingly accepted the 2018 Consumer Technology Association (CTA) TechHome Leadership Award. Heneveld has been an industry fixture for the past 28 years as first an integrator, then a trainer of thousands of past, present and future custom integrators.
The TechHome Leadership Award is being presented annuall by the CTA to an individual who has exhibited significant contributions, dedication and service to the advancement of the home technologies industry.
"I've always been before my time as a woman in a man's world."
— Helen Heneveld, Bedrock Learning
"Helen Heneveld is truly the 'first lady of the home automation industry,'" said CTA TechHome Division Chair Melissa Andresko, who presented the award
Heneveld began her career in the industry back in 1989 forming one of the first custom installation companies called The Automation Link Inc. (TALI). During that time, she was not only a key participant in the early years of CEDIA, but she was also instrumental in the formation of the Home Automation Association, serving on the board of directors. HAA eventually became the CTA TechHome Division.
"It is safe to say none of us would be here tonight if it had not been for the dedication of Helen," noted Andresko.
In 1998, Heneveld started a new company called The Training Department which later became Bedrock Learning. For the past 20 years, her company has trained thousands of integrators — both in person at events like EHX, CEDIA and CES — and online.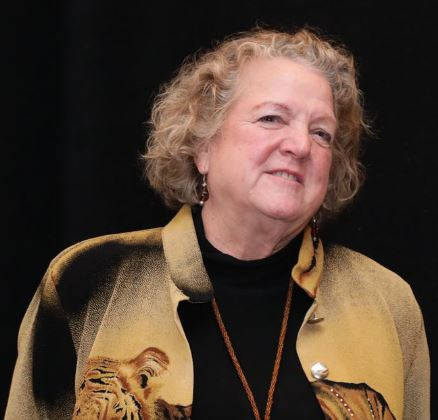 "I can think of no more a deserving individual to be receiving the 2018 CTA Leadership Award than Helen Heneveld," said Andresko.
'99 Men and Me'
Heneveld was humbled by the award, noting, "I've always been before my time as a woman in a man's world."
That notoriety goes back long before her roots were set in the custom electronics industry. Back in 1974, she earned a varsity letter in synchronized swimming at the University of Michigan. 1974 was the first year women were eligible to receive varsity letters in sports at the school. Later, in 1979, Heneveld created the first online database for recruiting football players for the University of Michigan. In 1981, she earned an MBA from Michigan when only 10 percent of the class were females.
Finally, in 1989 Heneveld "fell in love" with home automation.
"I've been true to that love for 28 years," she told the gathered group of more than 150 attendees. "Timing is everything, I was a bit ahead of my time, say 20+ years early, but now, we all are seeing the fruits of our hard work."
"It's been a journey and I've loved every minute of it…well, almost every minute!"
— Helen Heneveld, Bedrock Learning
In 2000, CEDIA recognized the first 100 certified integrators in the nation during a ceremony.
"It was 99 men and me," quipped Heneveld. "I've been in this environment a long time, and have always been an advocate for our industry, passionate about education and training. I am truly honored to serve on the board of the CTA TechHome Division. I've learned so much and hope I've given back. It's been a journey and I've loved every minute of it…well, almost every minute! Good thing I didn't realize it was going to take 28 years to get to where we are today, or I would have been scared off."
"I feel like I've made a difference and the greatest reward is your recognition tonight, thank you," she concluded.
Past Winners of CTA TechHome Leadership Award
Dan Fulmer, Fultech Solutions (2017)
Avi Rosenthal, Nortek Security and Control (2016)
Eric Bodley, Bodley & Associates (2015)
Julie Jacobson, EH Publishing (2014)
Michael Pope, Audio Video Interiors (2013)
Walt Zerbe, Legrand (2012)
Roland Graham, HDHomes.TV (2011)
Ric Johnson, Elite Systems Solutions (2010)
Ian Hendler, Leviton Manufacturing Co. (2009)
David Rodarte, NuVo Technologies LLC (2008)
Bill Maronet, ETC Inc. (2007)
Tom Callahan, Sawyers Control Systems (2006)
David Hanchette, EH Publishing Inc. (2005)
Peter Hoagland, BG Corp. (2004)
Duane Paulson, Sequel Technologies LLC (2003)
Richard Scholl, Worthington Distribution (2002)
John Galante, EH Publishing Inc. (2001)
Ken Kerr, Home Controls Inc. (2000)
Jay McLellan, Home Automation Inc. (1999)
Ken Moyes, EH Publishing Inc. (1998)
Joe Freeman, J. P. Laboratories LLC (1997)
Doug Fikse, On-Q Home (1996)
Mark Hollcraft, Leviton Manufacturing Co. (1995)
Pete Lesser, X10 (USA) Inc. (1994)
Bill Scheffler, Zensys Inc. (1994)
Dave Rye, X10 (USA) Inc. (1994)
If you enjoyed this article and want to receive more valuable industry content like this, click here to sign up for our digital newsletters!