Nationwide Marketing Group to Return to In-Person Events Starting May 25
After being forced to suspend all Regional Member Meetings due to the coronavirus, Nationwide Marketing Group is now ready to return to in-person events starting on May 25 in Dallas.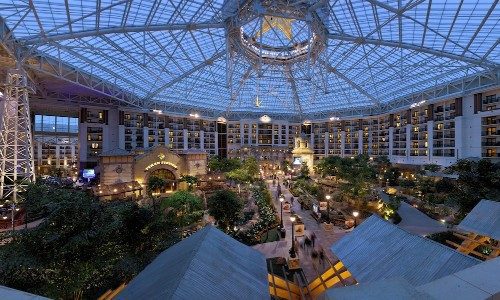 The first official Nationwide Marketing Group Regional Member Meeting since the pandemic began is expected to take place in Dallas this year. Starting on May 25, the in-person event will signify the first time the group has gathered together since the Houston PrimeTime event in February 2020.
The two-day meeting in Dallas will be the first of four Regional Member Meetings hosted by Nationwide. From there, the group will bring together members in Seattle (June 3-4), Orlando (June 7-8) and St. Louis (June 9-10). The intimate gatherings are intended to give members the chance to hear from topical experts who will deliver best practices and strategies for succeeding at every step of the customer journey, as well as an opportunity to participate in multiple open discussion roundtables focused on key business areas.
"You can never have enough education as an independent retailer," says Tom Hickman, Nationwide's president and chief member advocate. "We're thrilled to be able to deliver this valuable content in an in-person setting that's both safe and entirely focused on our members. Getting back to face-to-face meetings has been a long time coming, and we can't wait to hit the road."
Regional Member Meetings to Highlight Social Media, Review Management
Each regional event will deliver an educational track that resembles the typical shopping cycle. Attendees will be guided through best practices and strategies for driving awareness, capitalizing on the consideration and evaluation phases, and, ultimately, closing the sale. They'll hear from experts on topics including digital marketing, social media, review management, in-store experience, data-based merchandising, website management and more. Attendees will also have the opportunity to participate in category-driven roundtable discussions with fellow appliance, furniture and bedding, or consumer electronics retailers.
"For our first series of in-person events in over a year, we wanted to ensure the experience for each Regional Member Meeting was centered around the member," says Mike Whitaker, leader of the group's education and leadership development efforts. "We know that they've come to expect top-notch educational offerings from the Nationwide team. And that's exactly why we focused the program on very pragmatic, yet essential, strategies and best practices that our dealers can take home and apply to their businesses that day."
Since the outset of the pandemic, it's been a goal for Nationwide to get back to in-person meetings as soon as it was deemed safe to do so. With vaccine distribution well underway and cities across the country working to ease restrictions, that time is now.
"These Regional Member Meetings offer an incredible opportunity for our members to network, gain valuable knowledge, share best practices and their experiences, and just enjoy great camaraderie with other members," says Dennis Willich, CEO of Nationwide Southwest. "This powerful format of educational meetings – driven by a high level of website, digital marketing and social media – will ensure our members a strong presence in the markets they serve going forward. I am personally looking forward to greeting and chatting with all the members that attend our Regional Meeting in Dallas!"
Nationwide has worked closely with hospitality staff at all four locations to ensure these regional meetings are held in a manner that allows attendees to get the most out of the experience while remaining safe.
"We've been in constant communication with the local hotels and city officials at each location to ensure we're in lockstep with their safety guidelines, as well as those from the U.S. Centers for Disease Control and Prevention," says Melissa Stenson, vice president of member experience for Nationwide. "We're ecstatic about the opportunity to get back to face-to-face meetings with our members in a safe environment that will still be conducive to our program."