To say that the coronavirus situation was a challenge is an understatement, but the Home Technology Specialists of America (HTSA) was up to the challenge and able to help its members stay focused, informed and growing in 2020 by constant refinement of its programs.
Early on in the pandemic, HTSA's Board of Directors and Leadership developed a strategic plan of action that addressed both the business and health perspectives.
The group admits there was a bit of a fear factor in the early days of COVID-19, as everyone struggled to understand the coronavirus, its nature, its impact, how to adjust operations in the face of the ever-changing recommendations from the CDC, WHO, and a plethora of state and local health officials. So early on, HTSA leadership sought to address these concerns and keep members focused on their businesses.
"In the early meetings, we helped members move beyond the risk of being frozen by fear and helped them see that in any time of change, there is opportunity," says Jon Robbins, executive director of HTSA. "HTSA consists of member companies who are all the best-in-class tech dealers and integrators in their markets. We suggested they seize the day by looking at this event not just as a new set of challenges, but also as a unique opportunity – for example – to step up talent acquisition."
Full-time resources Tom Doherty, director of new technology initiatives, and Keith Esterly, chief learning architect, were continually creating new, original content and materials for members, updating the information and distributing it in real time, as the circumstances in the field were dynamically changing.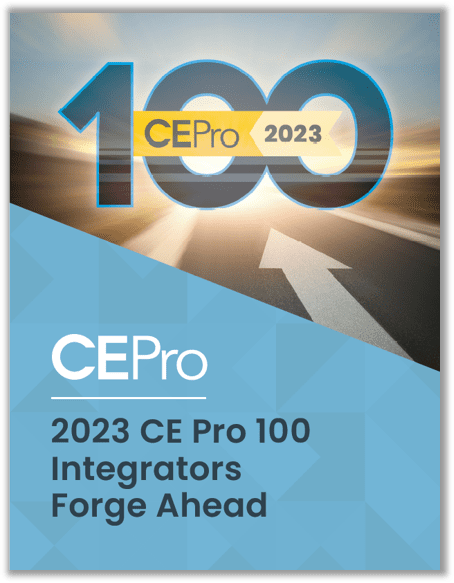 Which companies in the custom integration market made CE Pro's 24th annual CE Pro 100 list?
HTSA Initiatives during COVID-19
HTSA created several initiatives to assist its members in 2020, including:
Talent Acquisition Initiative – In the early stages of the pandemic, HTSA leadership recognized the opportunity presented to address one of the biggest challenges faced by all tech industry dealers and integrators – a severe labor shortage. Esterly developed a set of tactics based on his Relationship Science course to help members optimize recruitment practices to reach out to the many newly available top candidates furloughed by other less-fortunate operations.
As a result of this talent acquisition initiative, most HTSA members have experienced a net increase in manpower since the beginning of the pandemic.
Outbound Sales Program – A custom sales training program was assembled by both Doherty and Esterly creating all-new sales strategies for members whose showrooms had been ordered closed by their local governments during the initial phase of the pandemic. In online video meetings, Doherty showed members' sales teams "how to get your house in order" by reviewing past client and project data in order to mine it for new opportunities for service, system and technology updates, and new add-ons.
Esterly shared new tactics for outbound sales calls. Based again on his Relationship Science course, Esterly helped members' sales teams understand the difference between outbound sales calls and cold calls or telemarketing. With a useful and digestible series of actionable steps and ideas, salespeople became comfortable with reaching out to their past client base to re-engage those relationships, offer support, and generate new sales.
This program was extremely successful, as HTSA sales teams discovered that most clients, now living with their systems full-time, were genuinely interested in updating technology, beefing up over-worked networks, or adding new entertainment or home office capabilities.
'The Vault' Centralized Resource and Training Center – HTSA has created a centralized resource for all group-created and vendor-created training and educational resources. The Vault makes one easily accessed resource where members can find all materials from all sources, including videos, e-learnings, webinars, sales videos, and more. The Vault also includes a simplified and consistent graphical user interface, tracks users' progress, and provides HTSA with data on program completion and accomplishment levels.
Business-Level Projections for Vendors –Doherty spearheaded an initiative to regularly collect business level projections from a large group of members that are then shared with HTSA vendors on a monthly basis. The data is presented on a rolling three-month basis, and updated each month compared to the previous month's projection. The group even broke the data down on a regional basis. This allowed vendors to coordinate their supply plans in accordance with HTSA member-projected needs, as well as to allocate their incoming inventory based on regionally specific requirements.
"The best part of this initiative is that, in addition to gathering the hard numbers data, we also collected their anecdotal comments to add more context and color to the data," says Doherty.
If you enjoyed this article and want to receive more valuable industry content like this, click here to sign up for our digital newsletters!