Azione Unlimited has come home again… literally. The buying group has purchased the building in which it was founded, establishing a permanent location for its staff and opportunities to host more promising events in the future.
Located in the suburbs of Philadelphia, the late-1800s farmhouse was the founding location for Azione Unlimited nearly a decade ago. After purchasing the 3,500-square-foot building in August, the new location has become a home for the Azione family.
"Azione Unlimited has always felt like a family, making our newly purchased headquarters, frankly, a captivating story," says Richard Glikes, president of Azione Unlimited. "Purchasing this building gives us a luxury of opportunities to expand our offerings and support our members. There is a lot of history in these walls already, and we are excited to create more memories with our Azione Unlimited community."
Located at 501 E Uwchlan Ave, in Chester Springs, Pennsylvania, the Azione Unlimited headquarters sports a new roof, a fresh coat of paint, brand new shutters, and a custom-made sign to proudly showcase the recently trademarked "Smart Home Association™" designation.
In many ways, the purchase of the new headquarters is an example of Azione following its own advice to its members. Real estate has long been touted by Glikes to Azione Unlimited members has a solid method to obtaining equity in their individual integration companies.

Total Tech Summit is where the integration industry elite gather. It's your chance to build rock solid industry connections to grow your firm and advance your career. We invite you to apply today for a free trip to join us in Orlando October 26-28, 2022.
Apply now!
Originally HTSA HQ
When Richard Glikes first entered into the buying group world, it was with the Home Technology Specialists of America in 1996. The trade association would wind up calling the second floor of the building home as it continued to serve the custom integration channel. Shortly after parting ways, Azione Unlimited was chartered in West Chester, Pa., spending only a year at that office. After the previous buying group left, Richard sprang into action and planted new roots.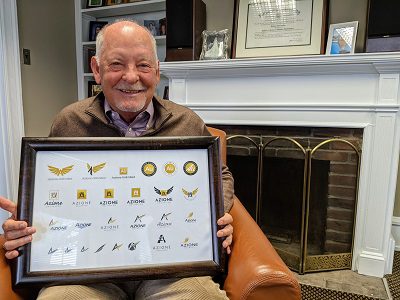 The breaking ground event of Azione Unlimited happened in October of 2011, the first vendors joined in January of 2012, and the first dealer followed suit a few months later.
"The dilemma was how do we add vendors before we have dealers and how do I show value to dealers without any vendors," says Glikes. "I eventually got some commitments from friendships I had made in this industry, and we started this new adventure from a blank piece of paper. Although we have had some members come and go, I'm proud to look back at how many of our founding vendor and dealer members are still with us today."
Room to Host Meetings
Approaching nearly a decade in the industry, purchasing a headquarters now presents the opportunity to elevate the Azione Unlimited offering. Approaching 3500-square-feet in now unoccupied space, the Smart Home Association™ sets the groundwork to host events for members.
"The main thrust of buying the building was really about how much room we have to expand," says Glikes. "Hosting guests for events, training, or even our coveted Key Leader Meetings is now possible thanks to our abundance of space. Imagine the amount of flexibility we acquire by hosting more intimate conferences without the constraints of the hotel. We can also start devising ways to offer shared services and give those individuals an office space to work in and the tools to communicate with our members."