As the Azione Unlimited conference concluded last week in Las Vegas, one statement has become abundantly clear – the new-age CI dealer needs a new-age toolbox. Silhouette marketing, empowering talent, catapulting new verticals, and standardized processes were a few of the many refreshed ideas spread across the Smart Home Association's three-day Fall Conference "A.L.I.V.E. in Las Vegas."
Representing keystone themes of action, leadership, innovation, vision and energy, these ideas resonated among the 240+ dealer and vendor members packed in the Mirage Hotel ballroom, according to the group, as keynotes, small group meetings, and the newly coined Deep Dive sessions presented new approaches for routine issues.
"It's no secret that the CI industry is incredibly reactive to the economy, which means when things get a little shaky – we have to get a little scrappy," says Patrick McCarthy, Director of New Business and Member Services at Azione Unlimited. "The members of Azione Unlimited are incredibly receptive to the idea that change is here and depend on our meetings to build on their foundation of knowledge. We aren't necessarily teaching dealers something they don't already know or haven't heard about; we are giving them the courage to create new solutions, sharpening their tools, and leading them to execution excellence."
Alongside the numerous changes in the industry, the Azione Unlimited conferences have also donned some new cornerstones, including Deep Dive sessions and charity events.
Deep Dive sessions were created as a vehicle to delve deeper on certain topic. Although simple in concept, the execution allowed dealers to talk about a specific topic for a total of three hours during the Nov. 9-11 Azione event, McCarthy notes.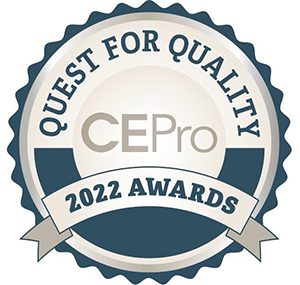 CE Pro urges integrators to recognize their suppliers that go above and beyond to deliver premium support and service. Cast your vote today to recognize the services (not the products) from your favorite manufacturers and distributors.
Cast your vote today!
The Deep Dive agenda broke down the needs of dealers into four categories: People, Profit, Process and Branding/ Marketing. This session format also invited subject matter experts to facilitate discussion as new ideas were being shared among integrators.
Feedback for the event has been wildly popular, McCarthy adds, as highlighted in the anonymous survey. One member said the format was "the best deep dive meeting I have ever experienced, so I would not change anything."
Charity Event, Visit to Savant Show Home Round Out Azione Fall Agenda
The charity event, a new pillar of Azione Unlimited events, was also met with warm reception. Dealer and vendor members split into groups to create care packages for veterans in the Las Vegas area. Azione Unlimited members handwrote notes and stuffed bags full of necessities such as toothbrushes, shampoo, soap, toothpaste, and other goodies. Five hundred bags were then delivered by Veterans Care Charity (veteranscarecharity.org) to veterans, on Veterans Day.
"This was incredible," noted a dealer from the survey. "Thank you for giving us that opportunity to give back."
"This was such a wonderful way to build comradery with many others that I had not had the opportunity to meet with one on one," remarked a vendor. "It also provided such a great period of time to give back, a reminder of something that we could all use a little bit more of in this world!"
Azione Unlimited also invited dealer and vendor members to an exclusive look at the Savant show home Modern 001 the night before the conference, providing cocktails and comradery at the 15,000-square-foot show home nestled high above the Las Vegas skyline.
"In typical Azione fashion, we've managed to pack in stellar education, new friendships, and sharing of ideas with the twist of a Savant tour, a charity event, and a new learning format," says Richard Glikes, President of Azione Unlimited. "We have a tight group that hangs their hat on being open to learning from each other, and I'm thrilled that we can move in unison towards success. There is a lot of work to do, a ton of preparation to be had, but I know our members will be ready for whatever 2023 throws at them."
Azione Unlimited will host its next conference in Scottsdale, Arizona, on March 6 – 9, 2023.