"The first thing we do, let's kill all the lawyers." — William Shakespeare, Henry VI, Part 2, Act IV, Scene 2
That quote still resonates today 431 years after it was first written by Shakespeare in 1589. It's important for companies to protect their patented technology, but prolonged legal battles are not good for the industry. Does everyone remember the lengthy Bose vs. CEDIA trademark battle over the "Electronic Lifestyles" terminology that finally ended in 2007?
Shakespeare quote is certainly apropos to the news announced last week that Sonos (Nasdaq: SONO) and Legrand (Paris: LGRVF) settled their legal dispute over patents and instead signed a multi-year agreement.
The deal allows Legrand's Nuvo multiroom audio brand products to use technology that Sonos was claiming as patent protected. The Nuvo Player portfolio of hardwired and wireless multiroom audio products will continue to use its existing technology across multiple models, including its popular three-zone, rack-mounted Player.
"We could have litigated it in court, but instead we reached an agreement with Sonos," says Jeffrey Curtis, vice president and general manager for Legrand AV. "The deal allows us to continue to operate using our own code but paying a licensing fee to Sonos."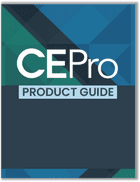 CE Pro's 2022 Product Guide showcases some of the latest and innovative solutions from manufacturers serving the custom electronics industry in a cross-section of categories.
Download the guide now!
Curtis tells CE Pro that Legrand has a strong partnership with Sonos. Legrand's Sanus mount brand has been building products that complement Sonos new releases for the past several years. Products like Play 1, Play 3 and Play 5 Mounts and speaker stands, along with mounts for the Sonos Playbar, Beam, and new Arc soundbard and Amp speakers. Middle Atlantic has also worked closely with Sonos to build custom rack solutions for the integration channel.
A statement by Eddie Lazarus, chief legal officer at Sonos, noted, "Sonos innovation created multi-room wireless audio – the technologies we invented enable many of today's listening experiences and we continue to innovate to enable the experiences of tomorrow. We believe in a fair marketplace where companies compete on a level playing field and contribute with their own innovations and experiences. We're pleased to see more companies such as Legrand recognizing the strength and value of our IP and providing appropriate compensation."
In just the past few years, Sonos has been engaged in patent infringement lawsuits against Google, Denon, and Lenbrook.
It's good to see these two industry leaders settled the dispute. Now, back to business!