With nearly 20 years of HDMI cabling design and manufacturing experience, Mark Corbin and the rest of the Vanco team are preparing for the next iteration of HDMI connectivity: HDMI 2.1. 
As the AV market continues to push forward to adopt technologies such as 4K, HDR, immersive audio, 8K, wide color gamuts, 120Hz refresh rates and more, the backbone of these innovations will be HDMI 2.1.  In order to support its dealers to ensure its products deliver long-term performance and reliability, Corbin emphasizes that it is essential that Vanco work resources that include HDMI Labs. 
As the momentum for these new formats and technologies grow, Corbin stresses that professional integrators will have the ability to provide existing and new clients with AV systems that deliver the highest performance levels ever imagined.
"There are opportunities right, so obviously bigger bandwidth, more capabilities … more possibilities in your cabling. Not only 8K and 10K or in the future for this type of bandwidth, but you also got to realize that the 8K cable builds is also definitely going to enhance even your 4K signals that are moving within the market," Corbin explains.
"So, I think what's really unique about 2.1 is not only is it giving us the bandwidth to enhance 8K, 10K from a marketing standpoint, because as you know the sources aren't quite there yet. We have some, but it's really actually improving that 4K signal even more too. Because you've got to realize there is a large bandwidth at this point so we're not going to have any issues carrying even those 4K signals at the highest color gamut and the highest frequency of transmission rate."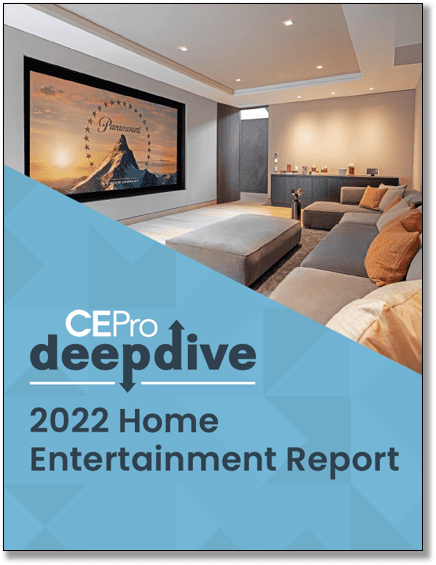 The home entertainment category is especially susceptible to the supply chain crisis because there are so many individual components required. Despite that ongoing problem, the once-forgotten "home theater" category continued its strong comeback in 2021 likely driven by the ongoing house-bound public due to the COVID-19 pandemic.
Download your copy today!
In addition to the higher resolutions and refresh rates, another critical component of the HDMI 2.1 specification that Corbin cites are the gaming provisions built into the newest HDMI format.
Corbin says that some of the best sources currently available on the market include the latest gaming systems from Sony and Microsoft. Outlining some of the features in the HDMI 2.1 format that support a better gaming experience, Corbin points out the protocol offers Variable Refresh Rate (VRR), Auto Low Latency Mode (ALLM), and Quick Frame Transport (QFT).
Other elements of the HDMI 2.1 format that Corbin says are important are its 48Gbps throughput, which will support the market for a number of years.
To hear the entire HDMI 2.1 conversation with Mark Corbin please check out CE Pro's latest Home Theater Deep Dive video.