As the market for multiroom audio matures, integrators are searching for solutions that provide a balance between functionality and price. They must try to meet the needs of customers looking for an entry-level system, middle-tier customers looking for value, and at the high end, customers looking for a performance-based solution.
CasaTunes aims to provide options for these different tiers while asking integrators to only have to learn one system that they can then deploy everywhere. While high-end multiroom audio is a key component in most home automation installations, you should not have to implement a home automation system to listen to audio. Ideally, a multiroom audio system will provide many of the integration and management audio benefits found in a home automation system.
"One of things that differentiates us from all the other multiroom audio companies is that we develop all our own software," says David Krinker, president and founder at CasaTunes. "So we have the ability to be nimble to changes in the marketspace. Also, we are solely focused on providing audio solutions. It allows us to narrow our focus."
That nimbleness that Krinker describes can be seen in CasaTunes" ability to integrate with more than 60 audio distribution systems, including Sonos, Lutron, and most popular AV receivers. It also means the company can work with various voice control providers. That integration makes it easy for dealers to leverage existing components in a home, for example, integrating a living room AV receiver into a customer's whole-house music system.
The system also integrates with various third-party controls, including RTI.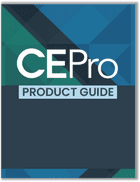 CE Pro's 2022 Product Guide showcases some of the latest and innovative solutions from manufacturers serving the custom electronics industry in a cross-section of categories.
Download the guide now!
"The brains of the CasaTunes system is our music server," says Krinker. "So one of our goals is to allow dealers to use that music server in just about any multiroom audio environment. So that is why we added support for integrating it with all the different automation systems, audio distribution systems, and AV receivers. So an integrator can pick one music server and deploy it in all their different kinds of installations."
Lastly, the system can be access remotely by both integrators and by CasaTunes tech support. During COVID-19, when so many dealers are so busy and perhaps shorthanded, Krinker has seen the CasaTunes tech support team take on an even more proactive role with clients' systems, doing remote troubleshooting to ease any potential time burden on integrators. That remote proactive management of customers' installations enables them to resolve problems and allows dealers to avoid having to roll a truck. All this, without the cost and complexity of installing a home automation system.