The 1970s are often reflected on as a golden age for 2-channel stereo and arguably the best decade for rock and pop music. McIntosh has made a couple of introductions that pay homage to both, via the new ML1 MKII loudspeakers and special edition Grateful Dead RS150 and RS250 wireless speaker solutions.
As stereo stores and systems flourished in the 70s, McIntosh produced its original ML1 speakers. The ML1 MKII offers that 'vintage style meets contemporary sound' retro aesthetic with modern technology – a trend that has been increasing among several well-known audio brands.
Refreshed with a similar bass response as the initial iteration but without the need of an equalizer, the ML1 MKII can be connected with amplifiers up to 600 watts to fill the largest of rooms, the company enthuses. It also delivers wide dispersion, which allows for an equal distribution of sound throughout the listening area, according to the McIntosh Group company.
The external design of the ML1 MKII retains the same aesthetic as the ML1 with its oiled American Walnut solid wood cabinets and satin finish veneers. Internally, however, it provides a full modern revamp to match the company's current technologies.
Featuring a 4-way design that employs five drivers, the ML1 MKII speaker is said to produce a uniform listening area and stunning sound quality via this array, per McIntosh: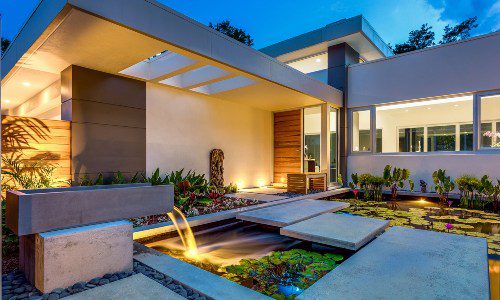 Landscape and architectural lighting create a magical and elegant ambiance for homeowners. The outdoor lighting industry has always been a phenomenal one and continues to grow in popularity. Now is the ideal time to learn more about this rapidly growing and highly profitable industry. Join our panel of esteemed lighting experts that will dive into why it's time for integrators to rethink their role in the outdoor lighting industry.
Register Now! 
Woofer: one 12-inch woofer in a sealed enclosure with a polypropylene cone and dust cap with synthetic rubber suspension.
Lower Midrange: two 4-inch lower midrange drivers in a sealed sub-enclosure also with polypropylene cones and dust caps with synthetic rubber suspension.
Upper Midrange: one 2-inch soft dome upper midrange.
Tweeter: one ¾-inch Titanium dome tweeter (the same used in its XR50 and XR100 speakers).
"While we have been making loudspeakers for over five decades, the ML1 will always be our first and holds a special place in our hearts here at McIntosh," says McIntosh President Charlie Randall. "We're incredibly excited to showcase how far the brand has come over the more than half a century with the renewed ML1 and hope our community of listeners will enjoy listening to their favorite sounds on this classic remodel."
Additionally, the ML1 MKII includes a matching stand with a vintage die cast aluminum name badge on the base. The stand helps to elevate and position the ML1 loudspeaker for optimum imaging and listening enjoyment, the company says. It comes with feet for use on hard floors, and spikes for use on carpet.
The ML1 MKII (MSRP $12K/pair) will be available through Authorized McIntosh Dealers starting in July 2023.
Grateful Dead-Inspired RS150 & RS250 Provide Mini Wireless 'Wall of Sound'
Meanwhile, McIntosh is also giving audio fans – particularly fans of the Grateful Dead and Dead & Co., who are making rounds on their final tour – an opportunity to enjoy the company's legendary sound, with a fun Deadhead twist, on a much smaller scale. Smaller than the ML MKII and much tinier than the Rock Hall of Famers' equally legendary live stage's "Wall of Sound," which McIntosh fueled with 48 amplifiers when it arrived on scene in 1974.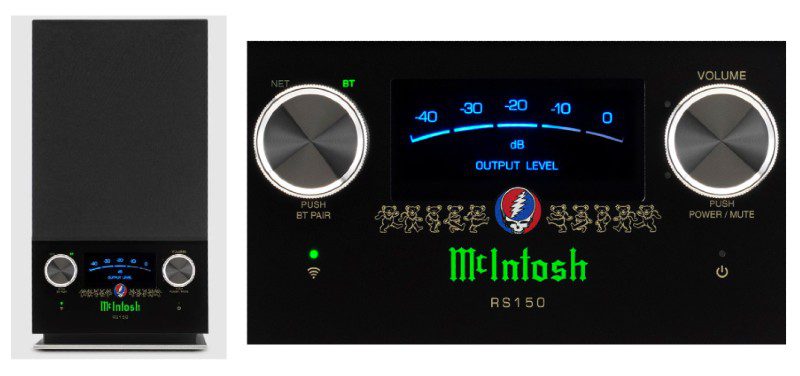 The Binghamton, N.Y.-based audio manufacturer has introduced the limited edition RS150 wireless speaker ($1,500) and larger RS250 wireless speaker system ($3,500). The latter incorporates 650 watts of amplification.
Both feature the iconic 'Steal Your Face' skull and lightning logo and 'Dancing Bears' from the Grateful Dead on the glass face plate, in addition to the signature McIntosh logo and watt meter.
For myriad music playback options, the RS150 and RS250 offer seamless connectivity with major music streaming services and platforms including Spotify, Tidal, Apple AirPlay, Bluetooth, Chromecast, and Roon. Users can control playback directly from their favorite streaming apps, with no special control app required, according to the company.
Beyond the new products, McIntosh notes that audiences who attend concert stops on the final Dead & Co. tour going on this summer will get to hear McIntosh components too. Intermissions will feature vinyl recordings played through a McIntosh MT10 Precision Turntable and C12000 Preamplifier, broadcasted in-stadium via jumbotrons during each concert as well as externally via livestreams of each performance.

If you enjoyed this article and want to receive more valuable industry content like this, click here to sign up for our digital newsletters!