It's not just the audio quality of a particular loudspeaker that can make the difference in an integrator's business, but the design can also play a major role. After all, many freestanding speakers can be considered genuine finely crafted works of art that don't just produce awesome sound, but also enhance a room's décor.
At Crowne Audio in Lake Mary, Fla., president Nael Yacoub says sound quality is by far the No. 1 deciding factor in selecting a loudspeaker, but design is not far behind.
Crowne Audio has relied on Bowers & Wilkins' loudspeakers as its go-to brand for 12 years. Yacoub says it all starts with the look of the distinctive look of the speakers that look nothing like traditional boxy speakers.
"Nobody builds a speaker like Bowers & Wilkins. The design is very unique, especially in the 800 Series. The build quality and performance levels are like no other. And when we incorporate these into our installations, the speakers become an immediate point of pride for our clients," he says.
The origin of the 800 Series industrial design is one of legend. The first generation was launched in 1979 after a three-year research project tasked with delivering one simple outcome: to create a loudspeaker so clearly superior to anything else that conventional performance comparisons could no longer apply. It has gone on to become the world's most successful high performance loudspeaker range–it's form only changing as technologies improved.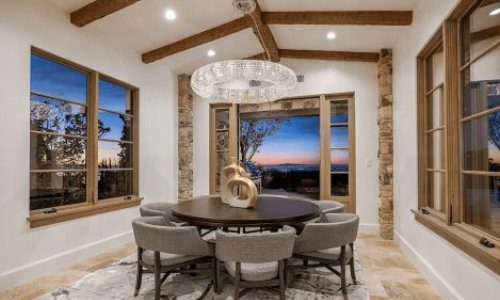 As a custom integrator, lighting is in demand. Effective communication, education and showcasing the value proposition of LED light fixtures in conjunction with integrative control systems are the keys to overcoming challenges and closing sales in this specialized market. Join us as we discuss the future of digital lighting and control with David Warfel from Light Can Help You and Patrick Laidlaw and Mark Moody from AiSPIRE.
Register Now! 
On the technology front, the company pioneered the use of Kevlar as a cone material back in 1976 and improved on its application over the next 40 years. Today, Bowers & Wilkins' 800 Series uses Continuum, a proprietary material that was the result of an 8-year R&D project. The Continuum midrange is mounted inside the solid aluminum, Turbine head, which aids in sound dispersion, reduces internal resonances and gives the range its distinctive look.
How Bowers & Wilkins Differentiates Itself
Bowers & Wilkins is founded on and driven by the need to make a better loudspeaker.
"If you really want to understand us, look at our 800 Series Diamond range," says James Krakowski, Vice President of Sales. "John Bowers famously said that the best loudspeaker 'isn't the one that gives the most, it's the one that loses the least.' That sentiment can also be expressed more succinctly as 'True Sound' and that's precisely what our 800 Series Diamond range was designed to achieve."
Krakowski says the goal is for the listener to hear what the artist intended with no coloration or distortion.
"That sounds simple to achieve but in practice, it's anything but. In addition, we want you to hear sound levels close to those of a live performance with no apparent sense of stress or strain from the loudspeaker," he adds.
Delivering a loudspeaker with that level of capability isn't a trivial task: rather, it requires every ounce of effort Bowers & Wilkins can muster. Developing and manufacturing each generation of 800 Series loudspeaker consumes enormous effort across every element of the company's business. That's why it usually takes quite a few years to deliver. "But the outcome is always a real statement, a showcase of what we can do when we're let off the leash and given the freedom to create the best products we can, free from constraints or limitations of cost," says Krakowski.
"Back in 1979, we designed the first 800 Series loudspeaker, the world-famous 801, from scratch: it didn't use off-the-shelf parts because to do so would impose unnecessary compromises on its behavior. It used computer-optimized components in its crossover design too – yes, even in 1979 – because that removed trial and error from the development process," explains Krakowski.
"In other words, it was a loudspeaker shaped by research, not guesswork. That philosophy is just as true today except that of course now, modern computers let us optimize so much more and in a much shorter period of time. So, in essence, our approach is this: we are compelled to do better in everything we do. With every loudspeaker generation, especially with a model as advanced as the 800 Series Diamond, we all learn a lot – and that helps us to make our other, more affordable loudspeakers better too," he adds.
Using Crowne Audio's Demo Rooms
That attention to detail is not lost on Yacoub, who showcases Bowers & Wilkins in his showroom.
"Our staff always starts our demos using the best product, and we have been successful selling large timbre-matched speakers by introducing clients to better goods. We have demo rooms set up where can play the same audio track on different speakers and there is a massive difference between the speakers, even when compared to the exact same price point," he says.
"Bowers & Wilkins also has some brand recognition among clients, and the margins are favorable. We surely try to make any installation work for clients so they get the best they can possibly afford. Even in situations where clients have to take a smaller speaker, but it is higher end and outputs the same power, they usually still end up with a better sound."
In business for 21 years with 18 employees, Crowne Audio mostly focuses on higher end homes and clients.
"I would say 20% of our business is 2 channel and the rest automation and surround sound. We have two showrooms in Central Florida and have many demo rooms set up for all budgets and clients, allowing the personal experience to be enjoyable without the hustle of the big box stores selling cellphones and filled with pushy or unqualified salesmen," says Yacoub.
"We stress customer service and personal experience with all our clients which allows us to introduce them to better goods. Most of our clients can afford better products but just don't know them, and they have not had the chance to experience quality audio."
Yacoub also says the company benefits from referrals via the dealer locator on the Bowers & Wilkins website.
"The dealer locator absolutely drives business to Crowne Audio, but most of the time our clients are either a referral or a repeat customer," he notes, adding that it is always exciting when manufacturers debut new products, like Bowers & Wilkins new Formation line, because it "always creates more buzz… the new line up from B&W is going to be exciting."
If you enjoyed this article and want to receive more valuable industry content like this, click here to sign up for our digital newsletters!