Venerable British audio company Bowers & Wilkins, a brand of Sound United, has introduced its new state-of-the-art soundbar, the Panorama 3. The elegant, slim all-in-one soundbar serves up the latest in immersive spatial audio as well as a wealth of other features to help dealers deliver room-filling sound for films, TV shows, games, and customers' favorite music.
The company introduced its original Panorama soundbar in 2009, named in tribute to two technologies from the golden age of cinema – Panavision and Cinerama, notes Bowers & Wilkins. It was conceived as a premium, no-compromise product offering high-quality performance from a single speaker, with no need for an external subwoofer or other add-ons, Bowers & Wilkins adds.
In 2013, Bowers & Wilkins updated that original with the improved Panorama 2, which featured upgraded drive units for even better sound, plus HDMI inputs for easier connectivity.
The new $999 Panorama 3 builds on this heritage. As with the two previous iterations, it has been specifically designed to offer great sound from just one elegant component, with no need for an external subwoofer, B&W states.
"We are thrilled to launch the new Panorama 3, our first Dolby Atmos soundbar," states Stephanie Willems, Brand President of Bowers & Wilkins. "It combines all the performance and pedigree of a Bowers & Wilkins product with the best in elegant design and effortless usability. I'm sure our fans will love its class-leading combination of room-filling sound and comprehensive features."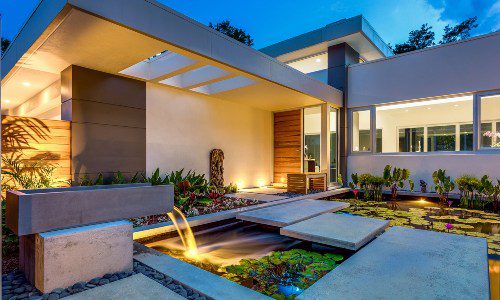 Landscape and architectural lighting create a magical and elegant ambiance for homeowners. The outdoor lighting industry has always been a phenomenal one and continues to grow in popularity. Now is the ideal time to learn more about this rapidly growing and highly profitable industry. Join our panel of esteemed lighting experts that will dive into why it's time for integrators to rethink their role in the outdoor lighting industry.
Register Now! 
Low-Profile Panorama 3 Loaded with Drivers & Technology
At just 2.5 inches in height, the low-profile Panorama 3 is easier to install, easier to set up, and easier to live with than many soundbars, the company claims. Despite its slim proportions, Panorama 3 packs in 13 individual drive units, including twin subwoofers built-in for deep, extended bass, plus a whopping 400 watts of amplification.
As Willems notes, Panorama 3 is the first B&W soundbar to feature true Dolby Atmos upwards-firing drive units. Specifically engineered and carefully angled to deliver optimal immersion, they're accompanied by a Dolby Atmos decoder and processor to deliver great sound from spatial audio soundtracks on TV, film, game and music streams.
Connection needs just one HDMI cable to link a Panorama 3 to a TV and to share the sound from any other sources, such as a set-top-box or games console. Once connected, owners can use the TV or satellite/cable box remote to control the Panorama 3's volume and power functions. The soundbar includes capacitive-touch "hidden until lit" buttons on its top surface for instant control, and features built-in Amazon Alexa voice control support.
It includes both AirPlay 2 and aptX Adaptive Bluetooth, so both iOS and Android users can easily stream their favorite music to it from their mobile devices; Spotify fans can enjoy the convenience of Spotify Connect.
For higher-resolution tunes, Panorama 3 also supports the Bowers & Wilkins Music App, giving listeners instant access to a host of streaming services including Deezer, Last.fm, Qobuz, Soundcloud, TIDAL and TuneIn.
Like the next-generation Zeppelin the company recently introduced, Panorama 3 has been engineered to last. Its powerful digital "brain" can be upgraded over time, with multiroom capability planned for introduction shortly after launch, Bowers & Wilkins says.
If you enjoyed this article and want to receive more valuable industry content like this, click here to sign up for our digital newsletters!