Supporting the fast growing large-format discplay category, Sony Electronics has announced its new high-performance line-array speaker: the SLS-1A.
The residential and commercial AV product manufacturer says its new speaker is purpose-built to create high levels of sound field coverage when paired with large format displays. According to Sony Professional, the SLS-1A can be used for applications that include education, corporate, retail, faith and other installation environments.
Sony Pro states the speaker has been developed to solve common pain-points for large and medium spaces that host large format displays. Some of the examples the company cites range from spaces unfavorable acoustics and architectural challenges, intelligibility, and the separation of visuals and sound, to the inability to create a listening experience prioritized for each participant.
"This powerful new line-array speaker offers superior, intelligible, localized audio," boasts Rich Ventura, vice president of B2B, Sony Electronics.
"As a company with a rich history in sound, we're looking forward to putting the audio back into AV with a solution that prioritizes sonic quality. We did our homework with the launch of the SLS-1A, deliberately developing and designing an immersive product that enhances listeners' experiences and solves customers' acoustic challenges related to uniform sound distribution, modularity and installation."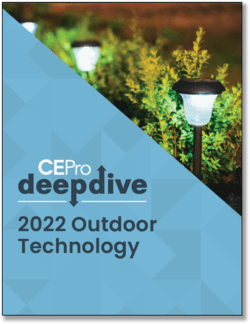 The 2023 CE Pro Outdoor Technology Deep Dive reveals unique set of impediments, including explaining pricing and interacting with outdoor-centric trades.
Get your copy now to take a "deep dive" into the trends and challenges of outdoor technology.
Download the report now!
Sony SLS-1A Speaker Creates Wide Soundstage
Sony Pro explains that one of its new modular, bar-style speaker's key features is its wide sweet spot, which is said to deliver a clear sound field in larger spaces. The newly developed SLS-1A incorporates the latest Sony audio technologies, along with onboard DSP (digital signal processing) and amplification that produces 80 watts total power per module. Sony Pro notes that through the speaker's design, the SLS-1A not only suppresses sound distortion, but it also enables beam steering to control the direction and angle of sound delivery with high levels of accuracy.
The company continues that through the combination of technologies and set-up options the SLS-1A can serve integrators and their clients as a sound system that is effective not only for voice, but also for content playback, to create a uniform sound pressure and quality in large listening areas.
Explaining the speaker in greater detail, Sony says the SLS-1A employs eight channels of amplifications and DSP within a rigid aluminum enclosure, and the speaker can be placed vertically or horizontally to support its installation flexibility.
Dealers can also employ a modular system approach when using the speaker to design systems with multiple SLS-1As connected via a single Dante connection. Because of the speaker's modular capabilities, the speaker offers both integrators and end users a simplified design that incorporates fewer components to reduce installation labor and system costs.
Additionally, Sony Pro stresses, the speaker's inclusion of center screen sound localization technologies when using horizontally placed speaker arrays to create a "phantom" center channel effect to make the SLS-1A complementary to large displays where center-channel localization is challenging due to speaker position.
Overall, the speaker is engineered to creates a uniform sound experience no matter where a viewer is positioned. The SLS-1A is designed for use with multiple large format display types, including Crystal LED, BRAVIA 4K Professional Displays, as well as business projectors to create a connected AV ecosystem.
More news from Sony Professional: Field of Dreams Game to Use Sony Pro Gear