Sony is launching two new scalable, lower-cost series of its Crystal LED premium displays designed for corporate, retail and screening room use cases that come with improved installation flexibility and power consumption: the BH and CH Series.
The Paramus, N.J.-based electronic company's new BH series and CH series microLED displays will be available in a P1.2mm and P1.5mm pixel pitch and deliver the exceptional picture quality and accurate colors associated with Sony's Crystal LED technology.
"Our Crystal LED displays continue to be the gold standard," says Rich Ventura, vice president of professional display solutions at Sony Electronics.
"With the launch of the BH- and CH-series, we've made Crystal LED more accessible by giving our customers cost conscious options that inherit similar premium image quality, grandeur and dependability along with increased installation flexibility."
According to the company, the BH-series offers high brightness and a wide color gamut, and the CH-series provides "unmatched black levels" to give customers new versatile options that fit their needs and budgets.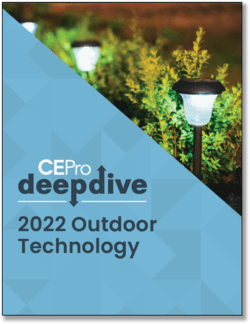 The 2023 CE Pro Outdoor Technology Deep Dive reveals unique set of impediments, including explaining pricing and interacting with outdoor-centric trades.
Get your copy now to take a "deep dive" into the trends and challenges of outdoor technology.
Download the report now!
Sony BH and CH Series Powered by X1 for Crystal LED Processor
Sony says the BH-series has a high brightness of 1,700 cd/m2, which the company says is more than double that of other high-end LED displays. The CH-series offers 1,300 cd/m2 and a black level value that Sony claims measures at approximately 1/10 of competitive LED displays.
The displays' X1 for Crystal LED image processor enhances content to ensure smooth imagery, crisp and accurate pictures and clear gradation without motion blur. This is a result of the processor's built-in features; 22-bit Super Bit Mapping, Reality Creation and Motionflow.
As a modular solution, customers can choose the size and resolution of the display. The BH- and CH-series feature super fine LEDs and a unique coating, to achieve a wide viewing angle without unnatural color shift. The new models come pre-assembled and calibrated to ensure a seamless appearance. A future firmware update will enable additional uniformity through auto color adjustment, the company says.
In addition, the BH and CH display cabinets are about 10% lighter than 10% thinner than current models, making them easier to install and integrate. An easier on-site assembly results in an installation time that is about 20% faster than previous models, and high-efficiency LED chips help reduce power consumption by about 25% the company boasts.
More news from CE Pro: Could MicroLED Start to Rival Projection on Projects?
Another version of this article originally appeared on our sister-site My TechDecisions on January 25, 2023. It has since been updated for CE Pro.