Sonus faber Gravis III Sub Powered by 600-Watt Amp
The newest subwoofer from Sonus faber is the Gravis III. This sub incorporates a 10-inch driver driven by a 600-watt Class A/B amplifier.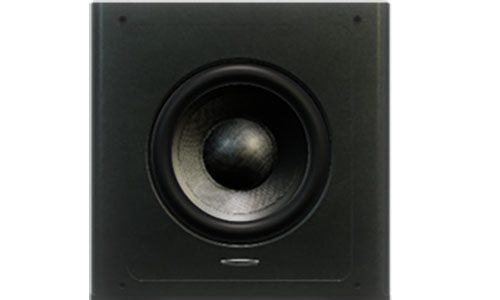 Adding to its selection of subwoofers, the newly announced Sonus faber Gravis III is the latest member of the company's Gravis family of products.
Introduced at the ISE 2020 show in Amsterdam, the Sonus faber Gravis III is designed to serve as an intermediate model to complete its Olympica Nova line.
The Gravis III subwoofer utilizes the same aesthetics as the company's other Gravis products, including a piano-black finish, along with a black leather covering. Sonus faber points out the Gravis III adds top finishes of wenge and walnut to match the design elements of the Olympics Nova products to help the Gravis III better complement companion speakers.
Externally, the subwoofer also features a removable fabric grille with metal pins that covers the Gravis IIIs' trilaminated sandwich-cone diaphragm woofer. This driver employs a layer of honeycomb in between its layers that manages the driver's excursion and resistance flexing.
Powering the sub's 10-inch woofer cone is a Class A/B amplifier that is capable of producing 600-watts into an 8-ohm load.
Gravis III Provides Array of Install and Control Options
Helping the installation market integrate the Gravis III into a variety of home AV systems, Sonus faber says the sub includes a choice of connectivity and control options.
The sub's rear panel offers high- and low-level inputs via a Speaker 4-pin connector that managers two left and right channels. Sonus faber also says one or two line-level signals can be carried using balanced (XLR) or unbalanced (RCA) connections when installing the sub.
LFE signal connections can be made using either an RCA or XLR cable, and Sonus faber emphasizes that integrators can connect to a system wirelessly through the subwoofer's integrated wireless receiver.
Sonus faber supports the wireless options with an optional transmitter that eliminates the need for long cabling runs.
In addition, homeowners can control the Gravis III subwoofer using a dedicated app. The app provides a choice of four presets to run the subwoofer, and the app also provides a number of controls to help customize the integration of the sub with the rest of a speaker system.
Some of the controllable parameters the app offers to facilitate integration with speaker systems includes delay, parametric filters and limiters, cutoff frequency, and acoustical output phase.
Moreover, the Gravis III subwoofer and app come with a calibration option to help integrators to maximize the sub's performance in any home environment.