Séura Inc., a developer of design-driven technology solutions, has announced that Rob Emberley, currently vice president of marketing & product development, has been promoted to president effective immediately.
Rob Emberley will be responsible for all of Séura's business-to-business and direct-to-consumer operations. Prior to joining Séura, Emberley was the VPGM for Igloo Products delivering winning strategies and executions.   
Emberley takes over the company's operations from its founders, Tim and Gretchen Gilbertson, who will now transition to co-chief executive officers. The Gilbertsons will remain involved in the company's three-plus-year growth planning, product innovation, and strategic decisions.
"Since joining Séura in 2020, Rob has strengthened our business, establishing new routes to market and introducing winning product innovations. We're confident that Rob will bring the same proven track record of success to running our entire company," comments Gretchen Gilbertson.
"As we set our strategy for continued growth, this organizational change will maximize our company's capability-building and results. Rob has excellent business acumen and leadership skills to accelerate Séura's growth."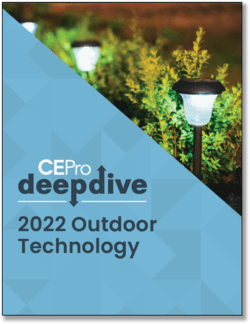 The 2023 CE Pro Outdoor Technology Deep Dive reveals unique set of impediments, including explaining pricing and interacting with outdoor-centric trades.
Get your copy now to take a "deep dive" into the trends and challenges of outdoor technology.
Download the report now!
"Our goal is to rapidly scale by delivering more value to our partners and consumers, with plans to more than double our company's size in the next three to five years," says Emberley.
"I am incredibly energized and honored to assume this new position and look forward to partnering with our customers to profitably lead industry growth."
Emberley has over 20 years of executive-level experience in brand marketing, manufacturing, R&D, and sourcing from working for Fortune 500 and high-growth companies.
More news from Seura: HTA Names Gretchen Gilbertson as new Board Member