I don't claim to be out on an island with this thought, but I generally believe right now Sony is producing some of the best projectors not only currently available today in the consumer video market, but also in its storied brand history.
Underscoring the quality of its products is the newly announced VPL-VW1025ES 4K HDR laser projector.
Developed as a successor to its acclaimed VPL-VW995ES, the new VPL-VW1025ES is an updated version of the 995 that is highlighted by the inclusion of Sony's X1 for Projector processing engine.
I'll get more into the X1 for Projector technology later, but over the last year-plus I've tried the VPL-VW995ES and new VPL-VW915ES products, so I was happy to take a look at the VPL-VW1025ES in the same system that I tried the other projectors.
My system, by the way, includes an Onkyo receiver, along with a 100-inch Stewart Filmscreen 16:9 Phantom HALR fixed projection screen. Sources include a Dish Hopper 3 set-top box (STB), a 4K Apple TV and a Panasonic UHD disc player.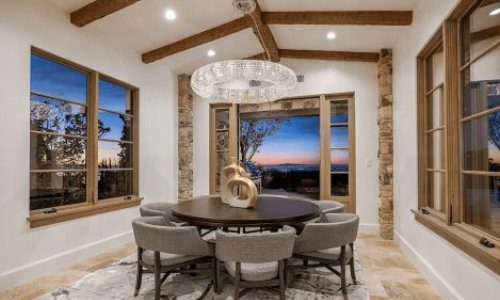 As a custom integrator, lighting is in demand. Effective communication, education and showcasing the value proposition of LED light fixtures in conjunction with integrative control systems are the keys to overcoming challenges and closing sales in this specialized market. Join us as we discuss the future of digital lighting and control with David Warfel from Light Can Help You and Patrick Laidlaw and Mark Moody from AiSPIRE.
Register Now! 
Sony VPL-VW1025ES Features and Setup
Arriving at my house in a single large box, the 49-pound VPL-VW1025ES measures just over 22 inches wide by 8 inches high by 19 inches deep.
Getting into more detail about the X1 for Projector processing that's at the heart of the 1025, Sony took the processing technologies from its BRAVIA line of televisions and optimized them for its projectors. Sony explains this processing combines precision frame analysis, along with its Dynamic HDR Enhancer and Super Resolution technologies.
Summarizing the Dynamic HDR Enhancer technologies, Sony says the enhancer analyzes each scene to deliver improved levels of contrast when viewing HDR content. It also increases the dynamic range of the VPL-VW1025ES' contrast and brightness levels by linking the projector's laser light engine with the iris of the unit's optical system.
The Super Resolution "Reality Creation" technology is described as a technology that also analyzes each scene to enhance the content to provide real world detail and texture.
Other technologies built include Sony's native 4K SXRD 4096 x 2160 chipset that delivers up to 8.8 million pixels. The VPL-VW1025ES also incorporates the company's ARC-F lens that includes an all-glass, 18-element design that utilizes six extra-low distortion (ELD) elements.
Setting up the projector in my house was a multiple-stage process. The first phase was a basic setup. This started once I removed my projector from my system and placed the VPL-VW1025ES in my projector location, plugged in my HDMI and power cables.
---
CE Pro Features
True 4K 4096 x 2160 resolution via Sony SXRD chipset
X1 processor for projector imaging processing
18-element, all-glass ARC-F lens
Z-Phosphor laser light engine with up to 20,000 hours of life expectancy
HDR and anamorphic lens options
IMAX Enhanced content compatibility
MSRP is $39,999
---
After aligning the image, including picture geometry with my Stewart Filmscreen projection screen, I focused the projector. These actions were all done with the lens option controls on the included remote control.
The next step of the basic setup was to get a picture that I was comfortable with in order to assess the projector without drilling too deep into the menus.
After toggling through several of the calibration presets, I started with the "Bright Cinema" mode and I set the Motionflow processing at "True Cinema." Other controls such as color, contrast, etc., were left at the factory settings.
Later as I had begun to transition into the second phase of the setup, which was to go through the projector's settings, I reset the calibration preset to "Reference," and I also turned off many of the processing options such as MPEG noise reduction, gamma correction, clear white and others. I did set the HDR to the "auto" mode; but I did Reality Creation option on, and I reset the Motionflow processing to low.
Moving onto the next phase, I also tried the Auto Calibration option and similar to my other experiences with this proprietary Sony technology, I thought it did "tighten" the image up from what I had initially dialed in by image dynamics.
Lastly after a few days of living with my initial setup, then the Auto Calibrated setup, I went into the projector's settings and made my own calibration adjustments.
Performance and Final Thoughts
A couple of years ago I said to sum up the VPL-VW995ES that once you got beyond its price, it actually represented a great value by providing a level of performance that was much greater than its retail price. The new VPL-VW1025ES elicits similar types of thoughts even with its increase in price over the 995.
Straight from the box the VPL-VW1025ES provides nice images that include well-saturated colors and noise-free images via the X1 for Projector technology. The Auto Calibration mode ups that ante to increase the "pop" of those images and it adds increased low-level detail that many projectors crush. Adding my calibrations took the projector to the next level.
Checking just how good the color saturation and black levels were for the projector I went to one of my go-to resources: the Boston Bruins. I thought the black of the team's uniforms was deep and I could see a high level of material texture with the Bs' jersey. Watching another familiar piece of content, I streamed the first episode of "Game of Thrones" from HBO Max.
Having seen this episode a number of times I thought the costumes looked highly detailed, and the colors of the scenery, including the woods and countryside, looked accurate with earthy greens, browns and off whites. The images were also noise free. I will also add that I believe through the processing power that comes courtesy of the X1 for Projector technology, the VPL-VW1025ES delivered more clarity in scenes such as, "The man who passes the sentence should swing the sword."
Wanting to check out some native 4K content I popped in the UHD disc version of Deadpool 2.
I thought the movie looked fantastic with high levels of color accuracy, along with high levels of resolution and low-level detail. I find the overall presentation of this movie to lean on the muted side; brightness levels, color brightness, but the color depth and details of things like Deadpool's costume were excellent.
Moving onto a movie that I think is excellent for both audio and video demo content—Godzilla: King of Monsters, I think the UHD disc version contains lots of great audio and low-level dark images that can serve as a torture test for a home AV system.
Despite all of the dark scenes in this movie, the VPL-VW1025ES handled it with a lot of finesse. On a lesser projector this movie is very capable of drawing the same complaints viewers found with the Game of Thrones' "Battle of Winterfell" episode in which poorly setup video systems could not resolve the details in the dimly shot show. The projector not only provided that detail, but it handled the movie's fast-paced action content to provide a smooth viewing experience.
In wrapping up my evaluation of the projector I went old school. I popped in the 20-year-old "Faroudja test disc." This old disc is a DVD so it's a lower resolution source that includes a number of pixel, motion and movie editing test sequences.
I used this disc to check the projector's upscaling, motion processing and ability to resolve film-to-video content. The projector aced all of the test content in this disc, including per-pixel adaptive deinterlacing, inverse 3:2 pulldown and mixed video and film content. Circling back to my original comments about the VPL-VW1025ES, I think the projector continues Sony's long string of high performing, competitively priced projectors that are more than capable of reproducing the intentions of the Hollywood content creation community.
Like its predecessor, I think Sony developed the VPL-VW1025ES for small-to medium sized viewing environments with some level of lighting control. In larger rooms and/or rooms with varying levels of ambient light, the company offers other solutions that are more appropriate.
Getting back to my original point, in the right environment the VPL-VW1025ES with its X1 for Projector processing will deliver reference level images for a price point that is hard to match.
I highly recommend checking out Sony's newest projector for yourself.

CE Pro Verdict:
Pros:
Excellent overall image quality
True, accurate colors
X1 for Projector processing helps the VPL-VW1025ES to provide smooth images without softening picture quality
Cons:
It is somewhat bigger than average projector on the market
Like previous iterations of this projector performs at a reference level in small- to medium-size rooms. For reference performance it should be used in environments that complement its feature set
If you enjoyed this article and want to receive more valuable industry content like this, click here to sign up for our digital newsletters!