The benchmark home entertainment company Kaleidescape has added to its selection of storage solutions through the introduction of its new Terra 6 Movie Server.
Kaleidescape says its new entry-level movie server provides 6 Terabytes of storage, and the product is available to dealers for shipment.
"The compact Terra 6TB when combined with a Strato C player replaces the Strato S as our entry-level system, while providing the ultimate playback experience with significantly greater scalability and performance," notes Tayloe Stansbury, CEO, Kaleidescape.
The high-performance AV manufacturer points out the new Terra 6 Movie Server offers homeowners the ability to download full-length 4K movies in as little as 10 minutes on a gigabit Internet connection. Kaleidescape also emphasizes that its latest movie server solution delivers four times the speed of its Strato S 6TB all-in-one player/server to help expedite the movie download process.
Some of the other user-convenience features the new Terra 6 Movie Server provides homeowners includes the ability to deliver up to five simultaneous 4K UltraHD streams to multiple Strato players located throughout a home in a Kaleidescape multiroom home entertainment system. For comparison sake, Kaleidescape says the Strato S product only supported the ability to deliver two simultaneous streams.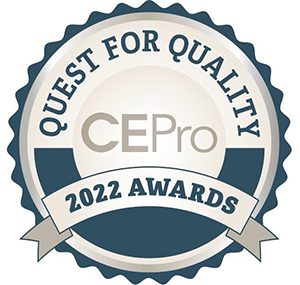 CE Pro urges integrators to recognize their suppliers that go above and beyond to deliver premium support and service. Cast your vote today to recognize the services (not the products) from your favorite manufacturers and distributors.
Cast your vote today!
Additionally, the 1U Terra 6 Movie Server also supports the ability to simultaneously support the ability to download movies, while supporting the playback of content on companion Strato players.
The newly announced Terra 6 Movie Server joins the company's existing selection of movie server products, which includes the compact Terra 6TB, Terra 12TB, Terra 18TB models, as well as the full-size Terra 24TB, Terra 48TB and Terra 72TB models.
For a limited time (March 31, 2022), Kaleidescape is bundling the Terra 6 Movie Server with its Strato C for a special price of $7,995.