For many years, the idea of using invisible speakers in a home was seen as a compromise in terms of audio quality. No more with speakers like the LRG and LRX Series from Stealth Acoustics.
"Our No. 1 goal from the inception of this company was sound quality," says Brian Azzano, vice president at Stealth Acoustics. "The founder of our company and the developer of our products saw one of the first invisible speakers at CEDIA Expo back in 2001. He loved the concept and thought the future was bright for a product that could mesh well with modern decor and be interior designer- and architect-friendly. But the sound quality was lacking back at that time."
Fast forward to today and Stealth has several series of invisible speakers that Azzano says will stand up against any traditional in-ceiling or in-wall speaker.
The LRG Series represents the company's sixth generation of invisible speaker.
"It represented a significant upgrade for us in terms of technology," says Azzano. "It centered around the flat radiating speaker diaphragm that finishes like wallboard. So the diaphragm is literally the entire front of the speaker."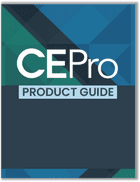 CE Pro's 2022 Product Guide showcases some of the latest and innovative solutions from manufacturers serving the custom electronics industry in a cross-section of categories.
Download the guide now!
The LRG Series breakthrough was due to the use of a fiberglass-based material for the diaphragm dubbed Fidelity Glass. It is a radiating surface made from durable and impenetrable glass fiber that resists elements like rain, sunlight or harsh temperatures, while providing full and natural sound for music or speech applications.
The company's newer LRX Series takes the Fidelity Glass diaphragm one step further in that the company can now mechanically tune the diaphragm to adjust for peaks, for example, using a crossover network and mechanical tuning.
As multiroom audio has become the "norm" in integrator's clients' daily lives, the aesthetic impact of multiple and unsightly speakers can often impede on modern interior designs.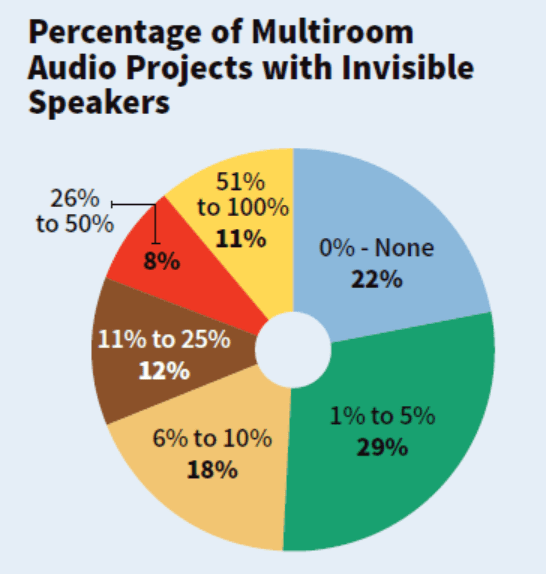 Raising aesthetics over technology has been a continuing goal of AV integration — not allowing bulky speaker boxes, unsightly grilles or in-your-face soundbars to impact the look of a room is why invisible speakers exist. The challenge with most invisible speakers is that they just don't perform very well.
Stealth Acoustics' lines of invisible speakers are no longer an audio compromise. Stealth speakers are true, complete speaker systems, all in a simple-to-install form factor that becomes completely invisible, according to the company.
Recent major advancements in Stealth Flat Radiating Diaphragm (SFRD) technology elevates the overall listening experience, allowing the designer and integrator to avoid the trade-off of audio performance versus aesthetic appeal.
Because Stealth Invisible Speaker technology delivers ultra-wide dispersion, the proposition for creating seamless audio in a multizone space is very easy. With an extremely wide (170-degree) sound field and no grille to draw the eye, Stealth Invisible Speaker placements can be flexible and problem-solving. Need to avoid lighting schemes or obstructions in a wall or ceiling? Simply adjust the speaker placement to accommodate this — the ear will never be able to pinpoint the difference. Also, those "bright" or "dead" spots in a room as you pass beneath traditional type speakers will disappear too