With all the inroads made over the past few decades by integrators in terms of diversifying their category mix, audio and video are still clearly the kings of the custom installation industry. And with technology advancements such as IP-based distribution, integrated control solutions, and wireless transmission now making it so much easier for CE pros to deploy multiroom solutions, the AV distribution market continues to be healthy coming out of the COVID-19 pandemic.
According to the 2021 CE Pro Multiroom AV Deep Dive Study, nearly half of all projects (44%) over the past 12 months include some form of multiroom signal distribution. According to the most recent CE Pro State of the Industry Study, the typical custom integration company did 55 residential installations in 2020 and 11 commercial projects. So this new multiroom AV data equates to about two multiroom residential installations per month, and one multizone commercial installation every other month during the year.
Meanwhile, integrators predict a 4% increase in their multiroom AV installation revenues in 2021 compared to 2020. Overall, about 15% of custom installation companies expect their multiroom AV business to be curtailed over the next year, while nearly one-in-four (24%) expect business to be flat. The remaining 61% of integration firms are expecting business to increase. That includes nearly 2% who expect business to double.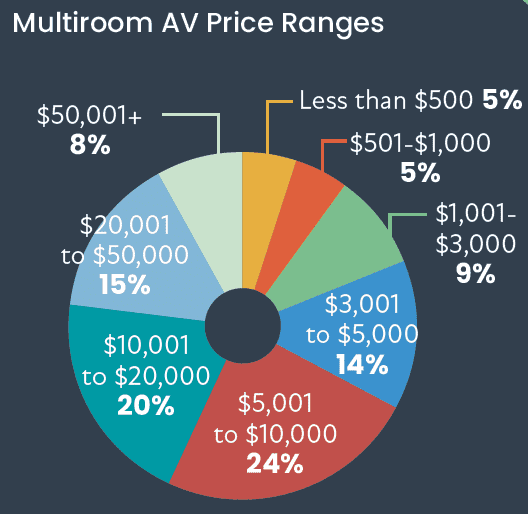 Only about 4% of integrators report that they did not perform a single multiroom AV installation over the past 12 months. On the flip side, 8% of integrators report that every single project they designed and installed over the past year include some form of multizone audio/video. According to the study, the typical multiroom AV system installed has four zones of audio (with eight loudspeakers), three zones of video (obviously with three TV displays), and a median price point of $8,467. To break that down further, it equates to $2,116 per audio zone.
Clearly, the ability to merge audio distribution in with video distribution makes it a much more lucrative situation for integrators. In the 2020 CE Pro Multiroom Audio Deep Dive Study — which looked solely at audio distribution systems and did not address video at all — the median price-per-zone for an audio-only distribution system was $1,675. So by melding audio in with video, integrators are able to build a 26% premium in pricing.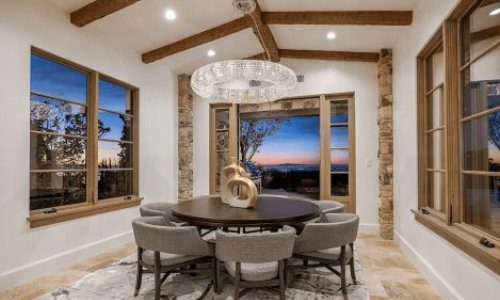 As a custom integrator, lighting is in demand. Effective communication, education and showcasing the value proposition of LED light fixtures in conjunction with integrative control systems are the keys to overcoming challenges and closing sales in this specialized market. Join us as we discuss the future of digital lighting and control with David Warfel from Light Can Help You and Patrick Laidlaw and Mark Moody from AiSPIRE.
Register Now! 
Interestingly, just over one-in-10 multizone AV projects had only a single audio zone. These could be standalone, self-powered local zone solutions like those from Sonos and others, or it could be a commercial application that focuses more on video distribution, such as digital signage, and forgoes audio signal distribution. According to the study, 7.5% of installations included a standalone, self-powered local zone wireless speaker as part of the total project.
Overall, 53% of multizone audio projects include some aspect of wireless distribution, with 21% of projects being completely wireless. Still, that means nearly half (47%) of all multizone wireless installations are fully hardwired with no wireless component.
Looking at multiroom video-only projects, only 11% of those jobs are completely wireless. More than two-thirds (68%) are completely hardwired, leaving 21% of jobs a combination of hardwired/wireless.
The prevalence of wireless also enables integrators to do more retrofit multizone audio work than they might have otherwise been able to do. Indeed, 44% of all multiroom AV projects were in an existing home, compared to 36% in new residential construction and 20% in commercial locations.
Among the other trends identifiable in the survey include the growth in outdoor multizone AV, likely due to the pandemic. Dealers report that almost half (49%) of all their multizone projects included an outdoor audio zone last year, while 27% included an outdoor video zone. Nearly half (43%) included a home theater zone. Home theater was another area of business that spiked during the pandemic.
A Look at Trends Impacting Profit Margin, Pricing

As noted earlier, the median price point for a multiroom audio/video installation was $8,467. The price range of installations is quite wide. About 5% of installations are less than $500. That is likely a situation in which an integrator is simply providing a client with a single-zone, self-powered wireless solution with no tie into architectural loudspeakers.
Similarly, another 5% of projects fall between $501 and $1,000. At the other end, just over 8% of projects come in at more than $50,000. Those are likely installations that include multiple zones of high-end displays and speakers. About 5% of projects include 21 or more loudspeakers, while 4% of installations have more than eight TV displays.
If you are looking for anything to dampen the luster of the multiroom AV market, it might be the lower profitability. According to the survey, the median profitability on a multiroom AV installation is just 26%. That is much lower than most home theater and control solutions, which according to multiple previous studies from CE Pro all have margins in the mid-30% range.
There are several trends that could be influencing this lower multiroom AV profit margin. In terms of audio distribution, wireless systems from companies like Sonos have taken hold. That means integrators are not pulling wire, so there isn't increased billing hours related to running wires, not too mention the cost of the wire itself.
Also, suppliers like Savant with its IP Audio solution enable integrators to distribute any audio source or input to any output or speaker over the network, without having to home run speaker wire or lossy analog audio back to a centralized rack. Those units also include built-in streamers, which possibly eliminates the need for a separate source device.
Speaking of the equipment rack, advancements in IP-based video signal distribution have greatly reduced the use of traditional video distribution matrices. That not only simplifies the installation for the technician, it also means there are no massive matrix switchers to install. Those units were often pricey and had margin potential for dealers. Just over one-infour projects had an AV-over-IP solution, while nearly one-in-three (29%) still included a matrix switcher.
In terms of modes of signal transmission, HDMI cable remains the dominant technology with nearly two-thirds of all projects (64%) using the interface. HDBaseT extenders over Category cable were used in over one-third of all jobs (34%) and fiber-optic cable was part of nearly one-in-four projects (23%).
Lastly, voice control as an interface option continues to grow, with more than one-in-five jobs (21%) implementing voice control. That could be a built-in solution like from Dish Hopper, or a third-party integration using Google Assistant, Amazon Alexa, Josh.ai, or other solutions.
Click here to see all of the charts and data for the CE Pro Multiroom AV Deep Dive!
If you enjoyed this article and want to receive more valuable industry content like this, click here to sign up for our digital newsletters!