With its lineup of flush mounts and discreet mounting solutions for various devices, Wall-Smart fit well with the design/build crowd that visited its booth at the International Builders' Show (IBS) 2022, held last month in Orlando, Fla.
The Israeli company's IBS 2022 booth at the Orange County Convention Center showcased its assortment of new construction and retrofittable mounts, compatible with a range of finishes and surfaces including drywall, glass, marble, wood, concrete and more.
Installed products covering the Wall-Smart walls included touchpanels, keypads, electrical outlets, voice control interfaces, light switches, security cameras, wireless access points and even smart speakers. Yes, that latter category has been addressed by Wall-Smart thanks to the addition of a new addition to the portfolio, flush mounts for Sonos' Beam and Arc soundbars.
The mounts are available in black or white with matching magnetic acoustically transparent grille covers so builders, integrators, architects and designers can attractively recess and conceal a Sonos soundbar instead of having it out in the open on a mantel or cabinet, having to attach it directly to a display or hiding it within furniture.
"We showed it to Sonos and they really liked it," says Galia Ben-Dor, co-CEO of Wall-Smart.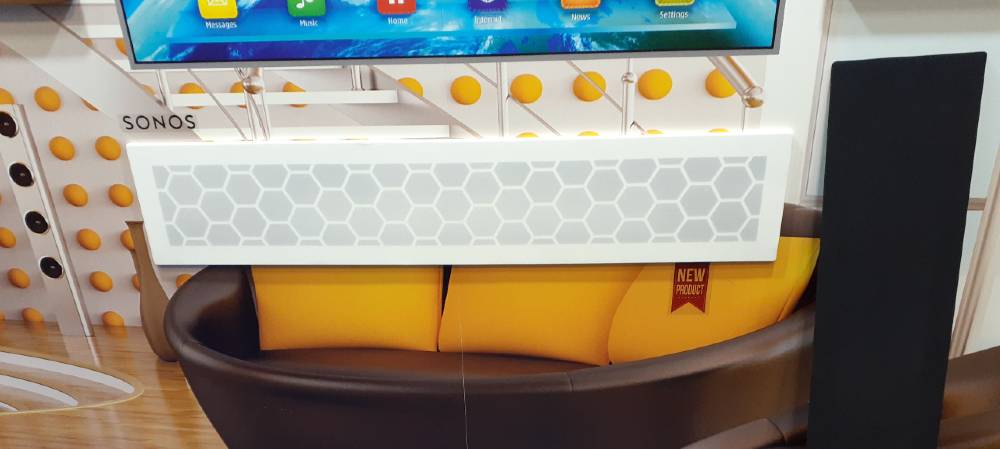 Another new low-profile solution for IBS 2022, Wall-Smart has developed a mount for Apple's latest tablet, the iPad Mini 6. Meanwhile, new products for user interfaces and other aforementioned devices from custom industry companies such as Crestron, Control4 (Snap One), RTI, URC, Lutron, Russound, Legrand, Basalte and Josh.ai filled the booth.
"Once there's a new solution on the market, we strive to be the first ones to have a flush mount solution for it," notes Ben-Dor.
She outlined the company's ability to work with new construction and retrofit to offer versatility in drywall solutions, provide paintable mounts that can blend based on needs, and resolve installations in other surfaces thanks to cutting templates they can offer carpenters.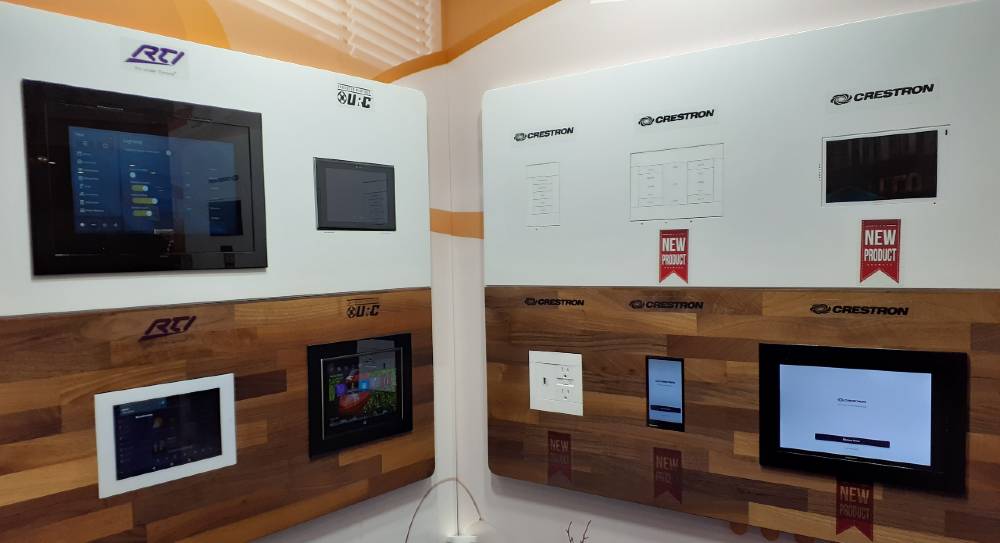 The staggering array of design-friendly flush mount solutions gave IBS attendees insights into the compatibility with different finishes they were installed into, as well as the ease of installation. The results highlighted how smooth a wall can look even with devices that ordinarily hamper its appearance – a point really underscored by the subtle profile of Josh Nano and Josh Micro voice control devices within Wall-Smart mounting.
Wall-Smart Makes Wireless Access Points Disappear, but Easy to Access
In addition to the walls, booth visitors who glanced up saw how Wall-Smart created low- and virtually no-profile solutions for surveillance cameras and wireless access points.
The new Wi-Fi access point concealment solutions facilitate greater flexibility for integrators and builders to incorporate those products where they are optimized for performance without worrying about creating eyesores for homeowners. Furthermore, it can help integrators when they need to service or document an install, Ben-Dor notes of the product's origin.
"It came from the field," Ben-Dor says of the Wi-Fi access point solution, shown with Ruckus and Araknis products at the IBS booth. "A dealer said, 'I couldn't care less about aesthetics, I have an issue with the Wi-Fi access points. Every time we have a call, my technician spends four hours just to find it because they hide it in the attic, a basement. I don't know where it is and I want to save time – can you hide it in the ceiling and make it look like a speaker?'"
The resulting product indeed makes wireless access points readily findable, with a magnetic cover making access to the ceiling cavity and WAP location simple.