Working together to create a more integrated smart-home user environment, Wall-Smart has teamed with the home control and automation company Josh.ai to develop the Josh Micro Mount.
Josh.ai states that it worked with Wall-Smart to create a wall mount solution that provides a flexible way to integrate the Josh Micro user interface into a range of home environments, regardless of what stage of the installation process integrators are at.
Elaborating on the partnership between the two companies, Galia Ben-Dor, co-CEO and founder, Wall-Smart, says that Josh.ai is providing next-generation control solutions and Wall-Smart wants to support the integration of those products into consumers' homes.
"We are pleased to partner with Josh.ai and believe that artificial intelligence [AI] devices are the future of the connected home," explains Ben-Dor.
"We are happy to offer Josh.ai's dealers flush solutions for both new construction and retrofit installations.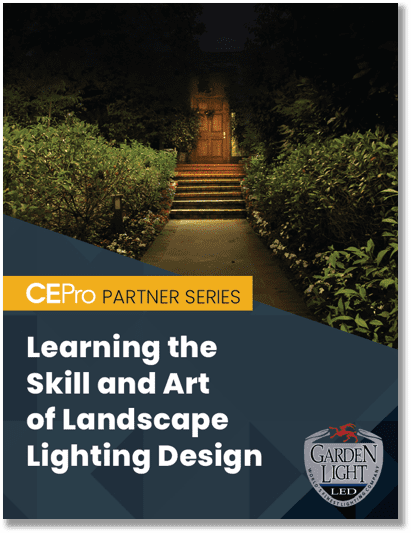 Experts recommend landscape lighting design as an entry point for integrators into the revenue opportunity of home lighting. Check out our new resource for tips and best practices. Download "
Learning the Skill and Art of Landscape Lighting Design
" today!.
Wall-Smart Mounts Complement Josh.ai and Interior Home Designs
According to Josh.ai, Wall-Smart's new mount product utilizes the mount company's popular design philosophies to augment the Josh Micro's voice and capacitive-touch user interface options.
The Josh Micro Mount rests flush with walls, and it incorporates a bezel that can be painted the same color as a wall's finish.
Addressing retrofit installation scenarios, the mount is engineered to install and complement a home's interior in a similar fashion as the new-construction mount.
Like other Wall-Smart products, integrators can specify custom audio grilles and color finishes.
Related: Wall-Smart Quick to Ship Flush Mounts for Latest iPad Pro, Crestron Horizon, More
Using the Josh.ai Micro, homeowners can use voice commands to control a variety of smart-home functions that include, "OK Josh, dim the lights to 50%," "raise the shades on the first floor," and "listen to Rush everywhere."
"We're excited to partner with Wall-Smart as a fellow design-focused innovator in our industry," adds Alex Capecelatro, CEO, Josh.ai.
"The look and feel of the Josh.ai experience is extremely important as we align ourselves with the design, architecture and builder communities. Our relationship with Wall-Smart is another step towards blending technology into a truly connected home."