Recently, CE Pro virtually sat down with Lee Marc, CEO, MantelMount, to discuss the ways in which the changing landscape of displays has impacted its business, how the company works with manufacturers to attach soundbars to its mounts, and more.
MantelMount makes products that meet industry standards, including UL. Why is this important for the company, integrators and their customers?
We spend a lot of time promoting the functionality and performance of our mounts, but equally important to us is the safety of our integrators, end users and their property — and that's evident in our engineering and manufacturing processes. No matter how feature-rich our mounts are or how sophisticated our technology, we won't introduce any product into the market that doesn't meet the highest safety standards. That's just not in our DNA.
Even before gaining official UL listing, UL safety and quality standards were always built into every MantelMount product. We perform rigorous manual quality assurance and automated cycle testing on every product coming off the factory line; nothing goes in a box without being thoroughly safety-tested. We see UL standards as a critical element, and the mark itself lets customers know that MantelMount is a product they can rely on when it comes to safety.
We also provide a wealth of materials communicating our safety features on the dealer portion of our website that integrators can use at every stage of the sales and installation process. Plus, on the consumer-facing website, information and videos on each product page highlight all of these safety features. Additionally, a great deal of safety and other information can be found in our FAQs.
---
Home entertainment is changing with bigger screen sizes, 4K, HDR and immersive audio. How does MantelMount fit into the equation?
---
Regardless of the technology, size or accessories associated with today's flatscreen TVs, our purpose is still singularly focused: to allow customers to mount their televisions high on a wall or above a fireplace, bring them down to eye level, swivel them to the optimal viewing angle, and easily return them to their high-on-the-wall positions when they're done.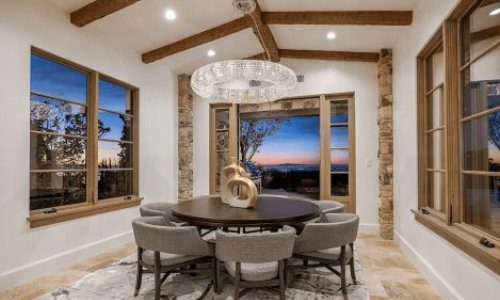 As a custom integrator, lighting is in demand. Effective communication, education and showcasing the value proposition of LED light fixtures in conjunction with integrative control systems are the keys to overcoming challenges and closing sales in this specialized market. Join us as we discuss the future of digital lighting and control with David Warfel from Light Can Help You and Patrick Laidlaw and Mark Moody from AiSPIRE.
Register Now! 
Of course, within that framework, we have extreme flexibility. We listen to the market, follow the trends, and remain nimble. As screen sizes got larger, then heavier, then lighter, then larger again, we created new models to accommodate it all. As soundbars became more popular, we began to expand the methods by which a soundbar could be attached. And once the smart home became more popular, we introduced our MM860 Automated MM860 Robotic TV Wall Mount, to take advantage of people's growing hunger for the convenience of home automation.
Newer video technology — like HDR or 8K — rarely is the driver of change in our design or functionality, if ever. In the end, these advances don't alter the foundation of our mounts' performance. Through a combination of vertical travel, tilt and swivel, our products allow the user to move any TV to the optimal viewing angle regardless of ambient lighting conditions for the ultimate in comfort and clarity.
Aside from technological changes, it's worth noting that the trend toward open floorplans and family rooms with high mantels has created the need for a longer vertical dropdown of the television — which we accounted for in our newer models. Looking ahead, we already started engineering in anticipation of "wallpaper" TVs becoming more widespread.
---
How is MantelMount working with the manufacturers of soundbars?
---
Increasingly, consumers are getting their immersive audio from soundbars. We believe if you're watching TV at eye level, you should be listening to your TV at ear level, making the audio experience as satisfying as the video.
But candidly, attaching soundbars to the MantelMount wasn't without its challenges or learning curve. There are so many different soundbars with different form factors that vary dramatically in height, depth and width. They have an endless variety of bolt patterns, connectors or intermediary brackets generally meant for attaching the bottom or the back of the soundbar to the wall.
We've certainly evolved in this arena. Rather than working with any particular soundbar manufacturers, we relied heavily on product research, customer feedback, flexibility, and creative engineering to devise solutions that accommodate each possible mounting option.
Today's MantelMount models come with built-in soundbar support and additional soundbar attachments right in the box, offering much more flexibility.
[Soon] we'll be introducing a truly universal soundbar adapter designed specifically for MantelMount. It's a testament to what can happen when you put your customer service and engineering teams in the same room to solve problems. This unique design should make it quick and easy to secure any soundbar on the market to the MantelMount.
---
How important are options such as dropdown and automation in a TV mount for integrators to offer?
---
One of our guiding philosophies is that we have a mount for everyone. For some people, a manual dropdown mount is exactly what they need and want. They may not be interested in the technology of a motorized mount and don't feel that the act of pulling the mount down manually is much of a chore.
Plus, they may not be as interested in the additional features that our automated mount offers (memory presets, automated heat-sensing handles, power loss recovery, etc.). And our manual mounts certainly offer lower price points, which can be very attractive to some customers.
But there are people who seek an automated solution for various reasons. Many people are "early adopters," who enjoy having the latest technology at their fingertips. Some appreciate the added convenience of not having to leave their couch if they want to adjust the mount's position.
There are also customers who have fully embraced the smart home concept with smart lighting, locks, shades and temperature control; an automated mount that drops and swivels to the perfect viewing angle is a meaningful enhancement to their smart home ecosystem.
---
How does having a diverse line of products and price points help dealers?
---
The rationale for different price points is much the same as it is for offering both manual and automated mounts: being able to provide something for everyone. Every mount ultimately serves the same fundamental purpose. But with different price points come different options, as well as the ability to handle televisions of different sizes and weights; generate greater vertical travel distance; offer heavier construction, and more.
As would be expected, our MM860 sits at a much higher price point than our manual mounts. With a $1,999 price tag, it's not for everyone. But for the user who wants home automation convenience, it's a must-have item. Plus, for an audio/video connoisseur who might have spent $25,000, $50,000, even $100,000 on their entertainment system or home theater, it's a relatively low price to add to the mix.
It should be mentioned that our diverse line of products also extends to our accessories, like our RB100 Recess Box. This simple-to-install accessory allows the user to integrate MantelMount seamlessly into a custom-built wall opening and create the flushest TV-to-wall storage on the market. Having such a diverse line of products — as well as the diverse price points that go with it — allows dealers to help any customer enter the world of full-motion TV mounts.
---
Are integrators using MM860's ability to integrate into third-party control systems?
---
Interestingly, when we first started selling the MM860, we were surprised by the number of customers who were buying it even though they had no form of home automation. The key was our patented Power Sensing technology embedded into the mount, which detects when the TV is turned on and automatically lowers it to a favorite preset. In many cases, this feature alone was enough to sell customers on this mount.
Of course, the use of third-party control systems (including Control4, Crestron, Elan, Logitech, RTI, Savant and URC) allows the user to unleash the mount's entire range of functionality, and integrators have fully embraced these capabilities. More and more, integrators with home automation as a central focus of their business are dramatically increasing their average revenue-per-project by installing the MM860 in their showrooms — and we make it easy with a program that gets them a showroom demo at no cost.
---
What's the business case for adding MantelMount to integrators' core stable of products?
---
Years ago, MantelMount's inventor showed me a 7-second video of his 8-year-old daughter walking up to a large screen TV, effortlessly pulling it down to eye-level, swiveling it toward the couch, then plopping herself down to watch. In just seven seconds I saw the problem, the solution, and I immediately wanted one. I showed that video to a few friends who said things like "Wait, are these available now? How much are they?" Next thing you know I partnered with the inventor and we built a company around it.
In our early days, the sales manager would say MantelMount's biggest competitor was anonymity. We've grown a lot since then, but there's still some truth to those words. Selling a MantelMount is not yet a reflex for all integrators, but it really should be. When they walk into a house where the customer wants to put the TV high on the wall, it's a no-brainer.
We offer a real solution to a real problem that consumers instantly understand. What's more, whether in a showroom or on an iPad, it's quick and easy to demonstrate. As soon as someone sees it in action, they want one. We hear this regularly from our most loyal integrators. The icing on the cake is with MantelMount, the TV mount goes from commodity to higher profit item, commanding higher install fees as well.
If you enjoyed this article and want to receive more valuable industry content like this, click here to sign up for our digital newsletters!