Meridian will be showcasing a number of its audio solutions on the AV EMEA booth (2H150) at ISE 2023, including its flagship DSP8000 XE loudspeaker in a volcanic red finish.
Meridian Audio states the DSP8000 XE is the first Meridian loudspeaker to emerge from the company's Extreme Engineering Program which commenced more than six years ago. The British audio company points out the speaker is built on a brand-new audio architecture, using higher specification, more powerful components and leveraging its expertise in psychoacoustics to achieve high levels of sound quality.
Also on display in addition to the DSP8000 XE loudspeaker will be Meridian's DSP750 loudspeaker, which combines high dynamic range, low distortion, and outstanding signal-to-noise ratio combine to provide full-range audio with exceptional headroom and low listener-fatigue. Meridian states the DSP750 loudspeaker delivers a maximum output of 120dB and bass extension down to 30Hz.
Other speakers Meridian will show includes its DSP3200 loudspeakers in a volcanic orange color. These compact speakers provide high levels of performance for applications such as intimate listening spaces or as part of a larger installations. The speakers employ Meridian's DSP technologies with two integrated amplifiers, on-board digital signal processing (DSPs), and two drivers.
The Meridian exhibit at the annual trade event will also include the 210 Streamer, the 218 Zone Controller, the 258 Power Amplifier, the 271 Digital Theatre Controller and the 251 Powered Zone Controller. Show visitors will also be able to meet with the company to discuss Meridian's complimentary Design and Specification Service, which supports project planning and presentation and makes it quicker and easier for integrators to specify the right products for each particular installation.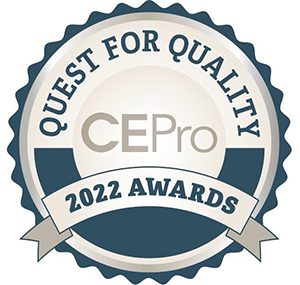 CE Pro urges integrators to recognize their suppliers that go above and beyond to deliver premium support and service. Cast your vote today to recognize the services (not the products) from your favorite manufacturers and distributors.
Cast your vote today!
The Meridian team invites show attendees to visit its booth for a drinks reception at 5 p.m. on Wednesday Feb. 1 at stand 2H150. ISE 2023 takes place in Barcelona on Jan. 31 to Feb. 3 at the Fira Barcelona Gran Vía Venue.
More news from Meridian Audio: The New $180K AEHRA SUV Includes a 'Home Theater' Mode
ISE 2023 is fast approaching. Visit our news archives to see everything that's come out about the show so far.