LG Electronics' officials confirmed on Wednesday afternoon that the worldwide display manufacturer has indeed decided to pull out of next week's Integrated Systems Europe 2020 show in Amsterdam (Feb. 11-14) because of coronavirus concerns, after doing the same at the Mobile World Congress.
"As a multinational corporation, LG Electronics has been closely monitoring the situation related to the coronavirus, which was declared a global emergency by the World Health Organization as the virus continues to spread outside China," the company said in a statement emailed to CE Pro sister publication Commercial Integrator shortly after reports first surfaced about LG's plans.
"With the safety of the public in mind, LG has decided to withdraw from exhibiting at ISE 2020. This decision reduces the risk of exposing employees and customers to international travel which has already become much more restrictive as the virus continues to spread across more borders," the LG statement says.
"From the perspective of LG Business Solutions USA, we understand that there may be disappointment about missing our amazing product assortment that would have been highlighted at ISE, but we are looking forward to sharing our latest innovations at InfoComm 2020 this summer."
LG has also cancelled its participation in Mobile World Congress 2020, being held at the end of this month in Barcelona, as the coronavirus continues to spread around the world.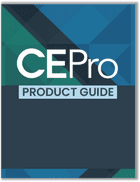 CE Pro's 2022 Product Guide showcases some of the latest and innovative solutions from manufacturers serving the custom electronics industry in a cross-section of categories.
Download the guide now!
Multiple media outlets were reporting LG's decision earlier in the day. One report said LG's booth was already under construction in the RAI Amsterdam, so this decision — which was apparently announced to LG staff today — certainly carries some financial ramifications for the company, including canceling flights, hotel rooms, and other trade show accommodations.
In an update sent out Wednesday afternoon, ISE officials say they "have continued to receive amazing support and assurances of their participation" from the top 250 ISE 2020 exhibitors and many others scattered across the 15 halls.
"Although LG has informed us that they do not intend to take up their stand at this year's ISE, we look forward to the many other major exhibitors taking shape with their newest technologies, offerings and announcements," stated ISE in its update.
Will Other ISE 2020 Exhibitors Follow LG's Lead?
It'll be interesting to see, now that LG has set the precedent and become the first large company to back out of the last ISE event in Amsterdam before the largest show in pro AV moves to Barcelona in 2021, whether others that were flirting with the idea amid coronavirus fears will follow the South Korean-based company's lead.
ISE has become the target for many AV manufacturers when it comes to introducing new products and ISE managing director Mike Blackman told CE Pro sister publication CI in a recent interview that companies asked him to keep the show in February or it could cost them business by delaying the release of their new products.
LG still has a microsite dedicated to its planned appearance at ISE 2020 with a countdown to the start of the show and a discount registration code.
The company is using the slogan Lead for the Future and highlighting its fine-pitch LED series, color transparent LED film, 130-inch all-in-one LED screen and a "what's next" teaser for the Cinema LED in a preview video ahead of ISE 2020.