For more than three decades, K-array, an Italian audio manufacturer based in Tuscany has been developing audio solutions for discerning customers.
Using its background in the professional sound market, which often uses line-array technologies for applications that include live music, K-array has migrated into the home market and developed a number of products that can be setup as line-array solutions in residential settings.
Underscoring the science of sound, as well as the desire for humans to have audio systems in their homes, Rusty Waite, president of K-array USA explains that when applicable, line source technologies disperse sound further and more precisely than the point source technologies that are traditionally used in home audio.
Waite emphasizes that a variety of factors, including the size and shape of the room will help determine when the use of line source technologies align with the performance goals of the homeowner.
Regardless of what technology is used however, Waite notes that K-array offers both point source and line-source products. More importantly he continues, the company has developed a reputation for providing discreet speaker systems that complement booth indoor and outdoor spaces.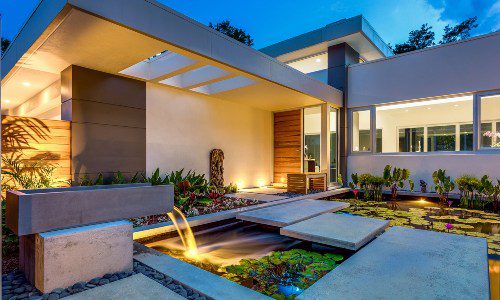 Landscape and architectural lighting create a magical and elegant ambiance for homeowners. The outdoor lighting industry has always been a phenomenal one and continues to grow in popularity. Now is the ideal time to learn more about this rapidly growing and highly profitable industry. Join our panel of esteemed lighting experts that will dive into why it's time for integrators to rethink their role in the outdoor lighting industry.
Register Now! 
"Coming from Italy, it's very important that design is key, but then we also come from a pro audio background, so providing really top quality is paramount … it has the same importance to us as design you know we have some more flexibility when we are using line sources because our speakers can be smaller," he comments.
Using the combination of proven science and the influences of its Italian heritage as design inspiration, Waite stresses that K-array is providing professional integrators with a full selection of loudspeakers and subwoofers that can be used to reproduce home theater audio that includes immersive audio without compromising dynamics and sound quality.
To learn more about K-array, including its product line and line-array technologies, check out Waite's conversation with CE Pro magazine on home theater and line-array technologies.
If you enjoyed this article and want to receive more valuable industry content like this, click here to sign up for our digital newsletters!