Learning how to wall mount a flat screen TV feels like it should be a rite of passage in the professional integration industry. It's a practice that has become the bread and butter of home design, and among veterans, it almost seems like a competition to see who can come up with the most stylish and impressive home theater or general viewing setup.
Whether this is your first time attempting the installation, or you're already a seasoned AV veteran, this guide aims to cover just about everything you could ever need to mount a flat screen TV on a wall, from sourcing the right products, to perfecting your style with some installation inspiration.
The Tools You Need to Mount Your TV
Once you have everything planned and organized, you can start the mounting process. First, and foremost, make sure you have the proper tools on hand to mount your TV:
Pencil or painters tape (for marking points)
Tape measure
Stud finder
Level
Power drill with drill bit
Screwdriver
And of course, the TV mount and its associated hardware.
An assistant of sorts is also valuable, as lifting and handling the TV itself can be a cumbersome task.
How to Mount a Flat Screen TV on a Wall
1. Choose Your Wall Mount
We're going to assume you already have your TV selected, otherwise you wouldn't be here. That being said, the first step in mounting a TV is finding the right TV wall mount for the project. What constitutes the 'right' TV mount will ultimately depend upon your needs.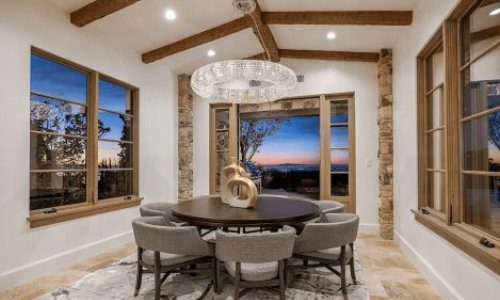 As a custom integrator, lighting is in demand. Effective communication, education and showcasing the value proposition of LED light fixtures in conjunction with integrative control systems are the keys to overcoming challenges and closing sales in this specialized market. Join us as we discuss the future of digital lighting and control with David Warfel from Light Can Help You and Patrick Laidlaw and Mark Moody from AiSPIRE.
Register Now! 
Different types of mounts are going to offer different advantages and disadvantages. For instance:
The fixed mount is the simplest and usually the cheapest type of TV mount you can buy, but they don't offer much else aside from holding the TV in place.
Swivel mounts allow a TV to be pivoted along a horizontal axis.
Full motion TV wall mounts are also called "fully articulating mounts" and can extend, tilt and swivel along multiple axis, but they're also more expensive.
Motorized TV mounts allow your to automate and remotely control the mount's movement, allowing for a convenient (and admittedly cool) viewing experience.
For a comprehensive listing of companies that make mounts, lifts and concealment hardware for flat screen TVs, you can check out both AV-IQ and CE Pro-IQ.
You'll also want to consider the size and weight limitations of your TV mount. This information is usually listed on the outside of the box in the form of the VESA size and UL safety rating, however, if you're unable to find it, most reputable manufacturers will have the information listed on their website.
It is also heavily advised to consult the mount manufacturer's instructions on how to install a specific TV mount with the flat screen you have selected before trying to affix it to the wall, as certain mounts may come with more specific instructions.
2. Figure Out Where You Want to Position the TV
By far the biggest concern people have when mounting a TV is how high a TV should be mounted. It's not without reason. An improperly positioned TV can lead to poor image quality, neck pain and eye strain among many other issues. Overall, it leads to a poor viewing experience, so it's worth taking the extra time to ensure the TV is positioned at the exact perfect height and viewing angle.
A good rule of thumb is to have it so when a person is seated, their line of sight is aimed at the center of the TV. However, much like the English language, there are a series of conditionals that come attached to that statement.
Other factors you'll want to consider when deciding where to mount a TV include:
The general layout of the room
Where the intended audience is going to be seated.
How a TV mount might attach to the back of the TV,
Audience height
And even the size of the TV itself.
Mounting a TV on material other than wooden studs, like say, mounting a TV over a fireplace, will require a completely different approach than what might even be outlined in this guide.
Other elements you might want to consider include the TV's access to power, storage for media components, whether the TV will be able to clear certain obstructions on tilt, swing, or articulating mounts, how much sunlight the TV will be exposed to, and even how easy it will be to conceal cables.
If you're still stumped we also have plenty of inspiration for where to place your TV.
3. Find the Studs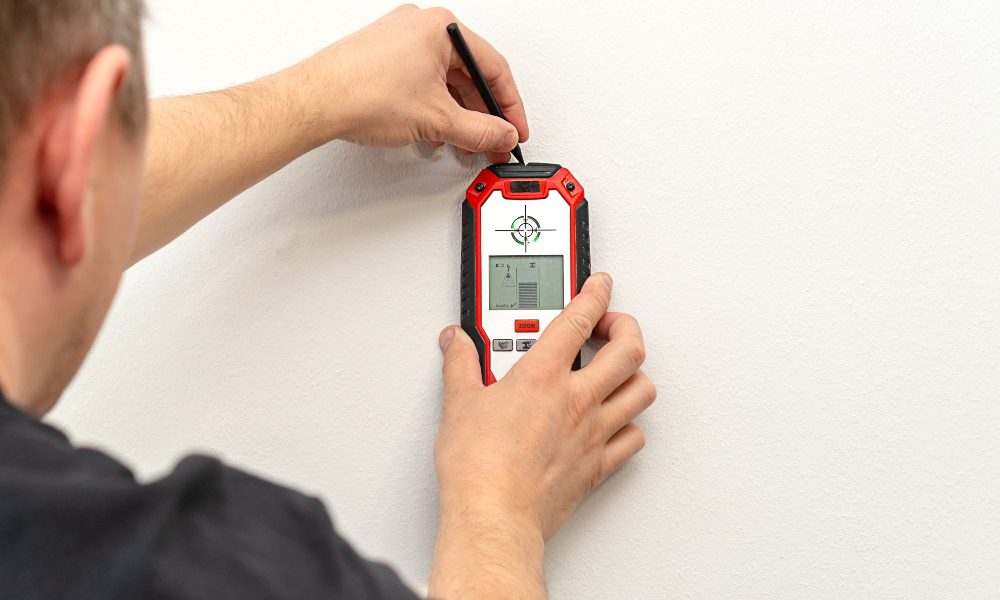 When mounting a flat screen TV to the wall, you're always going to want to affix the mount to studs for stability. Once you've figured out the perfect location, it's time to find the studs. The best and most reliable method is to use a stud finder tool to do so.
Best practices dictate using two studs to mount a flat screen TV to the wall, however some mounts might even need three. And though some mounts claim to require only a single stud to mount, it's better to be safe than sorry. Confer with the mount to determine how many studs need to be found.
With all that said, once you've located two studs to support the TV mount, mark the location of each stud's center with a pencil.
Take note that metal studs are not conducive to mounting flat-screen TVs because they are much weaker than wood studs, with the ability to hold about one-third the weight of their wood counterparts.
4. Mark and Confirm Your Pilot Holes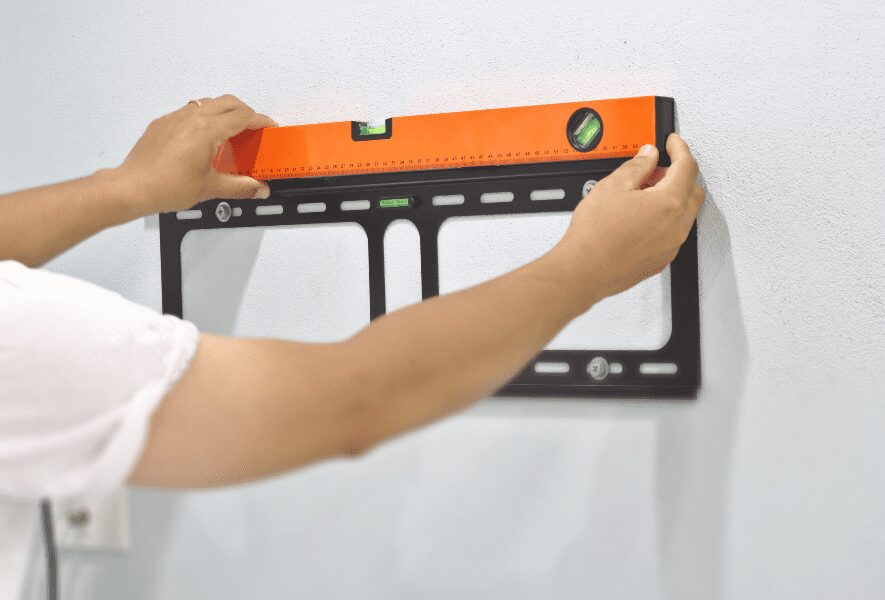 Follow this up by measuring the distance between the top and bottom holes on the TV mount and lining up the two points on your selected wall studs. These will be your pilot holes. Use a level and tape measure to ensure that they are not only evenly spaced on both studs, but that they are also level.
Then, using the mounting bracket as a frame, place the bracket flat against the wall and align the screw locations with the marks. Test the positioning of the bracket with a level once you're aligned.
This will provide the template you will need to start affixing the mounting bracket to the wall.
Once you're absolutely sure all the measurements are clean, pre-drill your holes in the marked positions.
5. Mount the Bracket to the Wall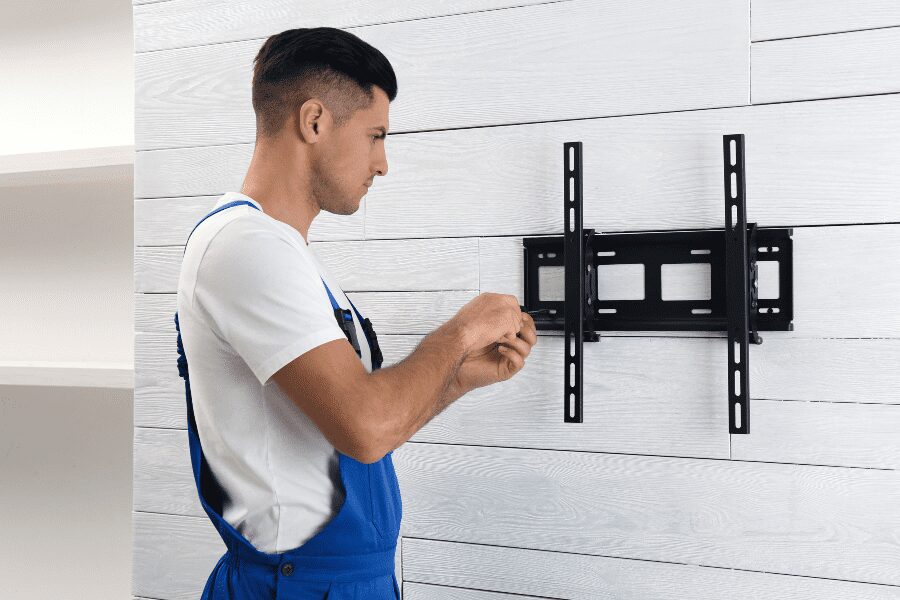 Place the mounting bracket to the wall, aligning it with the newly drilled pilot holes, and drive the provided mounting screws into the holes. You want to make sure that the screws are tight enough so the bracket doesn't shake while on the wall, but not so tight that it starts to warp or sink into the drywall.
After you've finished, check the bracket one last time to ensure it is level.
6. Attach the Mounting Plate to the TV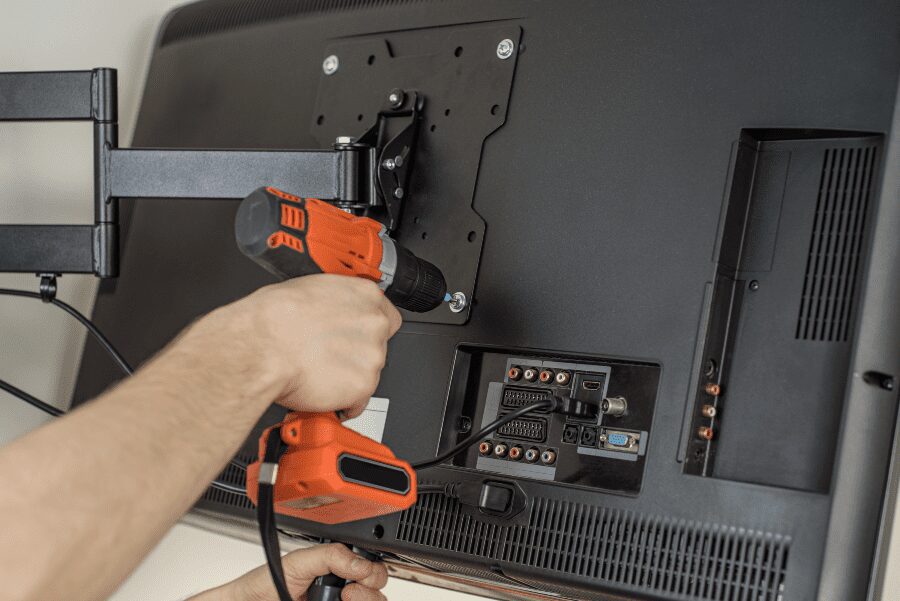 Each TV mount will come with different instructions on how to attach it to your chosen TV. For instance, affixing a mounting plate for a fixed TV mount will be far less complex compared to a fully articulated TV wall mount.
Check the manufacturer instructions on how to attach the mounting plate to your flat screen TV.
7. Attach the TV Mounting Plate onto the Wall Mount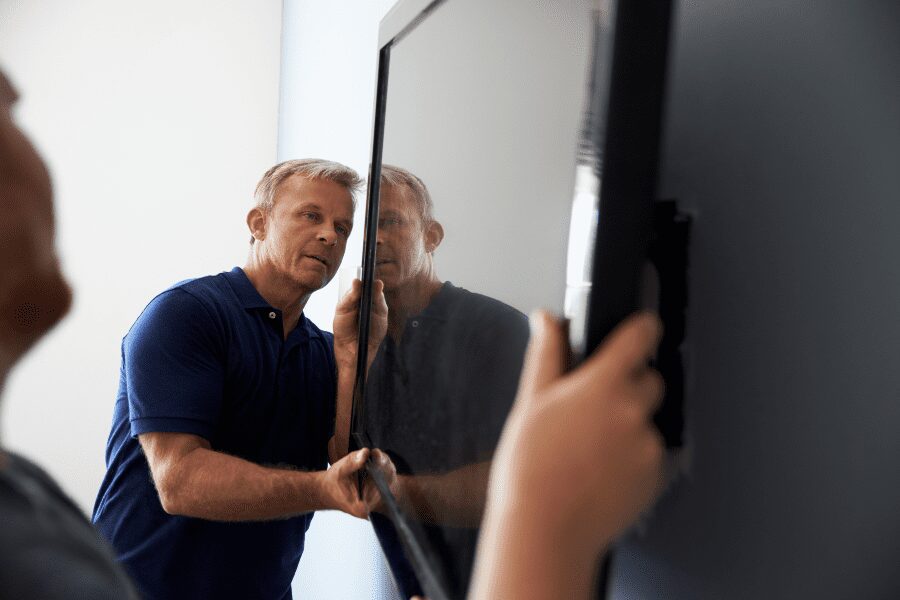 Get some help for this stage. Flat screen TVs may be far lighter than their earlier ancestors, but that doesn't mean they're not still heavy, especially when you're trying to mount them on a wall.
They're also fragile, so any mishap may result in buying a new TV. Consult the manufacturer's guide for this step as well, as how each mounting plate affixes to the wall mount varies from product to product.
Once finished, double-check to make sure that the connection between the wall mount and the flat screen TV is secure.
After that, plug everything and the TV is good to view.
Have you already picked out the sound system you plan to use with your newly hung TV? If not, be sure to check our list of some of the top soundbars on the market. Also, be sure to check out CE Pro's list of outdoor video products if you're planning on mounting a TV outdoors. We also have a list of some of the top microLED TVs on the market currently for the discerning cinephile.
If you enjoyed this article and want to receive more valuable industry content like this, click here to sign up for our digital newsletters!