LG Electronics announced it will be unveiling its 2023 soundbar lineup, including the brand-new SC9 and SE6 models, at CES 2023 in Las Vegas this January.
These latest soundbar models offer seamless integration with the company's TVs. When paired, the LG Soundbar and TV present new features such as Wow Orchestra, which utilizes every one of the two products' audio channels to create an expanded soundstage with improved height, depth and power. LG's 2023 soundbars and TVs offer Dolby Atmos and IMAX-enhanced quality powered by DTS:X.
The company's home entertainment audio solutions also bring the intuitive interface to the Home Dashboard on LG TV, enabling users to manage their soundbar's settings and share sound modes with the TV. Wowcast allows the 2023 soundbar models to connect wirelessly with LG TVs.
The new soundbars also boast a sophisticated design that complements the minimalist look of the company's latest TVs. A new bracket enables users to place their Soundbar directly below LG TVs. The bracket, which attaches to the rear of a compatible LG TV, can be used to wall-mount or stand-mount the new soundbars.
The 2023 soundbars deliver accurate sound reproduction and enhanced clarity with LG's Triple Sound Technology, which includes a Triple Up-Firing Speaker. New for this year, Triple Level Spatial Sound Technology employs channel analysis performed by an HRTF-based 3D engine to add a virtual mid-layer. The result is lifelike sound with a convincing sense of space that puts listeners at the center of an immersive audio environment, according to the company.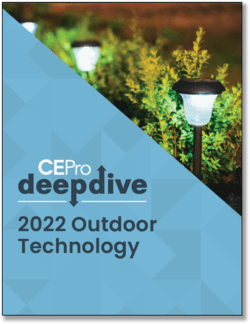 The 2023 CE Pro Outdoor Technology Deep Dive reveals unique set of impediments, including explaining pricing and interacting with outdoor-centric trades.
Get your copy now to take a "deep dive" into the trends and challenges of outdoor technology.
Download the report now!
Other features include LG's Triple Sound Optimizer designed to boost the new soundbars' performance, and the Smart Up-mixer, which converts two-channel audio into multi-channel surround. Tailoring audio output to the user's space, LG's enhanced AI Room Calibration analyzes the circumstance of the room, then applies that information to the soundbars' settings. It also subdivides the front channel frequencies to help improve overall balance, the clarity of vocal performances, movie dialogue and the accuracy of the sound image.
The new models also incorporate LG's advanced AI Sound Pro feature that analyzes audio signal and automatically applies the most appropriate settings. LG's new soundbars are compatible with a wide range of services, devices and connectivity features.