There aren't many products on the market that are so powerful that they require the technicians to take a special certification course by the U.S. Food and Drug Administration (FDA), but the Sony VPL-GTZ380 projector is not just any product.
Since its debut last February as the company's latest flagship projector early last year, the $88,000 Sony GTZ380 has quickly become a favorite for many top integrators due to its impressive 10,000-lumen light output that offers dealers the flexibility to install it is varying ambient light conditions.
"It's a cannon," says Bill Petters, president of Sound Components in Miami, in reference to the strength of the 10,000 lumens of light emanating from the Sony GTZ380. Indeed, the laser light is so potent that Sound Components' technicians, as well as any technicians who install the projector, are required to take an online FDA course on laser safety prior to installation.
"It's one of the prerequisites to being able to order the projector," says Petters. "The online FDA laser compliance course offers an understanding of the potential dangers of looking directly into the laser light output from the projector. It has to do with the classification of the laser light, which can be really dangerous. Sony just wants to make sure it's installed correctly, so dealers have to cross all the T's and dot all the I's to install it. Sony is being very specific about who can install it… it's not a DIY projector installation."
As noted, the Sony GTZ380's 10,000 lumens of light and its wide color gamut of 100% DCI-P3 without any loss of brightness open up the potential for broader residential and commercial applications including dedicated home theater, high-ambient-light multipurpose living rooms or great rooms, corporate board rooms and auditoriums, entertainment venues and simulation environments. The VPL-GTZ380 also incorporates a newly developed native 4K SXRD panel with improved light stability and a new laser light source using a red laser diode, in addition to the two different-wavelength blue laser diodes.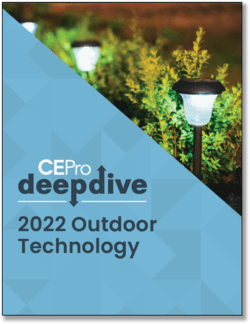 The 2023 CE Pro Outdoor Technology Deep Dive reveals unique set of impediments, including explaining pricing and interacting with outdoor-centric trades.
Get your copy now to take a "deep dive" into the trends and challenges of outdoor technology.
Download the report now!
All that technology means it delivers overwhelming image expression with high contrast, brightness and HDR in a compact chassis. The projector weighs just 112 lbs, compared to the 242 lbs. weight of Sony's previous flagship projector, the G-90.
Sound Components Sells 2 Sony GTZ380's in First Demo
Sound Components was started in the 1970s under the direction of Peter McGrath as a boutique hi-fi salon. Petters joined the company in 1990 and helped transition the company to custom installation. Today, Sound Components does about $10 million annual revenue with 35 employees and is a full-service integration company offering audio, video, networks, lighting control, access control, motorized shades and a full complement of product categories. The company has been using Sony gear from the outset.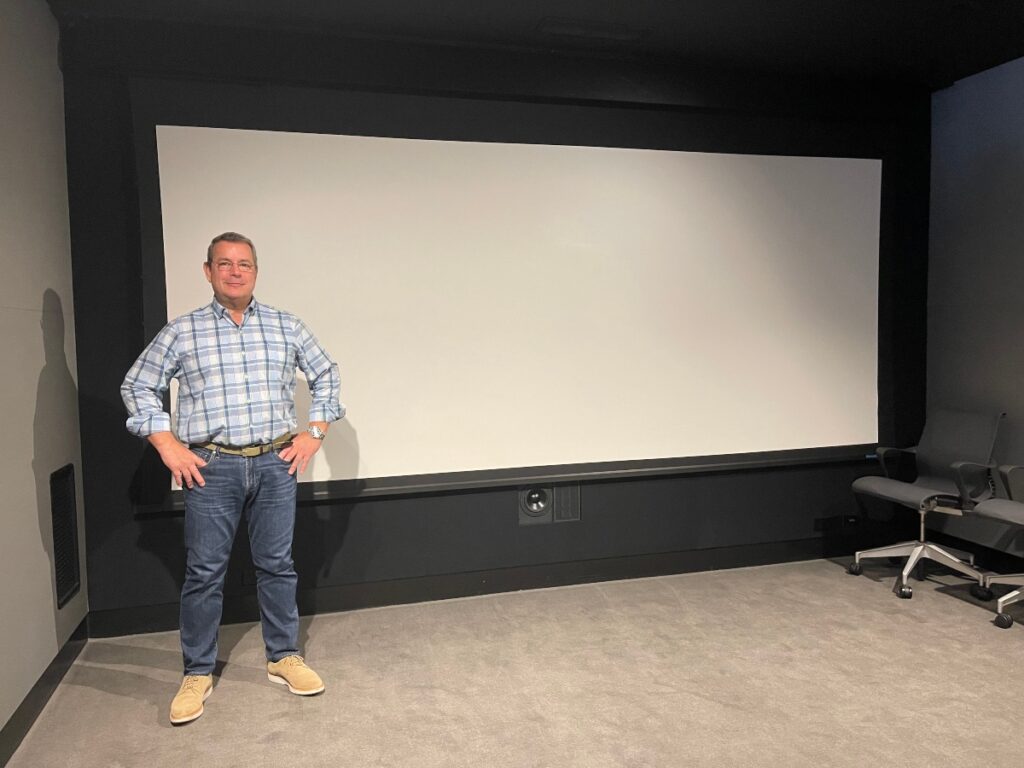 Petters says the smaller chassis size and high light output of the VPL-GTZ380 are well suited for his Miami-area clientele.
"In South Florida, we have a tropical environment so there is usually a high amount of ambient light streaming into the homes. Plus, we don't have basements here so the amount of light in the room is difficult to control. In the past, we have had to make a choice between installing a high-lumen output projector or a low-lumen output projector that has better color fidelity. With this one pushing 10,000 lumens, there's no tradeoff whatsoever.
"It literally looks like a big, fixed display panel. The image quality is absolutely sensational. It's extremely compelling."

— Bill Petters, President, Sound Components
He continues, "It literally looks like a big, fixed display panel. The image quality is absolutely sensational. It's extremely compelling… it doesn't look like anything that you've ever seen before. It allows us to explore putting much larger screen sizes than we typically would in certain rooms. It has a tremendous amount of output without sacrificing color fidelity.
"In the past, high-lumen-output projectors tended to wash out colors and did not have the contrast or the black levels. This projector addresses all those issues. It's just fabulous. It doesn't have any boundaries. It opens up a lot of possibilities that we could not normally do," he notes.
One other aspect of the projector that appeals to Sound Components is the low maintenance due to the laser technology.
"Those lasers are good for a minimum 20,000 hours. When you look at other projectors with close to this luminosity, the maintenance costs are going to be quite a bit more," he adds.
Sound Components does not have the projector installed in its showroom but works closely with Sony's sales reps to conduct demos.
"Whenever we have a client that's interested in purchasing one, the reps are happy to bring it in for a demo," he notes. Indeed, Petter says the first time he set up the VPL-GTZ380 for a demo he sold two units in the first day.
"We've always done well with Sony products, and I think this is one of the most compelling products that Sony has delivered in a long time," he concludes.