One of the things over the years that has prohibited the growth of custom AV and control systems is the size, cost and complexity of these systems. Eliminating these barriers to provide homeowners with an a' la carte approach is Savant and its SIPA Series of products.
Savant's SIPA Series of IP Audio with Integrated Host and Savant Music 2.0 products provide integrators with a single-box solution that includes built-in control for Savant control systems and a stereo integrated amplifier.
Designed to serve professional integrators in a variety of ways, Savant sent me the HST-SIPA1SM model, along with one of its Savant Pro Remote X2 remote controls.
Through the standards-based approach in which Savant employs through the adoption of formats such as Audio Video Bridging (AVB), the company enables integrators to build de-centralized whole-house AV and control systems using products like the SIPA Series.
Savant SIPA Series Features and Setup
The SIPA Series of IP audio amplifiers with integrated host products can be configured in a range of ways through the use of Savant's Racepoint Blueprint software tool.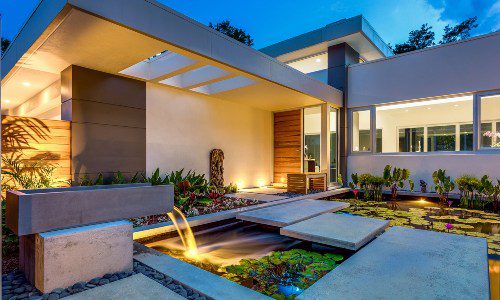 Landscape and architectural lighting create a magical and elegant ambiance for homeowners. The outdoor lighting industry has always been a phenomenal one and continues to grow in popularity. Now is the ideal time to learn more about this rapidly growing and highly profitable industry. Join our panel of esteemed lighting experts that will dive into why it's time for integrators to rethink their role in the outdoor lighting industry.
Register Now! 
Internally, the model Savant sent me incorporates an amplifier that is rated to produce 125-watt per channel into 4- and 8-ohm loads, as well as a set of analog audio outputs; analog audio inputs, a digital audio input, IR and RS-232 ports and an Ethernet port.
The remote control is a whole-house capable interface that can be custom programmed to perform just about any control task in a home. The Savant Pro Remote X2 features a combination of an LCD interface, hard keys and Siri voice control capabilities.
Savant ships the remote with a companion charging base that features a complementary industrial design to the remote.
---
CE Pro Features
Rack mountable SIPA rated to produce 125 watts per channel into 4- and 8-ohm loads
Supports 44.1kHz, 48kHz kHz, 96kHz and 192kHz input signals
Provides IP, IR and RS-232 system control options
Enables six zones of audio switching, four zones of amplification, and two zones of preamp output
The SIPA unit can be combined with an AVB switch to meet a range of audio signal distribution needs
MSRP depends on configuration
---
In my case, because I am not a trained Savant dealer and due to issues related to COVID, the company shipped me a preconfigured system that required what equated to a few things beyond simply commissioning" the system. Those steps included validating the control of my Dish 4K Joey set-top box (STB), as well as my Oppo Blu-ray disc player, a Roku stick and a Vizio M Series 4K TV.
I would like to point out this is a secondary system in my home and many of the components are older and admittedly not available any longer.
Before finalizing the system, I ran IR emitters from the back of the SIPA unit to the Vizio television and Dish 4K Joey STB. A Serial connection was then run from the back of the SIPA to the Oppo Blu-ray disc player, and I finished the physical connections by running a pair of speaker cables from the SIPA's amp section to an Atlantic Technology 3.1 HSB soundbar.
With the physical connections made I hopped on a call with Aaron Gutin, national retail sales manager, Savant, who from Los Angeles—I am in suburban Boston—finished the installation of the system.
Using TeamViewer, he took my computer over and uploaded the programming onto my MacBook. Once the transfer of that programming was made to the system from my local network MacBook, we verified the functions worked. That call took about an hour. During a follow-up call, he then explained to me how to save channel favorites and a few other personalized touches in another 45-minute call to complete the installation.
Performance and Final Thoughts
Since that second and final call, the system has worked great.
Probably the biggest complement that I can pay the SIPA and Pro Remote X2 remote control is I briefly explained how the system worked to my technophobe wife and she quickly picked up on how to use it.
For example, she likes listening to music from Dish's Sirius XM service and I setup some favorite music channels for her. She will turn the system on, go to the Dish STB and then find the music she wants to listen to and adjust the volume.
Further underscoring the ease of use of the remote and the system, both my teenage kids use the system and I didn't have to explain the system to them.
Like most people, I will say I appreciate the way the remote streamlines my multiple remotes into a single unit, and between the custom programming, hard keys and touchscreen, I am not missing any of the control options provided through the stock, OEM (original equipment manufacturer) remotes.
Additionally, I will say I was really happy to replace the Vizio remote. I've gone through multiple Vizio remotes because they are junk to be perfectly blunt. Now, with the Savant remote I will no longer have to replace remotes or fight button pushes to execute a simple command.
The only thing I will say about the remote is I wish the battery provided a little more operational life. I am finding I have to place it in its cradle once every 24 hours approximately. I've run the battery down to try to condition the best possible battery life, but I don't think it really made a difference.
Another means of control Savant provides is through its Savant Pro app.
The app mirrors the functions of the remote and its layout is nearly identical to the remote. Using the remote I found it activates quickly, and it responds quickly to commands. The ergonomics are also as usable as the remote, and any updates made to the remote interface are instantly reflected in the app.
Moving onto the SIPA component, I like the entire concept of the unit.
With its inclusion of a control processor, there's one less piece of electronics to place in a rack or piece of furniture. Furthermore, supporting the streamlining of its systems, through Savant's adoption of standards, integrators can also offer users a single room system like mine for example and then revisit with their clients the possibility of expanding AV or control zones at a later date all through the installation of the SIPA unit.
Using the AVB standard as an example, this is a widely used format in the pro audio and automotive industries. Top pro audio companies, including L-Acoustics, Meyer Sound, Yamaha Professional, and AVID utilize AVB-enabled products for live sound.
For those interested in learning more about AVB, the AVNU Alliance can provide more information (www.avnu.org).
The likely scenario in which dealers could employ the capabilities of AVB include adding more AV zones to a home after the initial installation of a single zone. I think it is smart for Savant to use recognized standards because it makes the build out of existing systems easy. This type of approach in my mind is similar to what many of the wireless audio companies are doing by allowing consumers to purchase a powered speaker, and then later adding additional speakers. Savant's approach is a much higher end, robust solution than simply adding a new device to an existing system, however.
As for the sound quality of the SIPA amp, it plays music at high volume levels without clipping, and it offers nice, articulate dialog reproduction for male and female voices of AV content regardless of whether it is streaming media or broadcast.
So, what do I think? I commend Savant for taking a different market approach to control and audio. Using recognized standards and other reliable technologies as the foundation for AV and control allows dealers to sell a' la carte. Using this type of sales approach, I believe will enable integrators to offer higher end systems to a wider group of homeowners than what's been traditionally available to the market. This scenario is possible because it spreads the client's expenditures out over time, zone-by-zone, rather than having to bear the burden of one large fee up front for an entire whole-home control and/or AV system.
Moreover, because of the company's adoption of standards, quality and reliability aren't compromised either.
I'll add that Savant's range of digital audio products goes far beyond the SIPA series of amplifiers and control processors. For those interested, I recommend checking out the company's complete line of digital audio products for yourself.
---
CE Pro Verdict
Pros:
The SIPA delivers audio and control system scalability
Through Savant's RacePoint Blueprint programming tool, the SIPA can be configured in a variety of ways and the programming can also be customized
When the Pro Remote X2 remote is used to control the SIPA and other components, the X2 provides an elegant user interface solution
Cons:
Wireless network connectivity would provide easier network access for the SIPA in some situations
The battery life on the Pro Remote X2 remote could be better
If you enjoyed this article and want to receive more valuable industry content like this, click here to sign up for our digital newsletters!