The trend right now in the home technology market is lighting, wellness and anything that falls under the umbrella of "smart home." Bucking the latest trends, Haas Entertainment, has taken an old-school approach to invest into stereo and home theater through product lines such as Brodmann Acoustics and Bluesound as part of a massive showroom redesign.
Haas Entertainment's investment is a little more involved than simply adding Brodmann and Bluesound to its list of vendor partners to display in its facilities. The Southern California-based integration firm made the commitment to redesign its showroom to include a new stereo (two-channel) room and an immersive audio home theater room. 
Today, despite the issues of having to run a business during a pandemic in a state that's been heavily hit by COVID-19, Haas Entertainment is finding the investment it has made is already paying dividends. 
A Long-Time Relationship Sparked Haas Entertainment's Redesign
According to Chris Quilisch Rock, sales and marketing, Haas Entertainment, the owner of Haas Entertainment, Jeff Haas, has been friends with industry veteran Brad Paulson for many years. Paulson currently works for Brodmann Acoustics and suggested Haas Entertainment think about taking on the brand as a West Coast dealer. 
Rock says that once the conversation started the idea of taking on the brand blossomed into a major commitment for the dealer, which is based outside of Los Angeles in Culver City.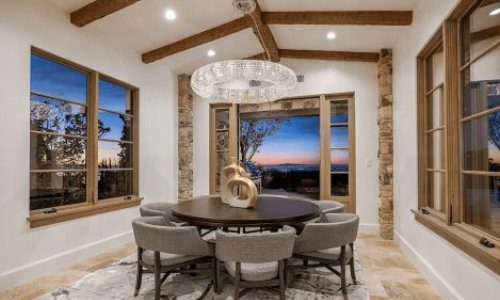 As a custom integrator, lighting is in demand. Effective communication, education and showcasing the value proposition of LED light fixtures in conjunction with integrative control systems are the keys to overcoming challenges and closing sales in this specialized market. Join us as we discuss the future of digital lighting and control with David Warfel from Light Can Help You and Patrick Laidlaw and Mark Moody from AiSPIRE.
Register Now! 
"They [Brodmann Acoustics] asked about home theater. So now we have two showrooms, one is stereo with two-channel, and the other one is home theater and it uses a StormAudio processor. So, we have two different listening and both of them are with Brodmann speakers," comments Rock.
Starting the redesign before the outbreak of the coronavirus, Rock says the completed project took about a year. Using staff to work on the redesign between jobs, Haas Entertainment has since opened its showroom and it has begun to offer system demonstrations that that comply with quarantine protocols that include social distancing and masks.
"We get visitors, and no one has to worry about overlapping appointments. It hasn't affected our two-channel listening like you would expect. We've had experiences where they saw the showroom and immediately pulled the trigger. So, it was planned and underway and it doesn't seem to have affected us in anyway," notes Rock.
"It is a little weird sitting with masks on and you listen, you feel it and you discuss it. It's not so bad. For qualified clients, for example, we dropped off a set of $28,000 speakers, and when we got to the client's house we put on gloves and bootees. After the installation we wiped everything down."
A Closer Look at the Showroom Redesign
A good AV system requires more than just good equipment. Ensuring the company's stereo and home theater showrooms meet client expectations Rock says that Haas Entertainment took great care in designing room environments that would enhance the performance of the AV components.
A key part of the redesign Rock says is the use of home-friendly acoustical treatments that are designed to complement residential spaces.
"With acoustical design, the previous design used quadratic diffusors, and they've been used forever, but they are ugly," he points out.
"Mikodam out of Turkey makes some wall treatments and they are made from real wood, they have perforations, dampening and reflection from the wood that allows for gorgeous wall covers that prevents your listening room from looking like a racket ball court. Mikodam does acoustical testing and they look gorgeous and the room sounds great and not dead."
Some of the other design upgrades the company implemented to its new showroom includes in-ceiling speakers in the theater room to reproduce height channel effects in immersive audio demonstrations.
The theater room also features an upgrade to a Sony 4K projector, as well as a Lumagen processor and a Panamorph CinemaScope lens system. 
Room calibration was completed through the use of the Dirac Live room calibration software.
In the stereo room Rock explains the company specified a Roon Nucleus+ and Hegel H190 integrated amplifier.
"The Roon unit provides the pleasure of selecting music. Customers love it, I'll ask them what music they like, and they'll say, 'Billy Idol' for example and you can see their albums and tracks and who their influences are. The Roon player is a nice way to do that," says Rock.
"Sometimes I'll also ask the client if they have music on their phones and I'll show them how to AirPlay music from their phone and the Hegel will play the music."
Describing the performance of their old demo systems and the way the new systems make him feel, Rock says the new systems will literally bring a tear to his eyes.
"I listened to a piece from the iMAX demo disc and my eyes welled up with water. I felt there was an emotional connection with the music," he admits.
"I listened to the same piece of audio on my phone and it wasn't the same. The immersive audio pulled an emotional response out me that was not there any other way. I was moved enough to have my eyes well up."
With the installation of the demo systems completed, Rock adds the money spent on upgrading showroom spaces is already paying off.
"I have the luxury of having hard evidence. We've had two customers come in and buy systems," boasts Rock.
"It's happened twice so far for high-end, full systems. That's a big deal for us, these are expensive systems. We've seen the investments into the systems already starting to work."
Here is a partial equipment list of the gear Haas Entertainment chose to upgrade is showroom demonstration systems:
---
Partial Equipment List:
Brodmann Speakers:
Festival Series FS
Festival Series F2
Festival Series FW
Vienna Classic Series VC-2
Vienna Classic Series VC-7
In-Wall Series VC2iW
In-Wall Series VC7iW
Ceiling Series FWiW
Storm Audio
ISP 3D.16 Elite PreAmp
PA 8 Ultra Amplifiers
Hegel
Anthem
MartinLogan
Mikodam
Haza, Kara, Geta, Fila, Sapa, & Yuko acoustic wall panels
Roon Nucleus+
BlueSound Mode 2i
If you enjoyed this article and want to receive more valuable industry content like this, click here to sign up for our digital newsletters!