Making the transition from a design-based, appointment-only integration firm during the height of the recession in 2008 and 2009, John Prince, founder and CEO of Five Smooth Stones, wanted to create a unique business that left a lasting memory.
Drawing from his faith as inspiration for the name Five Smooth Stones AV, Prince's company evolved from its former business model and name of Atlantic Home Technologies, to develop a business plan designed to engage clients in a far different manner than most integration companies.
Today, the company caters to two distinct markets—new construction and existing homeowners—and through its distinct market approaches the company is able to meet the needs of a diverse client list.
The one common thread that Prince believes underpins Five Smooth Stone AV's' vastly different approach to both sets of clients is the Sonos product line.
Five Smooth Stones' Mission Statement: Design Intuitive Systems that Make People Happy
According to Prince, roughly 60 to 65% of his company's business comes from homebuilder relationships. Most of these partnerships focus on structured wiring and security. As part of Five Smooth Stones' agreement with these builders, the company gets a presale meeting with all homebuyers, which lasts approximately 45 to 60 minutes. In these meetings he says the company will discuss the technologies that are available to homeowners in their new homes.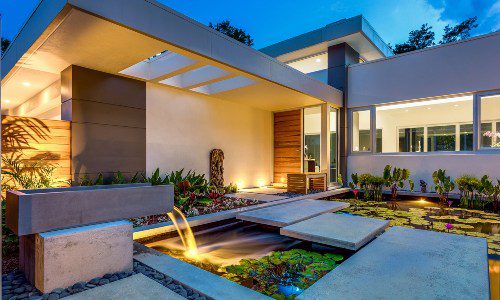 Landscape and architectural lighting create a magical and elegant ambiance for homeowners. The outdoor lighting industry has always been a phenomenal one and continues to grow in popularity. Now is the ideal time to learn more about this rapidly growing and highly profitable industry. Join our panel of esteemed lighting experts that will dive into why it's time for integrators to rethink their role in the outdoor lighting industry.
Register Now! 
Rounding out Five Smooth Stone AV's' business, the remainder of its revenues come from homeowner clients and AV equipment.
A major point that Prince makes about the company's builder relationships is the building market's sensitivity to extraneous expenditures. Satisfying builders' desire to control cost without sacrificing quality and reliability is Five Smooth Stones' use of the Sonos product line.
Prince says that besides the performance and reliability that Sonos brings to the building community, the other element the popular audio company brings to the table is seamless control and ease of use.
"Builders are price conscious about anything that affects the base value of the home. We are cognizant of quality, and we feel Sonos offers that along with product experiences that make customers very delighted," he states.
"We want to make sure we provide systems that are easy to operate and systems that delight people. Sonos helps us with both of those requirements—Sonos hits it out of the park for us on those fronts."
Circling back to his company's core values for a system of easy operation and reliability, Prince says that homebuilders also appreciate those attributes. It's those traits he continues that enable Five Smooth Stones to install Sonos-based systems in locations that include model homes where nearly anyone could be running the system.
"Sonos absolutely meets builder needs because of the simplicity and reliability of their systems. For example, model homes are opened by sales agents, so the system needs to be easy to operate. Whether it's a soundbar or distributed audio throughout the house, Sonos gives us that and with their app anyone can operate those systems … anyone can open the app and select a room and source," he asserts.
When Five Smooth Stones AV works with new home builders, he points out the company tries to install a soundbar in every model home, along with a subwoofer and a couple of zones of speakers to demonstrate the capabilities of a system.
Prince notes that model homes can be sterile, but having the right kind of music can liven up the environment and put home buyers in a good mood.
Elaborating on how Five Smooth Stones AV works with the Jacksonville, FL., building community, his team finds that less is more when it comes to dealing with builders.
"We found by offering too much of a selection becomes a situation that is, 'paralysis by analysis.' We found success by limiting the number of vendors and products and combining them into packages. Many of the builders we work with also work with this concept. They offer Kitchen 'A', 'B' or 'C.' So, customers are already conditioned to this mindset," he points out.
"The packages are a choice of three: The best sound includes a new Sonos Arc soundbar, a Sonos Sub, and we package that in along with our services, including a mount. Then we have a second package which uses the Beam soundbar – it's a lower price point, it works in smaller spaces, and customers can still have great sound. The third package is distributed audio, which includes speakers that are either architectural or in-room speakers and a Sonos Amp."
Existing Homeowners also Value Sonos
Builders are not alone in their admiration of great sound from the Sonos product line. Prince says that his store front allows the Jacksonville area to see the benefits of Sonos' products in realistic home environments.
According to Prince, Five Smooth Stones AV utilizes the Sonos product line in a similar manner to how it introduces whole-house audio and home theater to the building market. Price says the company uses Sonos as an entry point into the company's full array of products and services.
Prince comments that with the general public, a consumer can walk into his store and walk up to a Sonos demo system and play music using an iPad or iPhone.
"We put the iOS product in the clients' hand and engage them with the Sonos app. They are literally delighted after using it," he shares.
"It touches on those core values of simplicity and delight."
Another intangible aspect of carrying the Sonos line that Prince also alludes to is the advertising and marketing that Sonos does to help drive traffic to his business.
Additionally, he comments that his clients often provide referrals to their friends, which helps to strengthen the reputation of Five Smooth Stones AV in the community.
Prince adds that for nearly 20 years his goal as an integrator was to develop a small, but loyal group of vendor partners that will support his business, and ever since the launch of Sonos, he has been more than satisfied with how Sonos has helped him to grow his company.
"I wanted to drive business through a loyal set of partners. We were in business before Sonos, and we had a rep Robert Thompson [WSR Sales and later The Finest Brands] who passed away. He said, 'I have a product that will change your life." When he presented the line, he did not lie to me," emphasizes Prince.
"Our sales team has to believe in the products we sell. Other things are important, but if the sales people love what they are doing to help customers get the experience they want, everything else is secondary.
"We are an AV integrator—a CE Pro 100 company. Customers don't just come in and buy a Sonos Five, they buy more. We almost always parlay that sale into something more, whether TVs or other installation services. Sonos allows us to grow our sales far beyond the initial customer interest."
If you enjoyed this article and want to receive more valuable industry content like this, click here to sign up for our digital newsletters!