CEDIA Expo 2022, the platform where residential technology integration, design, and construction professionals connect, learn, and engage, has announced a newly redesign educational programming schedule.
The upcoming CEDIA Expo 2022 show will feature over 150 sessions, including the CEDIA Expo Conference, manufacturer product training, and show floor stage sessions. Curated by CEDIA, the global membership association for the home technology industry, CEDIA Expo Conference will feature many brand-new sessions, including an all-new wellness track and lighting tracks.
Other parts of the show's educational opportunities include the return of "Ask the Experts," a popular open forum session, and a Spanish-language track. This year's CEDIA Expo includes the debut of the CEDIA Advocacy Town Hall, a free session about the legislative and regulatory issues facing the home technology industry.
"A key component to CEDIA Expo is the professional development and education available at the event for attendees," says Jason McGraw, CTS, group vice president for CEDIA Expo and KBIS, Emerald.
"Together, the conference programming and the exhibit floor offer a unique value for attendees by providing the opportunity to educate and grow. Attendees can go forth and apply the knowledge as they discover new technologies on the exhibit floor. This year's CEDIA Expo Conference program, which CEDIA curates, will feature events for everyone."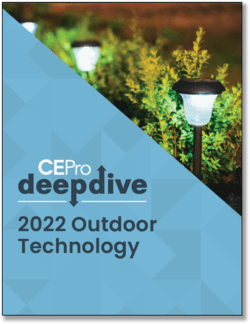 The 2023 CE Pro Outdoor Technology Deep Dive reveals unique set of impediments, including explaining pricing and interacting with outdoor-centric trades.
Get your copy now to take a "deep dive" into the trends and challenges of outdoor technology.
Download the report now!
The CEDIA Expo 2022 Conference brings industry advocacy, connection, and education to the home technology community through formal training and professional advancement, advocacy activations, and informed speakers on emerging trends. The CEDIA Expo Conference program includes a diverse mix of formats, including thought-provoking seminars, engaging panels, and interactive half-day workshops.
"CEDIA Expo is our industry's best peer-to-peer learning opportunity," comments Amanda Beckner, CTS, vice president of education and training for CEDIA.
"Attendees will learn directly from presenters and exhibitors, but you'll also learn a great deal from the way their peers react – to both sessions and booths. There truly is no substitute for this kind of in-person experience."
A few educational highlights from the upcoming CEDIA Expo 2022 on September 29 to October 1, 2022, in Dallas, Texas include:
In this year's free Keynote presentation, Greg Durkin, founder, and CEO of Guts+Data, will kick off the conference with a deep dive into entertainment technology and content. Durkin will discuss the implications of the fragmented content landscape for the connected home experience and the invaluable opportunities for integrators in the fast-evolving digital media landscape.
Over half of this year's sessions are brand new. Some of these sessions include an all-new wellness track that explores the design, verification, and customer positioning of wellness technology solutions and a new lighting track that focuses on one of the fastest-growing solutions areas in the industry.
Join CEDIA for breakfast at its first-ever Advocacy Town Hall, free and open to all CEDIA Expo attendees. It will explore advancing the smart home technology industry and fighting for its governmental rights.
Industry-leading manufacturers, including Crestron, Legrand, and Sound United, among many other brands, will present hands-on training, new product information, and live questionnaires on the latest technology during CEDIA Expo's manufacturer product training (MPT) courses.
Attendees can take advantage of the end-to-end CEDIA certification pathway, including the ANSI-accredited CIT and IST certifications, with preparation sessions, onsite testing, and tools to leverage certification.
At CEDIA Expo Conference, attendees can expect a host of educational topics, including audio, business, certification prep, networking, and emerging trends, to name a few. Attendees looking for business advice will find courses on everything from incorporating new products into their sales pitches to growing profits from products they're already selling.
More news from CEDIA: CEDIA IST Certification Receives 3rd-Party Validation
This year's CEDIA Expo Conference will forge new connections between peers, manufacturers, opportunities, and ideas while leading the industry with training on new markets and emerging technology.
Individuals interested in attending CEDIA Expo 2022 can register online. It is recommended that non-CEDIA members should register before July 29 to receive Super Saver prices for show floor and training passes.