Newly announced AudioControl amps, processors and AV receivers offer integrators a choice of state-of-the-art electronics.
AudioControl is a company based in Washington state, and unlike many amp or receiver manufacturers, this U.S. company operates much differently than many of the typical amp and AV receiver manufacturers that dot the consumer electronics landscape.
At the recently completed CEDIA Expo 2019 show in Denver, AudioControl's booth was filled with new product lines that include its Pantages G4 amplifiers, Maestro preamplifier/processors, and Concert series of AV receivers.
Designed specifically for custom installation, these products deliver high levels of performance and a choice of integrator-friendly install options.
Why Choose AudioControl Amps?
Taking a quick look at some of the new products that were introduced by AudioControl during CEDIA Expo 2019, let's start with the Maestro Series Preamp/Processors.
The Maestro Series features the Maestro X9 and X7 products, and both products incorporate 16 channels of immersive audio capabilities.
AudioControl says the preamp/processors provide a choice of Dolby Atmos, Auro 3D, DTS:X and IMAX Enhanced. The products also incorporate seven HDMI 2.0b inputs to support 4K with HDR video, as well as Google Cast, AirPlay2, aptX Bluetooth, Dirac Room Correction and Wi-Fi.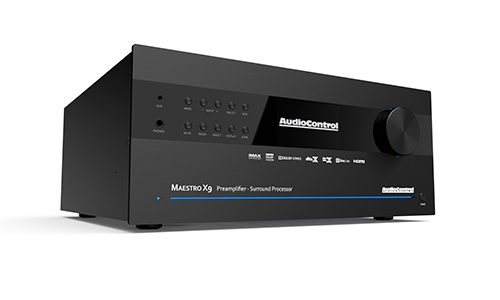 The major difference between the products is the Maestro X9 incorporates the flagship Sabre ESS 3098 digital-to-analog converters (DACs).
On the power side of the surround sound ledger, the new AudioControl amps include the G4 Series of products that can be combined with the Maestro preamplifier/processors to form complete theater systems.
Concert Series AV Receivers
Streamlining the approach to system design, the company's Concert Series of AVRs provides a choice of three models: Concert XR-4, Concert XR-6 and Concert XR-8.
All three models come with options that include Dirac Live room correction and immersive audio processing.
Summarizing the product, here's a look at each receiver's specifications:
Concert XR-4: This is an 11-channel model that includes HDMI 2.0b inputs, and a Class A/B amplification section rated to produce 60 watts into an 8-ohm load.
Concert XR-6: The 9.1.6 immersive audio model provides additional processing options such as Auto 3D and a Class A/B amplification section rated to produce 100 watts into an 8-ohm load.
Concert XR-8: This is another 16-channel, 9.1.6 immersive audio receiver with all of the features of the other models. The Concert XR-8's amplification section employs the company's Class H architecture that helps that receiver produce 200 watts of power into a 4-ohm load.
Rounding the company's array of new products, Kyle Schaeffer, director of operations, AudioControl, points out some new subwoofer amplifiers.
"We are debuting a bunch of brand new home theater amplifiers. We have our RS500 and RS1000 subwoofer amplifiers. They are 500 watts at 8 Homs and 4 ohms for the RS500, and 1,000 watts at 8 and 4 ohms for the RS1000. They are both 2 ohms stable as well, and they are Class D amps that are controlled with DSP [digital signal processing] that allow you to do all of your crossovers, your signal delay and phase all from the software," notes Schaeffer.
"We are debuting our brand new Maestro X7 and Maestro X9 processors. These are the state-of-the-art 16-channel theater processors that do 4K UltraHD and 9.1.6 immersive audio. They ship with Dirac room correction licenses and microphones; they include eARC [enhanced audio return channel], Dolby Vision and HDR.
"Both of these are the same exact functionality in the sense they are 16-channel, but the Maestro X9 uses the brand new Sabre ESS 3098 DAC, the best there is on the market with 00.4 THD [total harmonic distortion]. If you want the very best you are going to go with the X9, and if you are looking for more of a value, the X7 is spectacular for the price point," says Schaeffer.