Now that the dust has settled several months after CEDIA Expo 2022 was concluded, which product from the show is creating the most buzz? It has the word "snap" in its name, but it's probably not the company of which you are thinking. Speaker Snap debuted at CEDIA Expo in Dallas with its innovative audio connector that eliminates hassle and reduces time.
The product is the brainchild of Rick Goren, who has run his AV integration company Technology Interiors in Fishers, Ind., for over 25 years. While at the top of his industry, Goren is always looking for ways to innovate and save time on installs.
Other audio connectors are a hassle and time-consuming. Using a tool-free design, Speaker Snap banana plugs and keystone connectors use a spring and lever to make a secure connection, eliminating the need to clamp down the wire with a tiny screw.
An integrator simply strips the wire back ½ an inch, and inserts it into the back of the Speaker Snap. The locking mechanism has an internal spring that puts constant pressure on the wire, locking it in place for a solid electrical connection. Installers can hook up massive audio systems in no time with our professional tools for a strong, flexible connection.
The connectors are not only beautifying and functional for the customer, but a time saving innovation for integrators. Speaker Snap uses gold-plated connectors and it can accommodate a range of wire gauge sizes.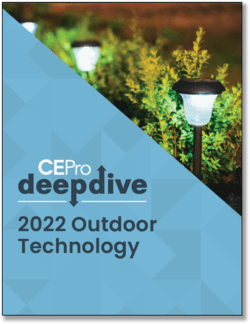 The 2023 CE Pro Outdoor Technology Deep Dive reveals unique set of impediments, including explaining pricing and interacting with outdoor-centric trades.
Get your copy now to take a "deep dive" into the trends and challenges of outdoor technology.
Download the report now!
Veteran integrators are impressed by the product.
"I talked with four or five integrators coming out of the show that they all told me Speaker Snap was the best thing they saw in Dallas. It was creating so much buzz I had to buy some," says "Nitro" Nick Tamburri, owner of Aggressive Home Automation & Design in Ridgewood, N.J.
"It is incredible how much time it saves. It's quick and easy. The banana plugs are really secure. I could see an audiophile customer perhaps thinking there is not enough metal-to-metal contact, but that is going to be a rare situation."
Nathan Robison of Robison Digital Solutions in Carmel, Ind., notes, "Regular banana plugs are not fun to use. The screws are a pain. The simplicity of the Speaker Snap speaks for itself. It just makes things quicker and easier. The first thing you think of when you get them in your hand is that you will never use another type of banana plug again."