To say these are unusual times is an understatement. Not to get up on a soapbox, but if able, it's important to listen to the authorities and stay home while the coronavirus pandemic is still not close to its peak in the U.S.
Finding things to do at home while self quarantining for several weeks can be tough, but we here at CE Pro have some suggestions to provide individual and family entertainment while at home.
Over the next several days, staff members will offer their movie, music, gaming and podcast suggestions to help make the time at home a little bit easier.
Additionally, these music and movie titles provide a wealth of entertainment options that integrators could offer clients to help populate media management solutions from companies such as Kaleidescape, Modulus and Zappiti.
Since these recommendations are designed for families, we'll stay away from titles such as "Deadpool," which is a funny movie, but is not for young children to see.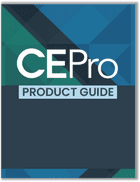 CE Pro's 2022 Product Guide showcases some of the latest and innovative solutions from manufacturers serving the custom electronics industry in a cross-section of categories.
Download the guide now!
Within the movie selections we'll break down our choices by genres that include comedy, action and franchises.
Related slideshow: 5 YouTubers for Music Fans to Watch Over the Holidays
One more thing about the movie lists: The choices in these lists will be titles from the 1970s, 1980s and 1990s. We may creep into the early 2000s, but the point of these lists will be to introduce movies that Millennials and Gen Z may not have ever heard of, or perhaps heard of, but never seen before.
If you have any suggestions for the CE Pro staff, please send your recommendations along.
Once the kids are in bed, here a few comedies worth checking out:
"Fast Times at Ridgemont High"
"Smokey and the Bandit"
"Pulp Fiction" (not a comedy but it has plenty of funny scenes)
We'll start things off with comedies. To view our recommendations click here.