Remote and hybrid work solutions were in abundance at InfoComm 2023, as the tech industry continues to innovate to support organizations that are continuing to allow for flexible working arrangements.
Remote and hybrid work solutions showcased during the show run the gamut from all-in-one video bars, all-in-one collaboration displays, headsets, cameras, microphones and other technology designed for the home office and small businesses.
A key theme among these devices were simplicity and ease of use. Many of these new collaboration devices are designed to be plug-and-play and incredibly simple to set up, manage and use. In addition, artificial intelligence (AI) is a core feature in these solutions, taking the complexity out of setup and configuration.
All-in-One Videoconferencing Bars
This is a category that is growing exponentially, with major manufacturers joining the likes of Logitech, Poly and others in the all-in-one videoconferencing bar market. In fact, both Logitech and Poly used the show to show off new devices.
Logitech's main draw to its booth was the Rally Bar Huddle, released last month, which it markets as a "premium all-in-one appliance-based video bar" designed for huddle rooms and small meeting rooms of up to six people.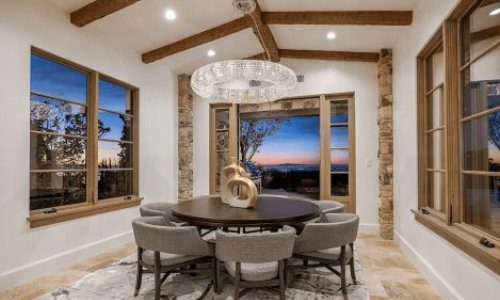 As a custom integrator, lighting is in demand. Effective communication, education and showcasing the value proposition of LED light fixtures in conjunction with integrative control systems are the keys to overcoming challenges and closing sales in this specialized market. Join us as we discuss the future of digital lighting and control with David Warfel from Light Can Help You and Patrick Laidlaw and Mark Moody from AiSPIRE.
Register Now! 
Like others in the category, the device features built-in audio and video intelligence that block unwanted noise and intelligently frame in-room attendees and speakers. The Rally bar Huddle works with both a dedicated Windows or ChromeOS computer, in a bring-your-own-device (BYOD) mode, or runs supported videoconferencing applications on the device in appliance mode without an external computer.
Poly, meanwhile, used the InfoComm 2023 platform to announce its new Poly Studio X52 all-in-one video bar for mid-sized meeting spaces. The company says its new Poly DirectorAI smart camera technology offers automated camera framing modes such as group, speaker and people framing. In addition, the device features the new Poly DirectorAI Perimeter feature for group and speaker framing.
While Logitech and Poly have long been playing in this space, other traditional AV manufacturers are now beginning to enter the market of simple-to-deploy systems. That includes Sennheiser, which launched the TeamConnect Bar, a new line of all-in-one collaboration bars designed for small and mid-sized collaboration spaces. According to Sennheiser, the TeamConnect Bar S features four microphones and two speakers, while the larger TeamConnect Bar M has six microphones and four speakers.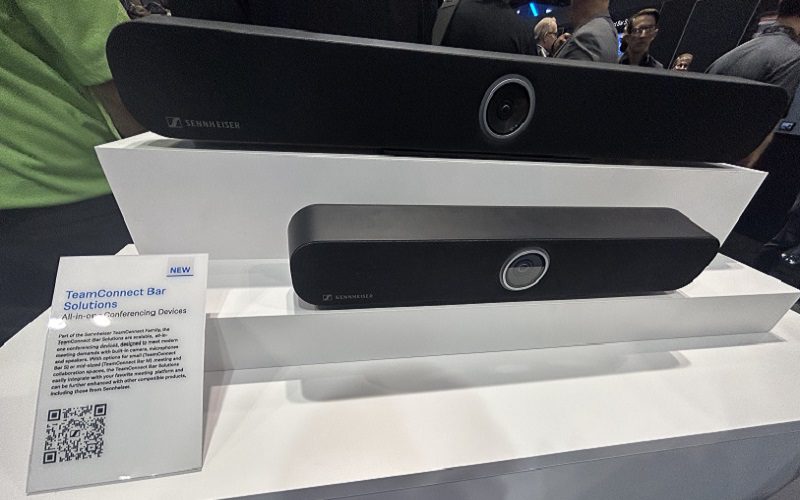 Sennheiser, known for its exceptional audio quality in its headphones, microphones and conferencing solutions, of course highlights the audio features, but also notes a built-in DSP and the option of using Dante for adding external microphones or another camera.
Sticking with the simplicity trend, several other titans of the AV industry typically known for more complex and integrated approaches to meeting rooms also debuted new all-in-one collaboration bars at InfoComm 2023, to helping take the complexity out of meeting room deployments for medium-to-large rooms.
That includes Crestron, which released the Crestron Videobar 70 for medium-to-large meeting rooms. Like the others in the category, this device is designed to be simple to deploy and features built-in UC computing and intelligent features. However, this device features four cameras that work together to intelligently frame meeting participants and frame the active speaker. The bar runs on Android, making set up and use simple.
Along the same lines, Biamp also used InfoComm 2023 to show off its Parlé VBC 2500 Conferencing Video Bar, bringing Biamp's audio and video intelligence to small and medium meeting spaces. The bar features a 27-microphone array and Biamp Beamtracking technology to intelligently track and mix conversations from around the room, and smart speakers use distortion compensation and dynamic bass enhancement. The 4K camera uses auto-framing to identify meeting participants and adjust the focus.
However, the key feature is Biamp's Launch , which takes the complexity out of configuring the device based on the room's acoustics. It can be plugged directly into a UC system via USB or paired with Biamp's Devio SCR-10 for a BYOD scenario.
Collaboration Displays
Similar to the idea of simple plug-and-play videoconferencing bars, display manufacturers have been launching new displays purpose built for collaboration–some of which include the display, camera, microphone and speaker–to help support hybrid work and videoconferencing needs.
Integrating the display, cameras, microphones and speakers to create a true all-in-one videoconferencing solution, with manufacturers such as Avocor, Neat, Yealink and many others showing off their simple-to-deploy complete conferencing solutions.
As such, display manufacturer LG released used InfoComm 2023 to show off its new 75-inch One:Quick Works, an all-in-one solution featuring a built-in Windows PC, 4K UDH camera, microphone, speaker and a digital whiteboard. Like others in the all-in-one category, the display's microphone and camera offer intelligent framing to track and cous on the current speaker.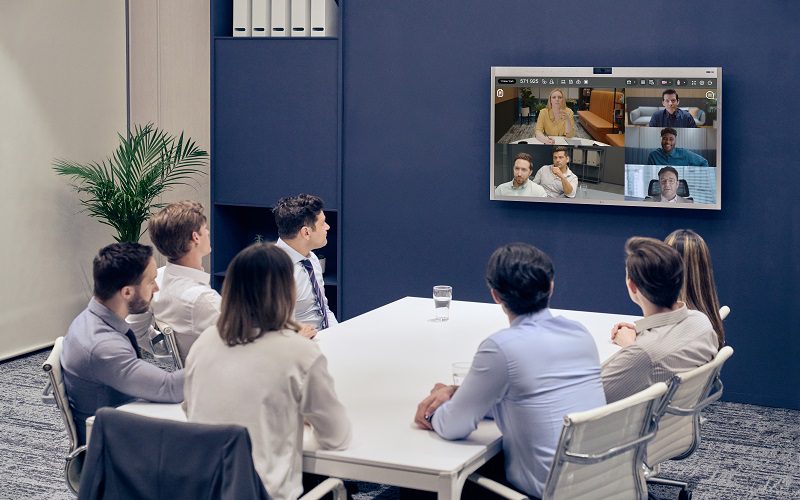 Samsung, meanwhile, showcased its new Samsung Interactive Display, the WAC model, which leverages Android OS. The display is designed for the education market, but the company showed how the display can work with the Logitech Rally Bar Huddle, bringing an integrated camera, speaker and microphone to the interactive display and creating a complete hybrid meeting solution.
Hot Desking and Scheduling
For resimercial integrators being asked to introduce more flexibility into their customers' small offices, several manufacturers highlighted new hot-desking solutions designed to help businesses maintain open, flexible floor plans and maximize their existing real estate investments.
These solutions include the Logi Dock Flex from Logitech, a managed docking station built for shared desks in flexible office spaces that runs the company's new desk booking service. The device features an 8-inch display, six USB ports, dual display support, network connection and up to 100 watts of power. These are designed to be deployed at scale and allow employees to personalize their workstation with their own background photo, away message, and easily join meetings. The panel will also signal whether the desk is available or not for ad-hoc booking.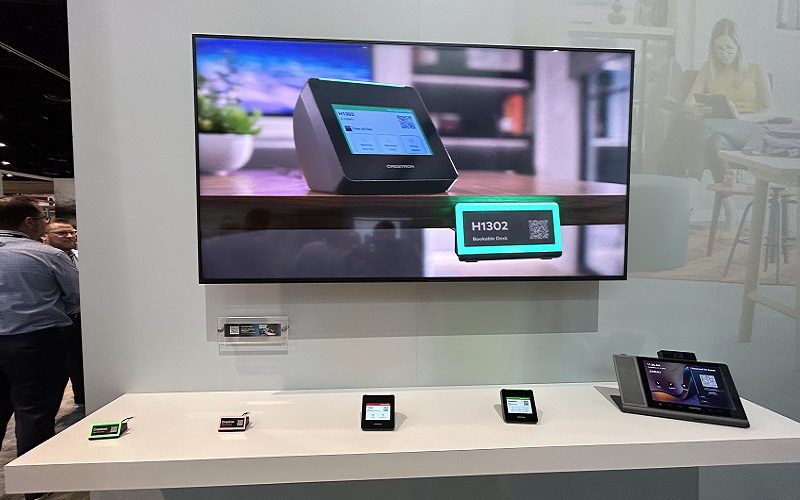 Crestron is also adding to its line of scheduling solutions with two new products: the Crestron Desk Q and Crestron Desk Touch. Crestron markets the Desk Q with, with QR code-based reservations, for community workstations, hot desks and hoteling. However, the Desk Touch, a mini touch screen scheduling panel, is designed for semi-private offices, cubicles and even some stand-up spaces.
Simplicity, AI
Throughout the show floor, we saw dozens of manufacturers saying a lot of the same things: devices and solutions need to be easier to deploy, manage and use. In fact, audio manufacturer Shure will tell you that is essentially why they acquired Stem Audio, which includes a customizable lineup of microphones, speakers, speakerphones, and control systems that allow organizations to mix and match devices, taking the complexity out of typically complicated meeting room deployments.
Nearly every manufacturer that touches the collaboration and conferencing space pledged to make deploying and using conferencing systems more seamless. The idea is that by giving employees an office experience similar to that of working from home, where getting to work and firing up a Zoom or Teams meeting from a laptop is as simple as it gets, they will begin to come back to the office. To accomplish that feat, the AV industry has begun leveraging AI, especially in the meeting room space.
AI is now a core component of hybrid meetings, helping to eliminate unwanted noise and keep the camera focused on the speaker or focused on each in-room meeting participant to give remote workers more equitable meeting experiences. Every manufacturer of an all-in-one device we covered in this article offers some variation of AI-enabled audio and video capabilities that are designed to keep meetings productive and distraction-free.
This is a trend we've seen for some time, but it has been accelerated since the COVID-19 pandemic and onset of remote and hybrid work. Since many organizations are still embracing distributed work arrangements, we expect the AV industry to continue embracing simplicity and AI in its products.
If you enjoyed this article and want to receive more valuable industry content like this, click here to sign up for our digital newsletters!