A/V Switchers are 'Dying Because of Cost and Scale' as IP Video Thrives: CEDIA Tech Talk
CEDIA Expo 2018 Tech Talk: Reps from the SDVoE Alliance, Netgear and Savant home automation proclaim the death of traditional A/V switchers with the rise of 10Gbps networks and video-over-IP technology.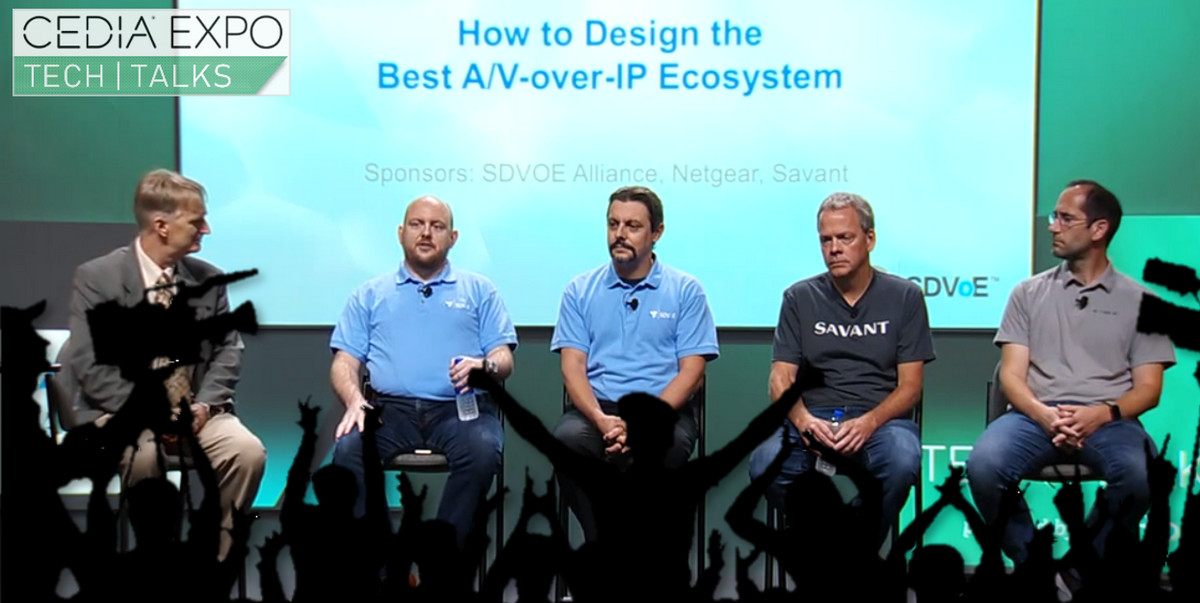 Julie Jacobson
·
September 25, 2018
Death to the matrix switcher! That was the theme of CEDIA Expo 2018 in general, and the big takeaway of "How to Design the Best AV over IP Ecosystem," a Tech Talk about the shift from analog switching systems to networked-based media distribution.
"We've been using the matrix switch to move video around since television was invented," said panelist Justin Kennington, president of the SDVoE Alliance. "So 75 years, this is how it's done …."
SDVoE (Software Defined Video over Ethernet) was launched in early 2017 "to help standardize on Ethernet as the transport technology for moving audio, video and control signals around, and to displace the matrix switch," Kennington says.
Yes, he advocated for SDVoE technology during the session, but he argued more strenuously for IP-based media-distribution systems in general – a sentiment echoed by co-panelists Laurent Masia of Netgear, Tim Locascio of Savant, and integrator Matt Lavin of San Francisco-based Metro 18.
"The complexity around configuring the 10-gig networking is very minimal."
— Integrator Matt Lavin
Metro 18
For Savant's Locascio, the shift to digital A/V distribution can't happen fast enough. He experienced the transition on a massive scale years ago as an engineer for telecom giant Lucent Technologies, as the company went from large, centralized gateways to "soft switches."
And long before that, as Kennington points out, telecommunications happened, thanks to "people with tiny fingers literally plugging in wires from here to there …."
We might imagine really tiny people living inside matrix switches, routing sources to rooms on command – an expensive proposition, to be sure.
Nothing Scales Like IP
The old circuit-based switching solutions are "dying because of cost and scale," says Netgear's Masia, dismissing "typical matrix switcher" solutions like "proprietary HDBaseT."
These legacy solutions lock users into a fixed number of inputs and outputs – 4x4, 8x8, 64x64, etc. – whether the I/Os are needed or not. For this reason, integrators often spec switchers that are too big for a given project, just to be safe.
On the other hand, "Ethernet is expandable by nature," Masia says, adding that IP makes an A/V distribution system "more compact and scalable."
It also makes it more flexible when you consider that sources can broadcast to multiple A/V points simultaneously – over a single network cable. In the old matrix-switching days, it could be challenging to enable picture-in-picture or video tiling. IP-driven systems can do pretty much anything – and lots of it – as long as there's an application for it.
NEXT: Savant Unveils 4K/60 4:4:4 HDR Video-Over-IP 10GbE Switch
Savant has just such an application for its IP-based video distribution systems, which happen to employ SDVoE technology.
"Basically, with the video processing receivers, you can have tiling on every single TV that you want," Locascio says.
"Is that practical?" he wondered aloud. As a matter of fact, it is. Locascio's home is filled with sports fanatics who like to watch multiple games at once. He says his son, who used to always watch TV on his tablet, is now "back to the TV again," joining the rest of the family on game day, all thanks to A/V over IP and tiling.
Locascio gives props to SDVoE for a platform that helped Savant get to market relatively quickly with an IP-based solution that's easy to install (no VPN hassles), high-quality (10 Gbps, near-zero latency), affordably priced, and easy to build on.
Savant could leave the underlying technology to the Ethernet experts, while it focused on applications and a user interface built on SDVoE.
To be sure, home-technology integrators have struggled with networking in general – all the settings, security concerns, product selections, and quirks.
The complexity should diminish, however, if custom-centric manufacturers address IP complexities in their software. Savant does just that, according to Lavin, whose company beta-tested Savant IP video products last year and continues to use them today.
"We were anxious about having to raise our game with sophistication on the networking side," he says. "Savant has automatic configuration as part of their Racepoint Blueprint [programming] software. The complexity around configuring the 10-gig networking is very minimal."
So You've Decided on AV over IP: Now What?
Any A/V integrator watching this Tech Talk likely would be moved to take the IP plunge. So where do you go from here?
For starters, take advantage of the brand new SDVoE Academy, an educational program that launched during CEDIA. More details start at 7:40.
1 Gbps or 10 Gbps? There's something to be said for 1 Gbps networks that utilize existing category cable and networking gear. But 10 Gbps is way more awesome. The discussion begins at 11:00.
Fiber or copper? There's a great (and surprising) discussion on the topic starting at 23:00.

---
2019 State of the Industry Special Report - CE Pro Download
The custom electronics industry saw a healthy 8 percent growth rate in 2018, down slightly from the blazing 11 percent growth in 2017 but still admiringly strong. Our 2019 State of the Industry indicates that readers expect to see even more growth in 2019. Get your copy today.
---
About the Author
---
Julie Jacobson is founding editor of CE Pro, the leading media brand for the home-technology channel. She has covered the smart-home industry since 1994, long before there was much of an Internet, let alone an Internet of things. Currently she studies, speaks, writes and rabble-rouses in the areas of home automation, security, networked A/V, wellness-related technology, biophilic design, and the business of home technology. Julie majored in Economics at the University of Michigan, spent a year abroad at Cambridge University, and earned an MBA from the University of Texas at Austin. She is a recipient of the annual CTA TechHome Leadership Award, and a CEDIA Fellows honoree. A washed-up Ultimate Frisbee player, Julie currently resides in San Antonio, Texas and sometimes St. Paul, Minn. Follow on Twitter: @juliejacobson Email Julie at julie.jacobson@emeraldexpo.com
Follow Julie on social media:
Twitter · LinkedIn · Google+
Julie also participates in these groups:
LinkedIn · Google+
Networking & Cables
Product Briefs: KanexPro, DTV GameControl; Luxul Firmware; Kwikset; Yamaha Updates
Power vs. Data Rate: Is There a Compromise?
Interview: Vanco President Discusses A/V-over-IP Adoption, HDMI 2.1, More
$70 EnGenius Smart Mesh Router Provides Budget-Friendly Wi-Fi Reliability
Why 5G Won't Replace Fiber or Cable Broadband
View more on Networking & Cables
Take Our Latest Quiz
How Well Do You Understand Ethernet Cables and Connectors?
Bose