How to Cash in on Shower Technology
Think beyond mirror TVs and dimmable lighting for the master bath; customizable shower systems offer another stream of revenue.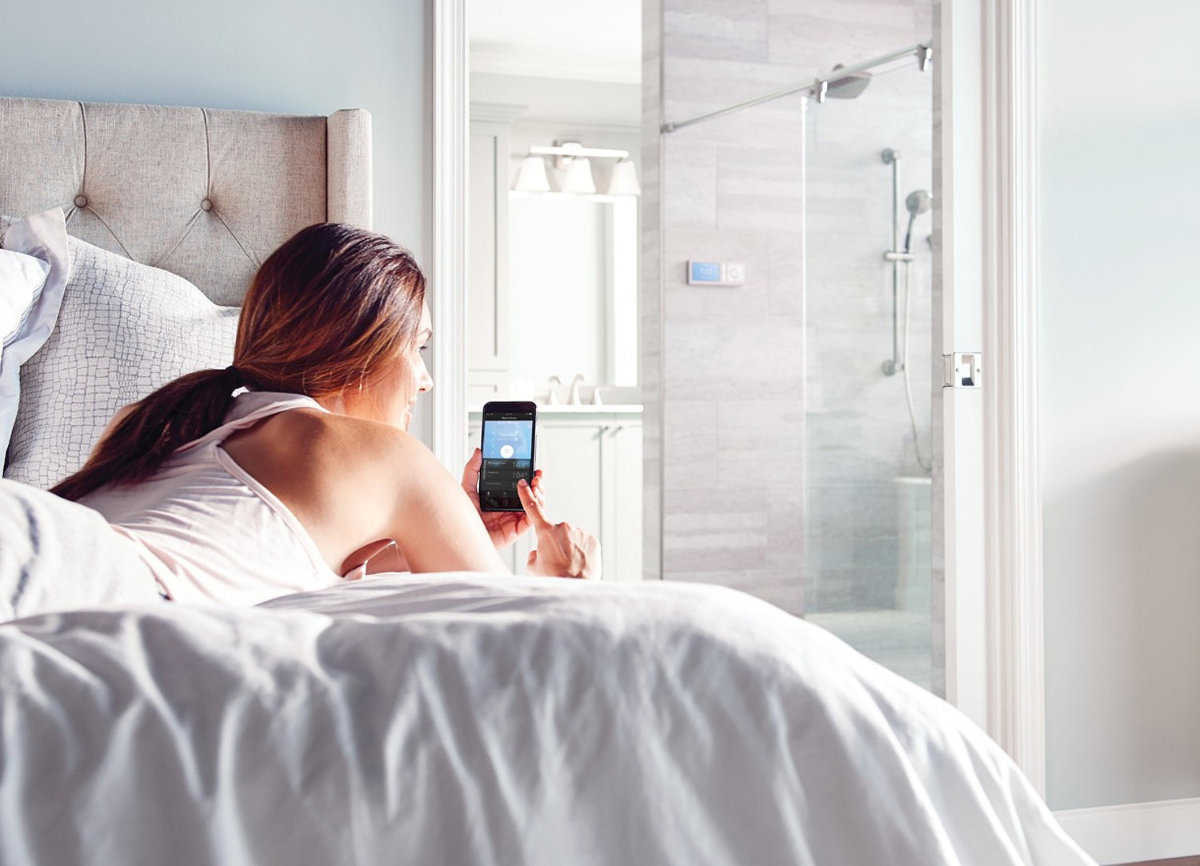 Lisa Montgomery
·
May 16, 2018
The master bathroom has transformed from a utilitarian space into a luxurious spa-like retreat. As homeowners spend more time relaxing in and more money on improving their bathrooms, it's provided home systems integrators new opportunities to sell amenities like mirror TVs, colored, dimmable lighting and built-in speakers. But there's an area you might be missing in your plan of attack: the shower.
"Working individuals do not have time to go to spas," says Abbas Poonawala, sales director at Isenberg Faucets, who explains that in the past these therapies were only offered professionally. "They can instead purchase products that give them exactly the effects they want at home for a reasonable price."
Personalized Pampering
The goal of any spa is to make its clients feel relaxed, rejuvenated and pampered. You can create this same level of wellness for your customers by offering a showering experience that can be customized to their preferences.
Digital controls and speaker showerheads allow users to easily stream music and even diffuse essential oils like citrus into the water for an extra boost of vitamin C. You can also find controls that deliver preset water temperature, intensity level, and duration for each user.
The 550 Digital Control from Steamist, for example, features a high-def touchscreen which can be used to operate several spa-like options including aroma, colored lighting, and water delivery.
Designed to install into any steam shower, it offers programmable settings for two users, connects to iHeart Radio, Spotify, and Pandora, and can be controlled via Wi-Fi from iPhone and Android mobile devices.
"Each and every one of us has our own preference when it comes to taking a shower, such as heavy rain effects covering the entire body, soft showers of water, multiple jets for a massage-like experience, steam, and other spa-like therapies," remarks Gaelle Marrasse, marketing director for Aquabrass. "The world of the shower really is [you and your clients'] oyster."
Customization—It's Our Culture
As you strive to customize music systems, automation systems, and security systems for your clients, don't forget about the shower. Multiple people in a household use it every day, so it makes sense to offer the same level of customization here and you do everywhere else.
A company focused on offering a complete, customized showering experience is Moen. Its digital shower, called the U, is a showering powerhouse that offers a bevy of controls. The 5-inch touchscreen lets users set the temperature, sprays, and duration. But what makes this product stand out is its ability to be controlled via Amazon Alexa.
Users can start, stop and pause the shower with their voice, create a preset and start it with Alexa, and command the U to adjust the water temperature.
A mobile app offers a third control option and provides a notification to the user when the shower is ready according to their preferred settings.
Bridging the Generation Gap
The whole-house music system you installed is probably a big hit with the younger family members in a household, but maybe not as appealing to your elderly clients.
Likewise, movie buffs love home theaters, but other family members may just as soon watch the evening news on a smallish TV. A shower, on the other hand, is something everyone uses and likes—young and old, high-savvy and tech-skeptic.
Smart showers provide everyone in a household easy access to shower controls, whether it's through remote control features or built-in touchscreens.
"Technology is the unseen factor that has transitioned the shower from a conscious experience where you need to think about what you are doing, to an immersive, almost subconscious experience where the mind and body just naturally relax," says Alex Miller, an architect and artist at Alex Miller Studio.
Embrace the Power of the Shower
"As smart home functionality continues to evolve, tech-savvy consumers will demand that the routines of daily life offer the same personalization options, speed of access and optimum operation [from their showers]," says Martha Orellana, vice president of sales and marketing at MrSteam.
"We also anticipate more water conservation and energy-efficiency awareness. Homeowners will expect both from the products installed in their bathrooms."
If you haven't already considered offering technology for the shower to your clients, it might be time to explore the options. It's one more avenue for revenue, and with consumers craving greater luxury from their homes, the bathroom is an ideal area to focus your resources.
Customization is a trend that's not going away, so why not also apply tech to personalize your customers' showering experience?
Thanks to our partners at Kitchen & Bath Business Magazine for this article. To find out more about working with interior designers, stay tuned for details on the new Smart Stage at CEDIA Expo this fall in San Diego.
---
7 Clever Ways to Hide Home Technology - CE Pro Download
Most technology products are not that visually appealing. Black boxes and tangled wires do not add to the character of a high-end smart home project. Luckily, our integrator readers have a number of clever solutions so these components don't have to be visible in your next project.
---
About the Author
---
Lisa Montgomery has been a member of the CE Pro and Electronic House editorial teams for nearly 20 years; most of that time as the Editor of Electronic House. With a knack for explaining complex high-tech topics in terms that average consumers can understand, her style of writing resonates with people who are interested in adding electronic systems to their homes, but are unsure of the steps involved and the solutions available. From basic lighting control systems to full-blown automation systems, Lisa understands the home electronics market well, and is able to point consumers in the right direction on their quest for a smarter, more convenient, efficient and enjoyable home. Over the years, she has developed close relationships with key manufacturers and seasoned custom electronics professionals, giving her a keen sense of what home technologies are hot now and what is on the horizon. She shares this wisdom regularly through feature stories, product roundups, case studies technology spotlights and comprehensive guides and books. Have a suggestion or a topic you want to read more about? Email Lisa at lmontgomery@ehpub.com
Follow Lisa on social media:

Lisa also participates in these groups:
LinkedIn · Google+
Control & Automation
Are Integrators Ready to be 'Energy Automation Contractors'?
Mozilla's Naughty-or-Nice List Rates Connected Devices on Privacy and Data Security
SnapAV Now Sells Nest and Google Smart Home and Pro-Monitored Security Systems
Home Automation and Alarm Giant Vector Security Adds Retail Location; More Coming
ADT Optimistic About Amazon Alexa; Reports Q3 Revenues Up 6%
View more on Control & Automation
Take Our Latest Quizzes
How Well Do You Understand Ethernet Cables and Connectors?
Quiz: Is Your Company Performance Above or Below Average?
How Much Do You Know About Cell Phone Signal Boosters?
How Efficient Is Your Service Department? Take the Quiz
5G and the Need for Cellphone Signal Boosters—Do You Know Enough?