How many times have you sat down with a customer who doesn't quite know the best furniture placement or seating layout, or which wall to place a big screen on and where to put loudspeakers? It's why they hired your integration firm – whether it's the owner or perhaps the designer – and are trusting your vision of creating that room to blend aesthetics and AV.
Software platform Modus VR wants to help integrators better communicate their ideas for an AV space, as well as make easy adjustments to a layout in real-time while meeting with a customer. These days, that can be simply done on a Zoom call, and the end user doesn't even have to wear a virtual reality headset to share the design-build experience as our CE Pro video demo above with Modus illustrates.
"[Modus VR] was built because of this common problem of AV integrators having a tough time communicating the final results that they're going to give, and especially for these technical projects helping the end client understand some of those technical details and the why behind them without just inundating the client with jargon," Modus VR co-founder Ken Brueck explains to CE Pro.
Brueck says the seeds of the unique AV design software company were planted when he was a customer – when he could not quite envision what he was being told and was wondering why renderings weren't used to showcase his room's plans. After some investigating, Brueck found such design tool options on the market were too slow, too difficult to learn, not being purpose-built for the custom integration industry, "that it really doesn't make sense for the vast majority of projects out there."
He says the company's mantra has been to help an integrator build a project that a customer could visualize, and do it quickly. It's new Modus-as-a-Service recently rolled out to assist dealers on projects, making use of all the compelling deliverables available at their disposal.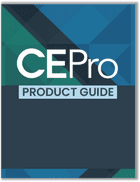 CE Pro's 2022 Product Guide showcases some of the latest and innovative solutions from manufacturers serving the custom electronics industry in a cross-section of categories.
Download the guide now!
"And what that does is it lets you bring Modus into the conversation very early, about the same time you would bring in a whiteboard – but now you're communicating in this highly visual, dimensionally accurate medium that really speeds up everything" Brueck says.
"It just shrinks the time of the design and sales process, eliminates so much anxiety and contention among the stakeholders, and ends up being a really fun sales experience for everybody involved."
For integrators who may be thinking they are in the same boat as a customer – unable to visualize the Modus VR experience as a dealer working with a customer – Brueck gave CE Pro a demo of how that might look. It was also based on a real experience, in which Brueck knew someone who wanted to convert a space into a home theater … and wound up with a completely different setup than he'd imagined.
Watch the video above to see how Brueck maneuvers the Modus VR platform during our Zoom call to reorient the room layout for optimizing its usage; switch the type of large-screen display; change the seating arrangement and add practical enhancements for the family; and more, while discussing the rationale … and do it in about 15 minutes.