Vivint Q1 Revenues Up 9.8% to $303M
Despite the coronavirus crisis, Vivint Smart Home adds more than 50,000 new subscribers in first quarter of 2020. Q1 revenues hit $303M.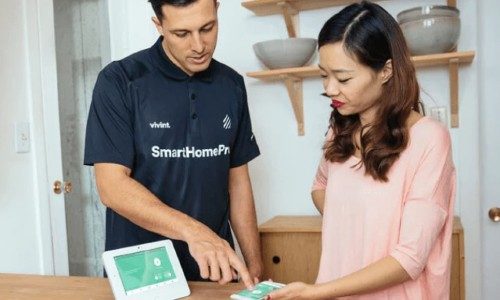 Vivint Smart Home (NYSE: VVNT), together with its indirect subsidiary, APX Group Holdings, Inc., reported a solid first quarter 2020 in terms of revenues and subscribers.
The No. 1 company on the CE Pro 100 list reported total revenues of $303.2 million for the three-month period ended March 31, 2020, an increase of $27 million or 9.8%, as compared to the same period in 2019.
The Provo, Utah-based company also reported adding 50,053 new subscribers, an increase of 5.3% versus Q1 in 2019. Those new subscribers accounted for an additional $20.5 million in revenue. Meanwhile, the company's overall average revenue per subscriber increased $1.49 per month compared to Q1 last year to $65.27 per month; however, that is a slight drop from $65.98 per user in Q4 of 2019. The Q1 2020 attrition rate is 14.1%, up from 13.9% last quarter.
"We are pleased with our strong first quarter results, highlighted by improving momentum in new subscriber adds, double-digit revenue growth, and a sharp increase in profitability from the prior year," says Todd Pedersen, CEO of Vivint Smart Home, which went public in January of 2020. "The onset of the COVID-19 pandemic has completely changed life as we know it, and we've taken proactive operational measures to protect our employees, our customers and our business. We know from experience that our customers value our services even more during extraordinarily difficult and uncertain times like these. We are confident that our customers will continue to prioritize home security and smart home technology through the current pandemic as well."
Pedersen continues, "In a time when we've been asked to stay at home for an extended period, there may be no better time to have a comprehensive smart home system in place. Our services qualify as essential under the guidelines issued by the U.S. Department of Homeland Security, and we provide a strong sense of safety, comfort and control to nearly 1.6 million customers across North America. Vivint's services include lifesaving and life-protecting 24/7 professional monitoring for emergency situations such as medical, fire, carbon monoxide and burglary alerts.
"Our vertically integrated model includes dedicated customer care and monitoring teams to ensure that we respond to these alerts from our customers within seconds. Our cloud platform and proprietary technology enable customers to seamlessly manage and protect their homes, whether they're sheltering in place or away. We're focused on taking care of our customers and their families, while providing the peace of mind that they demand during times of heightened awareness and uncertainty."