For CE pros playing in the ever-changing commercial security space, mega-company Stanley Security has recently released its "2021 Industry Trends" report delving into the key trends affecting the market in 2021.
While the report focuses on the commercial security space, integrators involved in residential security or light resimercial security work may want to keep an eye on several key trends that appear likely to continue well into 2021.
"As the world around us transforms, the security industry is innovating rapidly to help organizations stay ahead of evolving challenges," says Matthew Kushner, global president, electronic security at Stanley Security.
"At the same time, customer expectations are changing: There's now heightened demand for innovative, Cloud-based and highly integrated solutions that can produce real-time insights. Organizations are not only looking for a way to protect their people, networks and assets, but also a way to help increase operational efficiencies and drive growth in the new economy."
Kushner and 10 other leaders across Stanley Security share more about their outlook on the security industry within the 2021 Industry Trends Report. The security trends featured in the report include: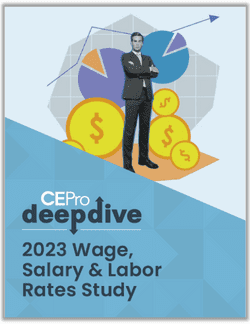 Discover the drastic difference a year can make when it comes to wage, salary, and labor rates in the custom integration industry.
Using Security to Mitigate Health and Safety Risks
A New Ecosystem of Solutions
Solving the Threshold Management Equation
Cybersecurity and the Emergence of a New Perimeter
The Rise of Cloud Solutions and the XaaS Delivery Model
The Virtualization of Security Management
Leveraging Security Data to Improve Operations
New Privacy and Data Governance Considerations
The Transition to Touchless
Increased Demand for Flexible, Scalable and Integrated Solutions
The report also highlights organizations' perceptions regarding, interest in and adoption of security technology — with global survey data that breaks down what security systems users are implementing and what features decision-makers look for when evaluating systems and providers.
"With the many challenges posed by the global pandemic, it's more important than ever for organizations to leverage security solutions," Kushner says. "This report provides a deeper look at how solutions are evolving, what organizations are looking for and, ultimately, how the industry is helping to transform the future of the workplace."
In addition, the report looks at what consumers consider important when hiring an integrator to provide security services. Integrators looking to improve their installs may want to take a look at factors like technical support availability, promptness, and accurate cost and timing estimates, as all of these traits scored highly in the report.
The report also includes several infographics and charts detailing the data collected. To download Stanley Security's full 2021 Industry Trends Report, click here.
---
A version of this story originally appeared on our sister publication Security Sales & Integration's website.
If you enjoyed this article and want to receive more valuable industry content like this, click here to sign up for our digital newsletters!