Several years ago, video doorbells became the rage. Companies that previously had not existed appeared with door cameras that could talk to your cell phone, and an industry subcategory exploded. Companies like Nest and Ring offered low price options that could do a whole bunch of things, and those companies have done very well for themselves.
IC Realtime, the security camera manufacturer, took their time before getting into the pool. To my mind, they've concentrated on making the product perform better, with a markedly better warranty to back it up.
Here are some of the reasons for installers to consider this product for the client who wants the convenience that a Wi-Fi door camera offers.
Why IC Realtime Should Be On Your Radar
First off, if the picture quality isn't very good, your customer will be unhappy. This unit, like many, delivers 1080p resolution. It uses a high-quality Sony chip, and frankly, picture quality looks better than other players on the market.
The second thing that matters in this category is how quickly the unit responds when either motion is detected in proximity to the camera or if someone pushes the button. The Dinger was as quick (if not quicker) as I remember other brands to be, but no stopwatches were used for comparison purposes. Fact is, knowing that a delivery service just dropped off a load of groceries is useful, and the push notifications show up on an app.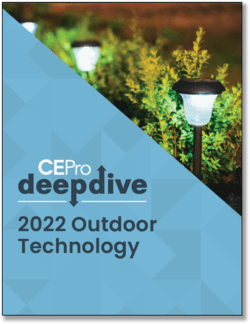 The 2023 CE Pro Outdoor Technology Deep Dive reveals unique set of impediments, including explaining pricing and interacting with outdoor-centric trades.
Get your copy now to take a "deep dive" into the trends and challenges of outdoor technology.
Download the report now!
Sound quality seemed good, as all the brands use noise and echo canceling technology. You can understand the test subject at the front door, even if the house is located on a busy street with road noise.
Obviously, devices ring the appropriate handheld phone, and IC Realtime has an optional chime kit called the Singer for notifications in the back corner of the house. You can also integrate the device with traditional doorbells if that makes sense in the application.
What I found attractive about the IC Realtime device compared to others include the ability to integrate into existing NVR units in the home, order of magnitude better warranty (seven years vs. either one to three years for the other brands), the ability to load up to a 64 GB SD card onboard for continuous recording capability, the ability to integrate the camera so the image appears on an RTI touchpad, and profitability.
On top of all of that, this product is made to be installed by professionals, yet it's easy to get going for the installer. You typically won't find it on the end cap of a big box hardware store.
And while you may never need it, IC Realtime has fine tech support folks who will talk to you on the phone if a problem arises. I'd say it was designed by a company that cares about security camera performance issues, with an emphasis on performance, integration, and speed.
If you enjoyed this article and want to receive more valuable industry content like this, click here to sign up for our digital newsletters!