When a home is teeming with technology, it becomes a prime target for burglary. According to the Home Security Monitoring Center, high risk items include tech like televisions, stereo systems, and computers, along with automotive parts and power tools.
The owners of this 22,000-square-foot home in Calgary, had all the above, and then some. Equipped with a high-end home theater and whole-house audio system, as well as 10,000-square-foot garage stocked with a luxury car collection, the residence stood a real chance of being ransacked—unless the homeowners invested in a quality, comprehensive security system able to protect every square inch of the property.
"There isn't a portion of this house that isn't protected by door and window sensors, motion detectors, and security cameras," says P.J. Aucoin, managing partner at Home Concepts.
Equally important was that the system be simple to use, easily accessible from anywhere in the world, and work seamlessly with other technologies the owners planned to have installed during the two-phase construction of their home.
When the local home systems integration firm Home Concepts was hired to handle the design and installation of a Lutron lighting system, 24-zone audio system, dedicated home theater, two media rooms, and an Elan home automation system, an Elk M1 Gold security system had already been specified by a local security dealer.
Aucoin and his partner Craig Applejohn couldn't have been more thrilled. For starters, the Elk M1 Gold edition has been engineered specifically to easily integrate with other systems. It's so integration friendly, in fact, that it's referred to as a Cross Platform security solution.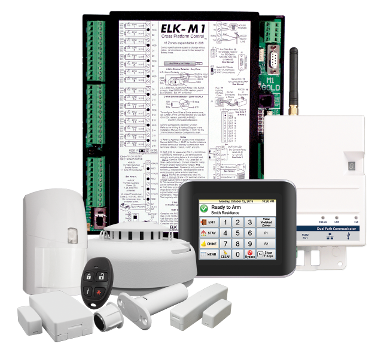 "The M1 Gold is a platform that we often integrate with Elan," Aucoin says. Plus, the M1Gold's large zone capacity—16 on-board, expandable to 208–would easily cover the extensive security needs of the homeowners.
Because the home was constructed in phases, being able to scale the security system was particularly important. In the end, the system was configured to safeguard 65 independent zones, each with multiple door, window, and motion sensors, as well as 12 garage doors.
Naturally, monitoring a security system of a scope this grand could have proven difficult for the homeowners. That's not to say that the M1 Gold is overly complex to manage; but when a project includes several other subsystems, having one unified control system is essential to overall ease of use.
The straightforward process of integrating the Elk M1 Gold with the Elan control system afforded the homeowners the ability to easily identify the status of each zone and sensor via a mobile app and several Elan touchpanels. The car collection can be monitored just as closely. The M1 Gold communicates to the Elan system exactly which of the 12 doors has opened, and reports back when it has closed.
It's ultimate peace of mind, and gives the owners the luxury of protecting every part of their home from anywhere in the world by just visiting the Elan app.
The M1 Gold pays close vigil to the residence, and seamlessly communicates every change in status to the Elan automation system. It's a partnership of systems that has made protecting and managing a huge estate a small task for the homeowners.