Brilliant and Schlage Collaborate to Bridge Smart Security and Control
Brilliant and Schlage will be providing a demonstration of their collaborative efforts during CEDIA Expo 2019.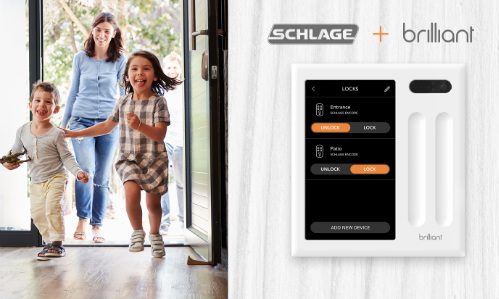 Brilliant and Schlage have announced during CEDIA Expo 2019 a new collaboration designed to bring more convenience and simplicity to the smart home and home technology industry.
Schlage's newest smart lock, the Schlage EncodeTM Smart WiFi Deadbolt, will integrate with Brilliant's Smart Home Control to give end-users complete access control as well as the ability to conveniently lock and unlock their doors directly from any wall-mounted Brilliant Control or by utilizing voice commands through integration with Amazon Alexa. Homeowners will also be able to control locks as part of their home automation scenes.
The Schlage Encode deadbolt features built-in WiFi, making additional hubs and gateways unnecessary and allowing it to be added simply to a wider variety of smart home ecosystems. Its ability to connect with Brilliant provides even more options during home construction, the company says.
"The Schlage Encode deadbolt was designed to make connected locks simpler for our customers," says Mark Jenner, director of technology alliances at Allegion.
"By integrating with smart home automation platforms such as Brilliant, we provide homeowners greater flexibility, accessibility and simplicity to the smart home experience. That improved experience benefits partners at every stage, from the business decision to include the tech on new homes to installation of the technology."
At CEDIA Expo 2019, September 10-14, Brilliant and Schlage will demo the integration at the Brilliant booth #3527. This demo is aimed at helping custom integrators understand how to deliver the best smart home control experience to their customers.
"Brilliant understands that home builders and consumers aren't smart home experts, yet they want the advanced technology and benefits that come with a smart home," says Aaron Emigh, CEO and co-founder of Brilliant.
"Brilliant and Schlage are committed to helping homeowners meet their needs now and in the future by working with custom integrators to create a more harmonious smart home experience."