Alarm.com Holdings, Inc. (Nasdaq: ALRM) had a pretty successful Q3 as it seems. In a recent earnings report, the company revealed that its third quarter total revenue had increased 12.4% to USD$216.1 million year over year, while its SaaS and license revenue increased 12.8% to USD$133.1 million year over year. Additionally, the company's EBITDA for the third quarter rose to USD$40.8 million compared to last year's USD$37.6 million.
"Our core businesses in residential and commercial security, video, and energy management all contributed nicely to another solid quarter and have sustained their momentum to date," said Steve Trundle, President and CEO of Alarm.com. "We were also pleased to spend time in person with many of our service providers during our annual partner summit in early October and also to have completed the acquisition of Noonlight during the third quarter."
Through this acquisition of Noonlight, Alarm.com notes it will be able to expand markets for emergency response service while also participating in the broader segment of the connected property market. Already, Noonlight vendors can use its SaaS offering to add context-aware event management and emergency response services to their products.
The company also highlighted several releases this month, including its new video-based monitoring solution, Escalated Events, allowing monitoring stations to receive and respond to events based on Alarm.com's suite of video analytics capabilities. Additionally, the company's commercial video solution received third-party camera support, allowing it to work with a diverse array of hardware.
In light of these successes, the company notes that an ongoing license dispute with Vivint is likely to impacted quarterly SaaS and license revenue and total revenue will be impacted by USD$6.0 million within the fourth quarter.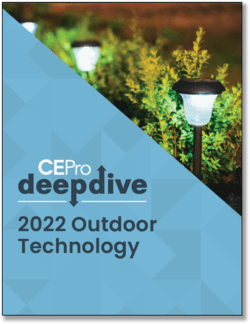 The 2023 CE Pro Outdoor Technology Deep Dive reveals unique set of impediments, including explaining pricing and interacting with outdoor-centric trades.
Get your copy now to take a "deep dive" into the trends and challenges of outdoor technology.
Download the report now!
For now, the company sets its expected license revenue for the full year of 2022 to be in the range of USD$516.3 million to $516.5 million. Total revenue has been adjusted to be in the range of USD$840.3 million to $842.5 million, with anticipated hardware revenue in the range of USD$324.0 million to $326.0 million.