The recession is certainly not affecting business at Alarm.com Holdings, Inc. (Nasdaq: ALRM), as the company reported "solid" revenue gains and has a bullish outlook for the year.
The Tysons, Va.-based company reported its second quarter revenues ending June 30 were up 12.7% to $212.8 million. Alarm.com also provided its financial outlook for its Software as a Service (SaaS) and license revenue for the third quarter of 2022 and increased its revenue guidance for the full year of 2022.
"We're pleased to report solid results for the second quarter," said Steve Trundle, President and CEO of Alarm.com. "During the quarter, our service provider partners continued to drive adoption of Alarm.com's technology as the market for connected property technology remained healthy."
Overall, for the quarter the company's SaaS and license revenue increased 14.4% to $129.5 million, compared to $113.2 million. Total revenue increased 12.7% to $212.8 million, compared to $188.9 million for the same time period last year. Its adjusted EBITDA decreased to $37.1 million, compared to $38 million.
Total cash and cash equivalents decreased to $643.4 million as of June 30, 2022, compared to $710.6 million as of December 31, 2021, primarily due to the repurchase of 834,654 shares of Alarm.com common stock, approximately 1.7% of total outstanding shares, for $51.5 million during the six months ended June 30, 2022. Alarm.com's cash flow was $26.2 million for the quarter. It noted that it recently purchased developable land in close proximity to its headquarters for $21.5 million.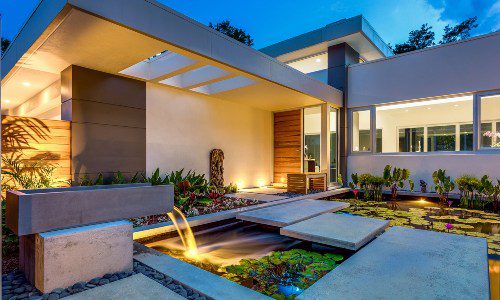 Landscape and architectural lighting create a magical and elegant ambiance for homeowners. The outdoor lighting industry has always been a phenomenal one and continues to grow in popularity. Now is the ideal time to learn more about this rapidly growing and highly profitable industry. Join our panel of esteemed lighting experts that will dive into why it's time for integrators to rethink their role in the outdoor lighting industry.
Register Now! 
For the full year outlook, the company raised its expectations for SaaS and license revenue to the range of $518.5 million to $519 million. Total revenue is expected to be in the range of $828.5 million to $859 million, which includes anticipated hardware and other revenue in the range of $310 million to $340 million.
Among the business highlights for the quarter was the launch of its Smart Arming for its smart home subscribers. Smart Arming provides intelligent, automatic system arming and disarming that dynamically adjusts based on activity in the home.
Subscribers select periods when they want their system to monitor activity in their property and then either automatically arm or disarm the system. Intelligently automating the security system enhances customer security and drives further user engagement with Alarm.com's smart home systems.
In other news, Alarm.com added former FBI Special Agent Jin Kim to its Shooter Detection Systems Advisory Board. Kim is a 23-year veteran of the FBI's New York division. He served as the Active Shooter Coordinator in the FBI's Crisis Management Unit and was the FBI's leading authority on active shooter matters. Kim will advise and support SDS to raise awareness for gunshot detection technology and how it can increase situational awareness and help alert employees and the public against active shooter threats.
Lastly, the company's EnergyHub Electric Vehicle (EV) solution is available, providing a more personalized, customer-friendly, and scalable EV charging management solution. EnergyHub EV delivers improved grid efficiency and reliability via optimized charging, which enables grid services like load shifting and renewables matching.
By leveraging telematics data from more electric vehicle manufacturers and charging station manufacturers than any other solution on the market and a proprietary EV data management system, EnergyHub is able to intelligently optimize vehicle charging to deliver value to drivers, utilities and manufacturers.
If you enjoyed this article and want to receive more valuable industry content like this, click here to sign up for our digital newsletters!